Presumptive Democratic presidential nominee Joe Biden on Tuesday said that Democratic New York Representative Alexandria Ocasio-Cortez is serving on a joint policy task force coordinated by him and Democratic Vermont Senator Bernie Sanders.
The task force will work on campaign goals to attract supporters of Sanders's former campaign to vote for Biden in the November presidential election.
"I'm working with Bernie and with his people. And so, and we've made some changes. We've listened to Bernie supporters and, you know, for example, we have Congresswoman Ocasio-Cortez, she is on one of the panels," Biden told News8 in Las Vegas on Tuesday.
While Biden didn't specify which policy field Ocasio-Cortez would advise on, CNN Washington Correspondent Ryan Nobles tweeted that a source directly involved with the task forces' planning said she'll serve as the co-chair of the Climate Change group.
The Climate Change group is just one of six task forces that Biden and Sanders will soon unveil, the five others being criminal justice, the economy, education, immigration and health care.
Newsweek reached out to the offices of Ocasio-Cortez and Biden for additional information. This story will be updated with any response.
The inclusion of Ocasio-Cortez on the task force follows comments she made about the party's left-wing during an interview last month. While Ocasio-Cortez has offered her support to Biden, she also said that she'd continue to urge the former vice president's campaign to form a more progressive platform that seriously addresses concerns raised by the party's progressive flank.
"The whole process of coming together should be uncomfortable for everyone involved—that's how you know it's working," she said. "And if Biden is only doing things he's comfortable with, then it's not enough."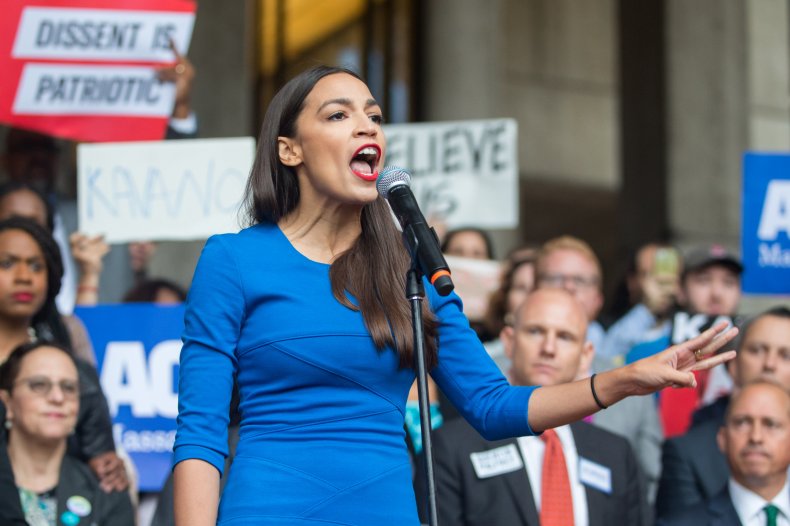 Ocasio-Cortez is a co-sponsor of the Green New Deal (GND), a proposed package of laws focused on virtually eliminating U.S. greenhouse gas pollution within a decade, while also creating new jobs. She and Democratic Senator Edward Markey of Massachusetts released a fourteen-page resolution for the Green New Deal on February 7, 2019.
While several high-profile Democrats, including presidential primary candidates, expressed support for the Green New Deal proposal, its critics have questioned the practicality of the deal, saying that it would be too costly for the government to commit to. However, its supporters say that failure to take significant steps towards reducing carbon emissions will cost more money and human lives in the long term.
Sanders showed his support for the Green New Deal by appearing alongside Ocasio-Cortez in a Washington D.C. rally for the proposal in May 2019.
Biden's campaign website states that the candidate believes the Green New Deal is "a crucial framework for meeting the climate challenges we face."