Alexandria Ocasio-Cortez Blasts Facebook's Mark Zuckerberg at Bernie Sanders Rally
New York Congresswoman Alexandria Ocasio-Cortez blasted Facebook Facebook founder Mark Zuckerberg during her speech on October 19 in which she endorsed Senator Bernie Sanders of Vermont for president of the United States.
Ocasio-Cortez, who represents New York's 14th congressional district, endorsed Sanders at a "Bernie's Back" rally in New York City.
There, in front of an estimated crowd of 20,000 she lauded Sanders's support for causes such as tackling the student loan debt crisis and establishing Medicare for All.
The remark was characteristic of Ocasio-Cortez, a self-described Democratic socialist, who has previously railed against companies for what she sees as their disproportionate influence on American politics.
"The future, and our future, is in public systems, and it's in publicly owned systems, because we need to take power over our lives again," Ocasio-Cortez said. "I don't know about you, but I don't want Mark Zuckerberg making decisions over my life."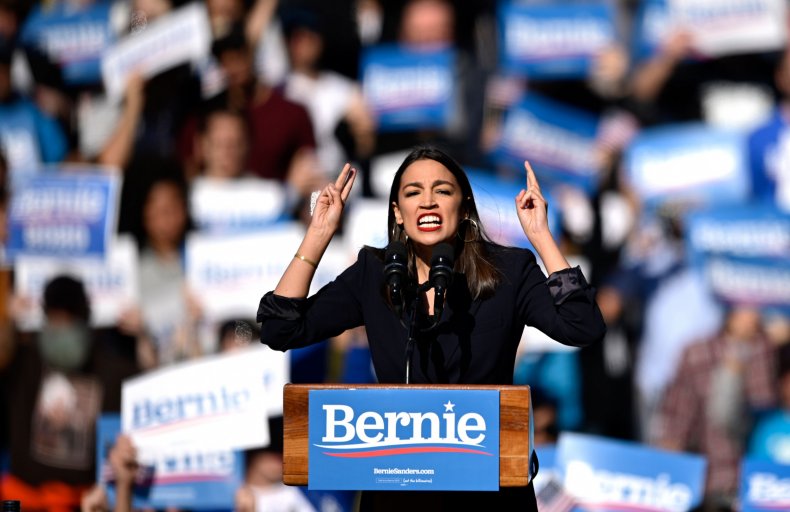 Ocasio-Cortez was likely referencing statements that Zuckerberg made earlier this month when he delivered an address at Georgetown University on October 17. At that event, the billionaire entrepreneur defended Facebook's policy of not fact-checking political ads posted on the platform, following criticism that Facebook had allowed President Donald Trump's re-election campaign to pay for ads that promoted inaccurate or false information.
"I don't think it's right for platforms to censor politicians or the news in a democracy," Zuckerberg said. "And we're not an outlier here. The other major internet platforms and the vast majority of media also run these same ads."
Zuckerberg also implied that people who criticize Facebook's policies are not necessarily prioritizing the dissemination of truth, but rather seeking ways to promote their own agendas.
"More people across the spectrum believe that achieving the political outcomes that they think matter is more important than every person having a voice and being heard," the Facebook CEO said. "And I think that that's dangerous."
Senator Elizabeth Warren of Massachusetts, another contender for the Democratic presidential nomination, posted a false advertisement to Facebook earlier this month that claimed Zuckerberg had endorsed Trump for re-election. The ad was a bid to critique Facebook for its policy of not fact-checking ads.
"We intentionally made a Facebook ad with false claims and submitted it to Facebook's ad platform to see if it'd be approved. It got approved quickly and the ad is now running on Facebook," Warren wrote in a Twitter post to explain the experiment.
Ocasio-Cortez concluded her endorsement of Sanders by saying that America needs to "come together" if the country is going to be fair for all who live in it.
"We need a United States that really, truly, and authentically is operated, owned, and decided by working and all people in the United States of America," she said. "It is multiracial, multi-gendered, multi-generational, and multi-geographic. We have to come together, not ignoring our differences, but listening to them, prioritizing them, understanding injustice, understanding that we operate in a context where slavery evolved into Jim Crow, involved into mass incarceration, evolved into the realities we have today."