Facebook co-founder and CEO Mark Zuckerberg pushed back against calls for strict social media censorship and argued in support of the right to "free expression" on his platform in a Thursday speech at Georgetown University.
"While I certainly worry about an erosion of truth, I don't think most people want to live in a world where you can only post things that tech companies judge to be 100 percent true," Zuckerberg said during his remarks. Facebook has been criticized by Democrats in the past week for allowing President Donald Trump's re-election campaign to pay for ads on the platform that promote inaccurate or false information.
Zuckerberg defended his platform against the criticism, but admitted that Facebook doesn't "fact-check" political ads. "I don't think it's right for platforms to censor politicians or the news in a Democracy," the billionaire entrepreneur said. "And we're not an outlier here. The other major internet platforms and the vast majority of media also run these same ads."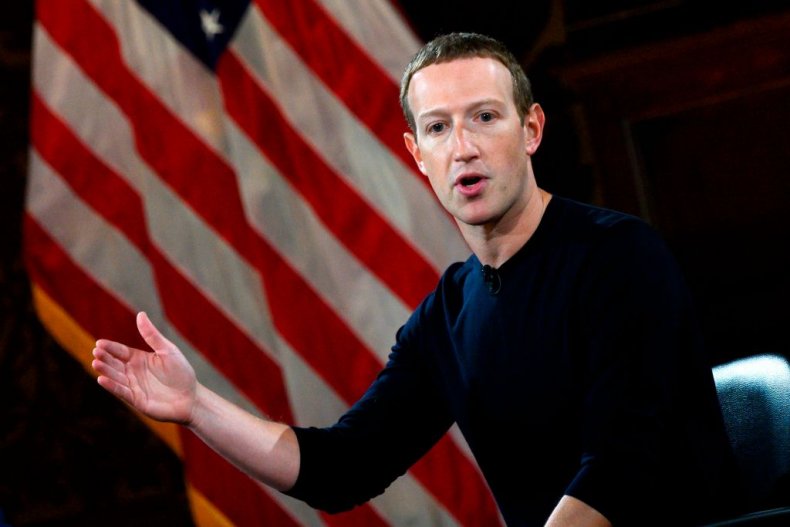 Democratic presidential candidate Senator Elizabeth Warren of Massachusetts ran a Facebook ad this week featuring a fake "breaking news" alert that claimed Zuckerberg and Facebook had endorsed Trump. The campaign ad was a bid to critique the platform for allowing ads with false claims.
"We intentionally made a Facebook ad with false claims and submitted it to Facebook's ad platform to see if it'd be approved. It got approved quickly and the ad is now running on Facebook," Warren wrote in a Twitter post to explain the experiment.
"Facebook changed their ads policy to allow politicians to run ads with known lies—explicitly turning the platform into a disinformation-for-profit machine. This week, we decided to see just how far it goes," she argued.
Warren has been a strong critic of Facebook, even calling for the platform to be broken up into separate, smaller companies.
"If she (Warren) gets elected president, then I would bet that we will have a legal challenge and I would bet that we will win the legal challenge. And does that still suck for us? Yeah. I mean, I don't want to have a major lawsuit against our own government," Zuckerberg told employees at an internal meeting documented on audio leaked to The Verge earlier this month.
In his Georgetown speech, Zuckerberg also suggested that people calling for social media censorship were doing so based on their respective political agendas. He suggested this is not in society's best interest.
"More people across the spectrum believe that achieving the political outcomes that they think matter is more important than every person having a voice and being heard," the Facebook CEO said. "And I think that that's dangerous."
Facebook, as well as other social media platforms⁠—such as Twitter and YouTube⁠—have faced criticism from the political right and left. Both sides have complained about the companies' policies regarding free speech and censorship.