Mark Zuckerberg: Facebook Would Sue Elizabeth Warren Administration Over Plan to Break up Big Tech—'You Go to the Mat and You Fight'
Facebook CEO Mark Zuckerberg has stated he would sue an Elizabeth Warren administration over plans to break up the social media giant if the Democratic hopeful was successful in her 2020 presidential bid.
In leaked audio from a two-hour meeting between Zuckerberg and his employees in July, obtained by The Verge, the under-fire founder and CEO said he would be willing to take the matter to court if the senator from Massachusetts brought the plan into action, given she becomes the next president of the United States.
"You have someone like Elizabeth Warren who thinks that the right answer is to break up the companies..." Zuckerberg said. "If she gets elected president, then I would bet that we will have a legal challenge, and I would bet that we will win the legal challenge.
"And does that still suck for us? Yeah. I mean, I don't want to have a major lawsuit against our own government… But look, at the end of the day, if someone's going to try to threaten something that existential, you go to the mat and you fight."
Warren first announced her plan to break up "Big Tech" firms—companies with over $25 billion in revenue by her definition—on the campaign trail in March and has not backed down since.
She has steadily gained in recent polls, with some indicating she has overtaken former Vice President Joe Biden as the favorite to challenge President Donald Trump in November next year.
Following news of Zuckerberg's leaked audio, Warren was quick to continue her criticism of the social media firm.
"What would really 'suck' is if we don't fix a corrupt system that lets giant companies like Facebook engage in illegal anticompetitive practices, stomp on consumer privacy rights, and repeatedly fumble their responsibility to protect our democracy," she said on Twitter.
In addition to the aim of breaking up large tech firms such as Facebook, as well as companies like Google, Warren has proposed a 2 percent tax on all individual wealth over $50 million, a 3 percent tax on wealth over $100 million, and a 7 percent tax on corporate profits over $100 million.
With regards to the proposed break-ups, Zuckerberg added that such plans would fall dead in the water and create further problems elsewhere.
"It's just that breaking up these companies, whether it's Facebook or Google or Amazon, is not actually going to solve the issues," he said. "And, you know, it doesn't make election interference less likely. It makes it more likely because now the companies can't coordinate and work together."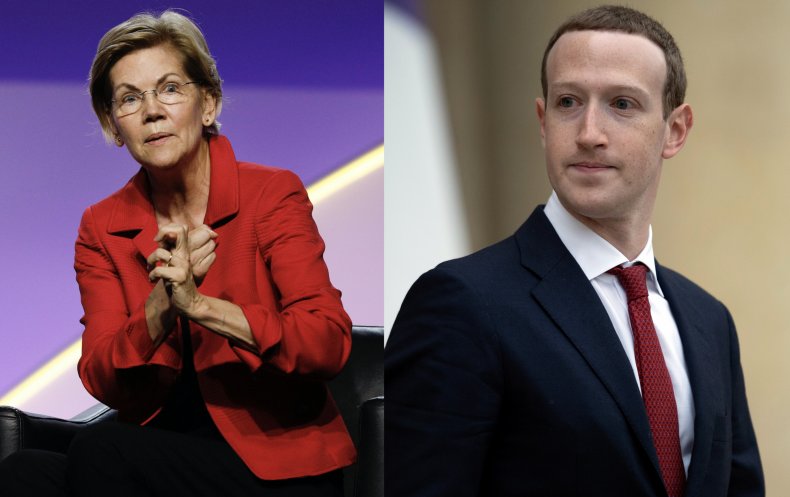 In a statement on the CEO's own platform, Zuckerberg addressed the leaked audio.
"Every week I do a Q&A at Facebook where employees get to ask me anything and I share openly what I'm thinking on all kinds of projects and issues," he said.
"The transcript from one of my Q&As a few months ago just got published online—and even though it was meant to be internal rather than public, now that it's out there, you can check it out if you're interested in seeing an unfiltered version of what I'm thinking and telling employees on a bunch of topics like social responsibility, breaking up tech companies, Libra, neural computing interfaces, and doing the right thing over the long term."
This story has been updated to include comments from Facebook CEO Mark Zuckerberg.