Elizabeth Warren's Fake Facebook Ad is Just Latest Round in Battle Against Mark Zuckerberg
Late last week, Senator Elizabeth Warren made a bold move and launched Facebook ads containing false claims that Mark Zuckerberg has endorsed President Donald Trump for 2020—the latest escalation between the presidential candidate and Facebook's CEO.
Newsweek subscription offers >
"Facebook holds incredible power to affect elections and our national debate. They've decided to let political figures lie to you—even about Facebook itself—while their executives and their investors get even richer off the ads containing these lies," Warren tweeted. "Once again, we're seeing Facebook throw its hands up to battling misinformation in the political discourse, because when profit comes up against protecting democracy, Facebook chooses profit."
Warren has repeatedly targeted Facebook and its CEO personally in her battle against Big Tech, reinforcing her role as a David confronting capitalist Goliaths.
Here's a timeline of the fray:
March: Warren said if she were elected president, she would break up Facebook, Amazon and Google.
March: Days later, Facebook deleted—and after criticism, restored—ads from Warren's campaign targeting the three companies that she said had "bulldozed competition, used our private information for profit, and tilted the playing field in their favor."
July: Zuckerberg, in a transcript that was later leaked and published by The Verge, told employees that "if she [Warren] gets elected president, then I would bet that we will have a legal challenge, and I would bet that we will win the legal challenge."
September 19: Zuckerberg meets with President Donald Trump in the Oval Office, which Trump characterized as a "nice meeting."
September 24: Facebook confirms that politicians are excluded from its third-party fact-checking program.
October 1: The Facebook transcript is published, and Warren responds on Twitter about why her plan to break up Big Tech and its "illegal, anticompetitive merges" has "got Mark Zuckerberg so worked up."
October 7: Warren tweets again, saying that "Zuckerberg is telling employees that he views a Warren administration as an 'existential' threat to Facebook." She also points to a Trump campaign tweet containing false claims:
Newsweek subscription offers >
October 10: Warren launches her own Facebook campaign ads containing false claims about Zuckerberg and Trump.
The strategy of going after Facebook again and again, even using Facebook to do so, seems to have paid off.
Warren—who is again polling in second place after briefly eclipsing former Vice President Joe Biden—received, in the last five days, between 380,000 and 1 million impressions on the ads containing false claims. (Facebook only provides a range, and Warrens' new ads all received between 10-50K and 50-100K impressions.)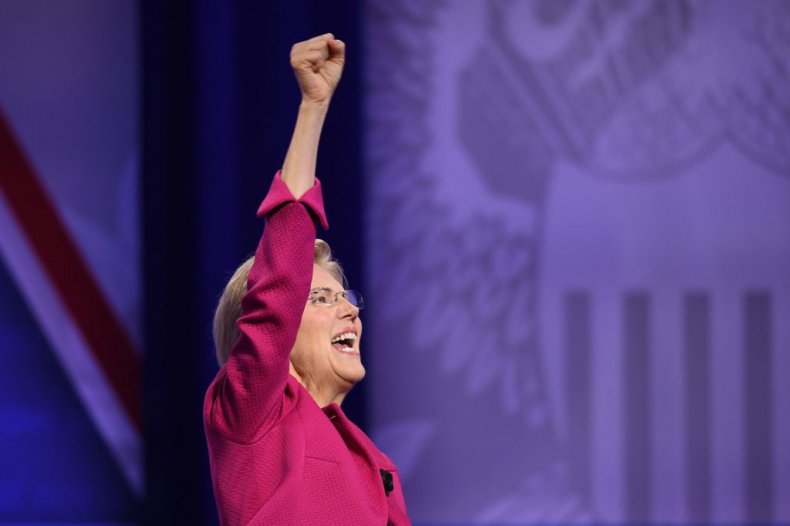 While illustrating how easily fake claims can spread when dispersed by politicians, Warren is also strengthening her appeal to everyday voters in showing she is willing to go up against Big Tech and Wall Street. She even reportedly solicited donations earlier this month under the email subject line "re: Mark Zuckerberg."
And with Zuckerberg speaking about free expression at Georgetown University on Thursday, be sure to keep an eye out for more fundraising emails and, potentially, more Facebook ads from the Warren camp.
Elizabeth Warren's Fake Facebook Ad is Just Latest Round in Battle Against Mark Zuckerberg | Analysis