New York Democratic Representative Alexandria Ocasio-Cortez is just 29 years old—which makes her a millennial. And, well, millennials sure do love watching The Office (over and over and over) on Netflix—this writer very much included.
So it makes sense that Ocasio-Cortez would employ The Office in her latest Twitter dunk on her critics.
She had already fired back on Thursday at a conservative group who put up billboards in New York City's Times Square, blaming her for Amazon's decision to abandon its plans to construct a new facility in Long Island City, Queens. Ocasio-Cortez—or AOC, as she is commonly called—astutely pointed out that putting up billboards in Times Square "tells you this isn't for/by [New Yorkers]." People who live in NYC do, typically speaking, try to avoid Times Square, since it's brimming with lost tourists, grifters and overpriced chain restaurants.
When a user responded to Ocasio-Cortez by saying "this is like when I casually remind visiting friends that Times Square isn't really NYC," the representative then brought up a classic scene involving Michael Scott, Dunder Mifflin regional manager and The Office's central character.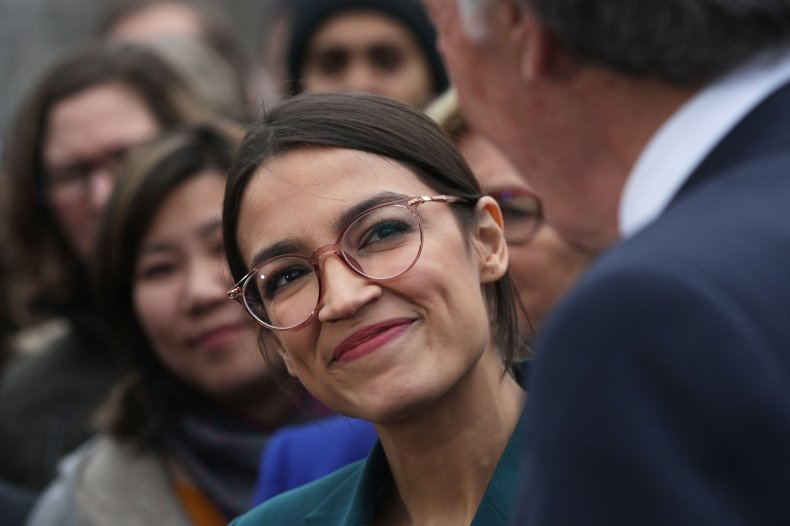 Ocasio-Cortez tweeted: "Billionaires paying to put up anti-progressive propaganda in Times Square is like the obscenely rich version of the scene where Michael Scott points to the Bubba Gump and saying 'This is it, this is the heart of civilization, right here.'"
The quote in question comes from Season 2, episode 16 of The Office in which Michael—a Scranton, Pennsylvania rube to his core—traipses off to NYC for a meeting and acts as if he has an intimate knowledge of the city. He goes to Sbarro for a "New York slice" and, yes, claims Times Square is the center of civilization.
"New York City, Times Square ... named ... for the good times you have when you're in it," Michael says in the episode. "Most people, when they come to New York, they go straight to the Empire State building. That's pretty touristy. I come here. Great places to eat. We have Bubba Gump Shrimp, Red Lobster down there. You know, this is—this is the heart of civilization. Right here."
It's a classic reference moment from Michael, and a moment that has lived on in jokes online (such as one from this writer, about former Texas Representative Beto O'Rourke's Times Square event).
Though The Office ended its NBC run in 2013, it has lived on through Netflix and remains one of the most—if not the most—memed shows in history. If there's something going on in the world, you can feel pretty certain someone is relating it to The Office. Today, that person just happened to be a member of Congress.