Alexandria Ocasio-Cortez Mocks Fox News Hosts for Dismissing a Higher Minimum Wage: They 'Couldn't Last One Real Day in These Hard Working Jobs'
New York Rep. Alexandria Ocasio-Cortez took aim at Fox News hosts who dismissed the idea of raising the tipped minimum wage, suggesting they "couldn't last one real day" in the intensity of low-wage jobs.
Ocasio-Cortez is a young progressive Democrat whose own background as a waitress and bartender is often a source of derision for conservatives. She waited tables right up to her election campaign in 2018 and is campaigning for a $15 minimum wage for tipped workers.
The graphic below, provided by Statista, illustrates the history of the federal minimum wage.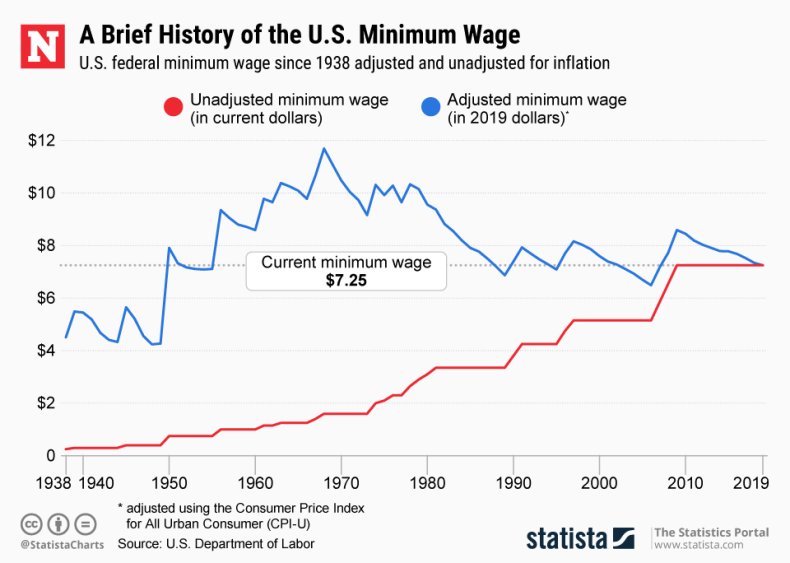 During Tuesday's Fox & Friends, the hosts discussed the passing of a bill by the Democrat-majority House of Representatives to introduce a federal $15 an hour tipped minimum wage. The bill will likely die in the Republican-controlled Senate.
They spoke about the potential impacts of raising the minimum wage, including the loss of jobs and the closure of small businesses because of higher operating costs, and suggested that working harder for tips is a better solution.
Host Brian Kilmeade said he had worked several tipped jobs and had started out as a busboy, clearing tables and washing the dishes, and at the end of the week the workers pooled their tips.
"​It's ​one of the best jobs you could have when you​'​re breaking in. ​You don't even expect that check. It's almost a surprise when you get ​a $60 or $70 check at the end of the week," Kilmeade said.
"Because you work hard​,​ you get great tips​, and​ ​if​ you​'​re good, ​guess what, ​other restaurants want you. ​They will take you, offer you better jobs. And if your one job doesn't pay enough, guess what you do? You get another job. ​That's what you do in your 20s. ​Having two​ jobs,​ part-time jobs​, while going to school​ is something people have done since the turn of the last century."
He accused those pushing for a higher tipped minimum wage, which is currently $2.13 an hour, of seeking to make a career out of these jobs and "destroying small businesses."
"And ​those owners work about 60 hours a week. ​And now you're telling them their labor force ​has got to make more, maybe, than they do? Forget it," he said.
Ainsley Earhardt said that a minimum wage job "is not meant to be a career," continuing: "​It's meant to help you get your start. We were all in high school​, we were in college… when I was waiting tables.
"​Unless you're at a very fine restaurant, ​most of those people, at the fine restaurants, that is their career​.​​​ ​B​ut they make ​tons of money. If you're working at ​a ​McDonald's or a small little restaurant​ where you're making tips​, you​'​re right. If you​'re nice to the people, you make a lot of money."
Dave Weigel, a politics reporter for The Washington Post, noted the Fox & Friends discussion in a tweet, writing: "One of my biggest peeves is people with extremely easy jobs making light of low-wage labor. Waiting tables is MUCH harder than flapping your jaws on TV."
Responding to Weigel, Ocasio-Cortez wrote: "I've waited tables and interviewed on live TV. He's right. Going on TV can be stressful, but restaurant shifts are much, much harder. Most of these Fox News correspondents couldn't last one real day in these hard working jobs they love to mock on television."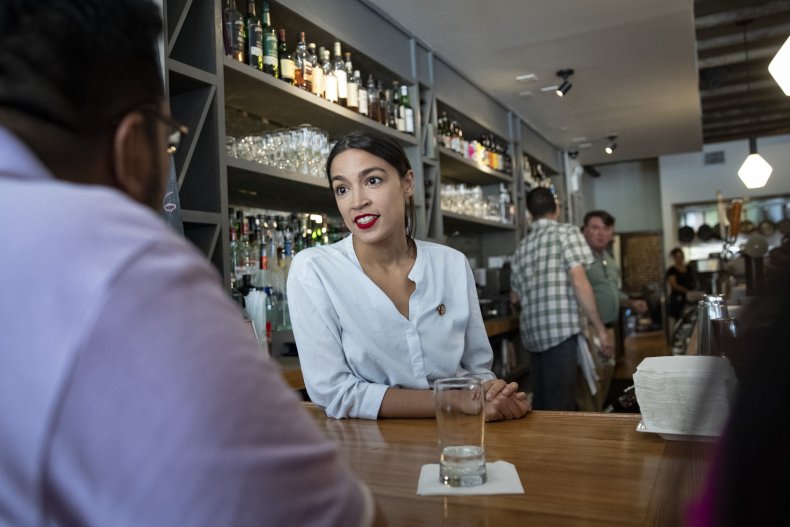 This article was updated to include an infographic.