Alexandria Ocasio-Cortez Wins in New York: 5 Things to Know About Youngest Woman Ever Elected to Congress
Alexandria Ocasio-Cortez made history in Tuesday's midterm elections when she defeated Republican candidate Anthony Pappas for New York's 14th Congressional District. The 29-year-old Democrat is the youngest woman to take a seat in Congress.
She was born in the Bronx to two working-class parents—her mother was born in Puerto Rico and her father was a small business owner in the south Bronx. Her background is in education and community organizing and she worked for the late Senator Ted Kennedy on family immigration cases. She ran as a democratic socialist.
Here are five things to know about Ocasio-Cortez:
Historic Primary Win
In the June primary, less than a year on from her days bartending to support her family, Ocasio-Cortez unseated leading House Democratic Representative Joe Crowley, a 10-term incumbent. Crowley had not faced a challenger since 2004 and it was the biggest primary upset since 2014, when economics professor Dave Brat defeated then-Majority Leader Representative Eric Cantor in Virginia's 7th Congressional District.
Ocasio-Cortez's victory had a larger consequence in politics—Crowley, the chair of the House Democratic Caucus, was seen as a potential successor to former House Speaker Nancy Pelosi if Democrats won back control of the House of Representatives in the midterms.
Youngest Woman Ever Elected to Congress
At 29, Ocasio-Cortez is the youngest woman ever elected to Congress in U.S. history. The record was formerly held by Republican Elise Stefanik of New York, who took office at the age of 30 in 2015.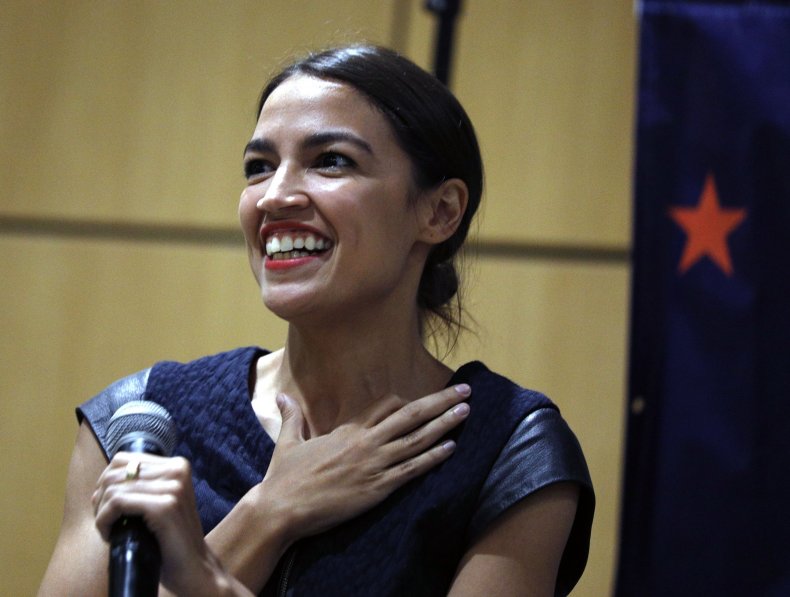 'Medicare for All'
One of Ocasio-Cortez's central pitches on the campaign trail was a "Medicare for all" proposal. Progressives, including Senator Bernie Sanders, have pushed the idea even though some studies show that it could cost more than $30 trillion. She has pointed to similar healthcare systems in Canada, the United Kingdom and France.
"Medicare for all would save the American people a very large amount of money. And what we see as well is that these systems are not just pie in the sky," Ocasio-Cortez said on CNN's State of the Union in September. "What we need to realize is these investments are better and good for our future. These are generational investments."
Wants to Abolish ICE
Ocasio-Cortez made abolishing U.S. Immigration and Customs Enforcement one of her main campaign issues and traveled to a shelter in Texas where separated migrant families were being held.
"We are committing human rights abuses on this border and separating children from their families and that is part of the structure of the agency," she said in June. "We can replace it and we can replace it with a humane agency that is directed towards safe passage instead of criminalization."
Worked with Bernie Sanders
Ocasio-Cortez was an organizer for Vermont Senator Bernie Sanders who ran in the Democratic primary for the 2016 presidential election. Although he didn't formally endorse her, Sanders congratulated Ocasio-Cortez on her primary win, as a candidate who stood for the progressive movement.
"Congratulations to @Ocasio2018 on her extraordinary upset victory tonight! She took on the entire local Democratic establishment in her district and won a very strong victory," Sanders tweeted on June 26. "She demonstrated once again what progressive grassroots politics can do."