Ocasio-Cortez Launches Re-election Bid Saying Give Bail Reform Time, Calls for 'Turnout Machine' to Secure Win
Alexandria Ocasio-Cortez called for New York bail reforms to be given a shot and urged people to "slow down a bit" on criticizing the changes as she launched her 2020 re-election bid.
The Democratic representative of New York's 14th congressional district said the reform had been given "almost no time" since its passage, speaking at an election event in The Bronx, The New York Post reported.
New York state's bail reforms enacted this year block judges from attaching financial bail conditions to minor crimes and nonviolent felonies.
Passage of the bail reform was followed by a spate of anti-Semitic attacks that prompted calls for the changes to be scrapped, and the installation of CCTV cameras in neighborhoods with longstanding Jewish communities.
Speaking to The New York Post, Ocasio-Cortez reportedly said the reforms passed by the New York state legislature needed to be given time.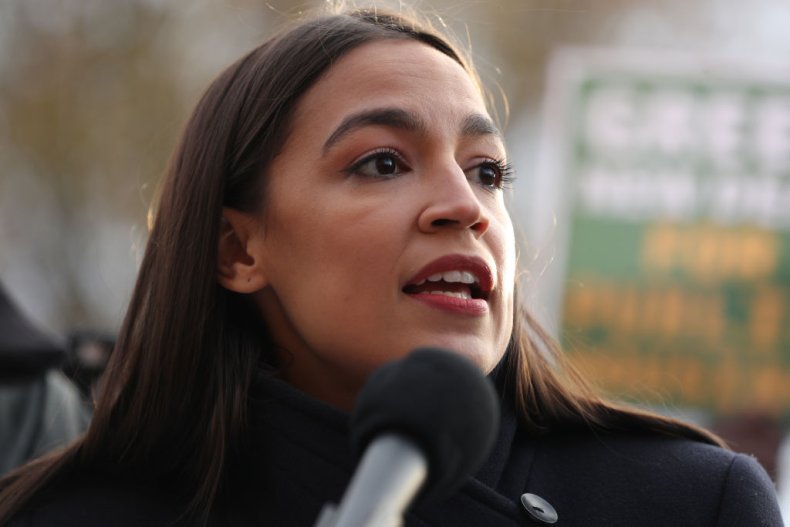 "We've had almost no time since these things have passed," she told the Post. "So I would just say, in this environment with political pressure, to maybe just say let's just slow down a bit."
During her re-election launch speech broadcast by News 12 The Bronx, Ocasio-Cortez said: "I am not interested in just showing up every two years to ask our community for your vote. I am interested in making deep investments in the Bronx and in Queens."
Addressing supporters at her new office in Queens, she also said her campaign had "really ambitious goals" for 2020, the Post reported.
"Last election cycle, in the primary as we know, the turnout was quite low... this year, we want to multiply turnout by four times," the freshman congresswoman said.
"That's our goal. We want to secure 60,000 votes in the primary election. We need to start creating a turnout machine right now."
Newsweek has contacted the office of Rep. Ocasio-Cortez for further comment, and will update this article with any response.
The New York Democrat is slated to face a primary battle on June 23 ahead of the November general election, and is heading toward the race with more than $2.9 million on hand, according to campaign finance data.
Although her chances of re-election this year appear to be strong, particularly given that she was elected to Congress just two years ago with 78 percent of the district vote, Ocasio-Cortez is still facing rival bids from around a dozen challengers.
On top of eight Republicans seeking to oust the New York representative, five Democrats are also aiming for her seat—including New York City councilman Fernando Cabrera.
Former CNBC anchor Michelle Caruso-Cabrera is the latest Democratic challenger to unveil a primary bid for New York's 14th disctrict, and is reportedly to the right of Ocasio-Cortez on the economy.
In a statement to CNBC about her election run, Caruso-Cabrera said: "I am so lucky to have had such a wonderful career and I want everybody to have the opportunity that I've had. That's why I'm running."