Sarah Sanders Defends Ivanka Trump, Says She Creates Millions of Jobs, but Alexandria Ocasio-Cortez Destroys Them
Outgoing White House press secretary Sarah Sanders came to Ivanka Trump's defense on Sunday, after Rep. Alexandria Ocasio-Cortez criticized the president's daughter appearing at last week's G20 summit.
The New York representative shared a clip of the first daughter apparently trying to join a conversation between French President Emmanuel Macron, U.K. Prime Minister Theresa May and International Monetary Fund boss Christine Lagarde.
Ocasio-Cortez wrote alongside the video: "It may be shocking to some, but being someone's daughter actually isn't a career qualification. It hurts our diplomatic standing when the President phones it in [and] the world moves on."
She continued: "The U.S. needs our President working the G20. Bringing a qualified diplomat couldn't hurt either."
Defending Ivanka Trump and her father, Sanders accused Ocasio-Cortez of "phoning it in" herself by "wasting" time on social media and "destroying jobs" in New York.
Ocasio-Cortez made headlines back in February after online megastore Amazon scrapped plans to build an additional head office (HQ2) in Queens, New York.
The representative praised the news, having previously slammed the company for asking city boards to bid on the facility.
"The idea that it will receive hundreds of millions of dollars in tax breaks at a time when...our communities need MORE investment, not less, is extremely concerning to residents here," she tweeted in November.
But others, including New York Gov. Andrew Cuomo, expressed dismay over the lost deal. He blamed "a small group of politicians put their own narrow political interests above their community," for a "lost economic opportunity" he claimed could have created some 25,000-40,000 jobs.
A spokesperson for Ocasio-Cortez declined to comment for this story.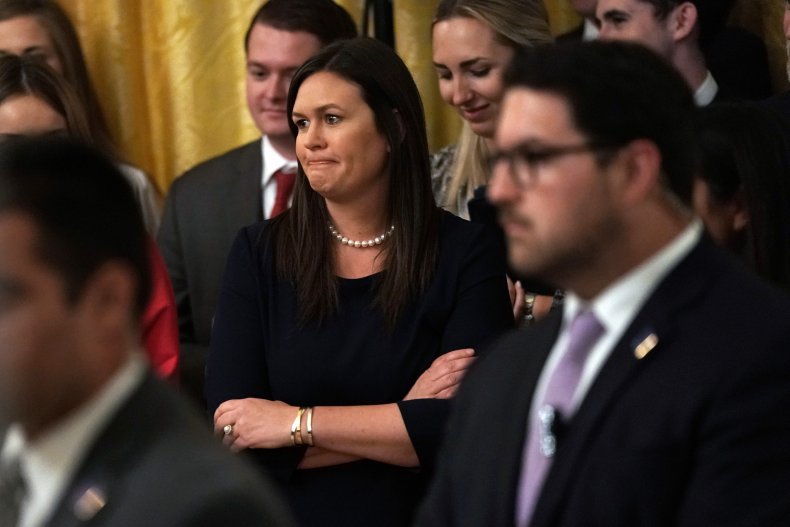 On Sunday, Sanders claimed President Donald Trump and Ivanka Trump had created "millions of new jobs," adding the pair "continue to make the U.S. stronger on the global stage." Turning her attention back to Ocasio-Cortez, she wrote: "Thank you for reminding Americans everyday why they elected Trump."
The unemployment rate has dropped from 4.3 in May 2017 to 3.6 percent as of May 2019, according to the Bureau of Labor Statistics. But it's not clear if these figures are the direct result of the president, or his daughter's, actions.
Back in February, Donald Trump also claimed his daughter had created an enormous amount of U.S. jobs. "My daughter has created millions of jobs. I don't know if anyone knows that, but she's created millions of jobs," he said during a meeting with governors.
The president was referring to Ivanka's role on a workforce policy advisory board, which saw some 200 companies agree to offer more than six million training opportunities over five years as part of a "Pledge to American Workers."
But these "training" roles are not jobs per se, according to The Washington Post. And, as CNN reported back in November, many were already planned before they were advertised as part of the pledge.
This article has been updated to show a spokesperson for Alexandria Ocasio-Cortez declined to comment.