Alexandria Ocasio-Cortez Says Bernie Sanders Should 'Double Down' On 'Coalition Building' After Super Tuesday
Alexandria Ocasio-Cortez is one of several top surrogates for Bernie Sanders on Capitol Hill who believe the Vermont senator needs to broaden his support among the electorate and energize his base to turnout in larger numbers if he wants to reclaim his frontrunner status.
Results from Super Tuesday made it clear the 2020 Democratic primary is de-facto a two-man race between Sanders and former Vice President Joe Biden, ushering the campaign season into a new chapter that requires fresh strategies.
For Sanders, that means expanding his electorate beyond Latino and young voters and appealing more to black and older voters, among other cohorts.
"We're in a very new phase of this race. Now is the time for us to really double down on coalition building, positivity expansion and focusing on the vision that Senator Sanders has for this country," Ocasio-Cortez, a New York Democrat, told Newsweek.
She's one of Sanders' loudest advocates on Capitol Hill and at times stumps with him on the campaign trail. The first-term congresswoman is also a Latina millennial, two cohorts of the electorate that Sanders depends on.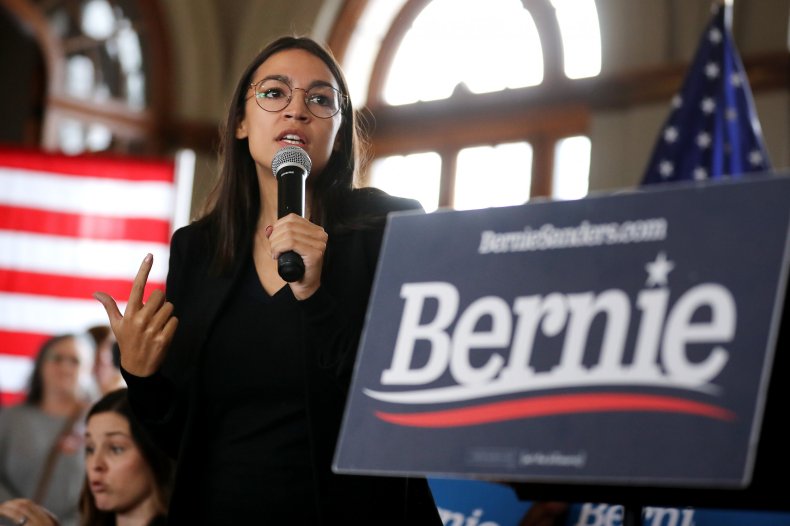 Amid a coalescing of moderates and a dominance of the black vote that has helped propel Biden to lead in delegate totals, Sanders faced deteriorating turnout among young voters Tuesday night than in the past.
While Sanders dominated both Latinos and young voters on Super Tuesday, exit polls show that voters aged 18 to 29 years old accounted for less of the electorate than in 2016, weakening their influence. Latino voters continued to show strong support for Sanders, but black and older voters allowed Biden to sweep the south and emerge victorious in the majority of the 14 Super Tuesday voting states.
As results continued to trickle in Wednesday, Biden led Sanders by roughly 50 delegates—or about 11 percent.
"He's got to build his base. He's got to turn out his base in bigger numbers," Rep. Peter Welch (D-Vt.), who backs Sanders and co-chairs the campaign's Vermont operations, told Newsweek. "He's been asserting that he's going to be able to do that."
The backbone of Sanders' presidential bids has always been the promise to drive new voters to the polls that are younger and more diverse. He maintained the notion Wednesday that in a general election against President Donald Trump, he'd have no difficulty making that pledge come to fruition. But first, he needs to win the primary, and Sanders acknowledged there's work to be done moving forward.
"You might want to ask me, have we been as successful as I would hope in bringing young people in? The answer is no," Sanders told reporters. "We're making some progress, but historically, everybody knows that young people do not vote in the kind of numbers that older people vote in."
How Sanders goes about actually broadening his coalition of supporters remains to be seen. One former top staffer for the senator's 2016 campaign said it needs to include a call for unity and an effort to garner more moderate support.
"[The] campaign has to do more to engage party activists and those who can drive mobilization for the primaries in the more moderate states," Sanders' 2016 Outreach Director Nick Carter told Newsweek.
Sanders' status as a self-described democratic socialist who wants a political revolution continues to fuel deep concern among elected moderate Democrats about the down-ballot effect his name would have at the top of the ticket.
"Bernie needs to not ignore desire for unity amongst [the] primary electorate," Carter added. "But [he] also has to maintain enthusiasm from his supporters, so a fine line to walk."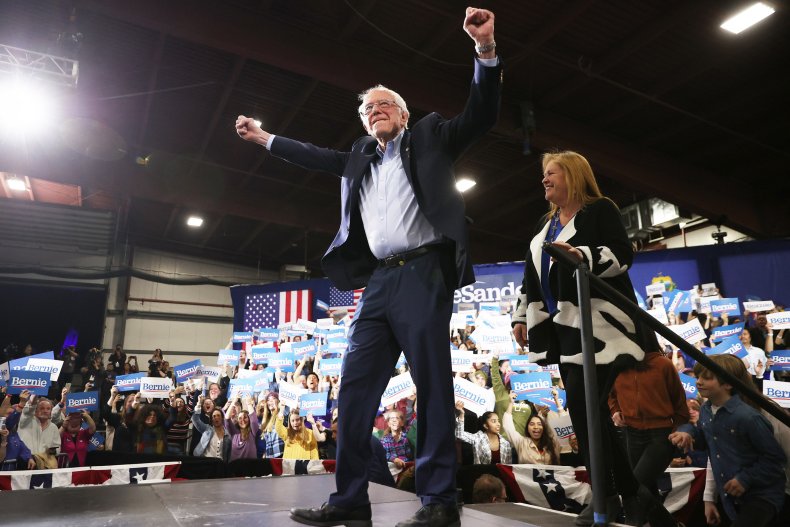 Progressives, like Congressional Progressive Caucus co-Chair Pramila Jayapal (D-Wash.), continue to warn their Democratic colleagues that "fear mongering" over what impact Sanders could have their re-election chances could result in divisiveness and damage the party—not Sanders' liberal stances.
"Just like we can't diminish Joe Biden's success last night, we also can't diminish Senator Sanders' success in California with young voters, with Latino voters," said Jayapal, a Sanders supporter. "We really need some respect on both sides—no fear mongering—for what could be very different approaches to this terrible threat that we see of Donald Trump in office."
As of Wednesday afternoon, four Democratic candidates remained in the race: Biden, Sanders, Massachusetts Senator Elizabeth Warren and Hawaii Rep. Tulsi Gabbard. However, Warren will hold a staff-wide call Wednesday evening, where it's possible she'll announce that she's suspending her White House bid, a campaign staff member told Newsweek.
Warren's exit from the race would mean her progressive base would be up for grabs, but it's not certain the majority of her supporters would automatically migrate to Sanders.
A Morning Consult poll conducted last week when Minnesota Senator Amy Klobuchar and former South Bend, Indiana, Mayor Pete Buttigieg were both still in the race showed that roughly 40 percent of Warren supporters would back Sanders. Carter contended it "certainly would help, particularly with older voters."
Sanders and his supporters remain confident they're on par with most Democratic voters when it comes to their liberal stances on issues like Medicare-for-All. But although most voters signaled Tuesday night in exit polls that they back the signature Sanders proposal, that does not equate to delegates.
In fact, a large chunk of those who prefer the health insurance industry going from private to the government-run Medicare-for-All plan still cast their ballots for Biden.
"We are winning on the issues," Ocasio-Cortez said. "The key is how you translate that electorally to the candidate."