Alexandria Ocasio-Cortez Says Progressives Aren't the Enemy After Biden's Victory, Reveals She's Not Sure How Long She'll Be in Politics
Representative Alexandria Ocasio-Cortez, a progressive Democrat from New York, pushed back against criticism targeting her left-wing coalition in a new interview, while also saying that she remains uncertain about her political future.
Ocastio-Cortez—who describes herself as a democratic socialist—has been at odds with moderates in her party since she defeated former Democratic Representative Joe Crowley in the 2018 primary midterms. Although the congresswoman backed Senator Bernie Sanders against Biden in the Democratic presidential primaries, she and fellow progressive Democrats rallied in support of President-elect Joe Biden as he campaigned against President Donald Trump.
In a new interview published by The New York Times on Saturday, Ocasio-Cortez argued that campaigning by her progressive colleagues helped propel Biden to victory.
"I've been begging the party to let me help them for two years. That's also the damn thing of it. I've been trying to help. Before the election, I offered to help every single swing district Democrat with their operation. And every single one of them, but five, refused my help. And all five of the vulnerable or swing district people that I helped secure victory or are on a path to secure victory," the congresswoman said.
"And every single one that rejected my help is losing. And now they're blaming us for their loss," Ocasio-Cortez told the Times. "So I need my colleagues to understand that we are not the enemy. And that their base is not the enemy. That the Movement for Black Lives is not the enemy, that Medicare for all is not the enemy."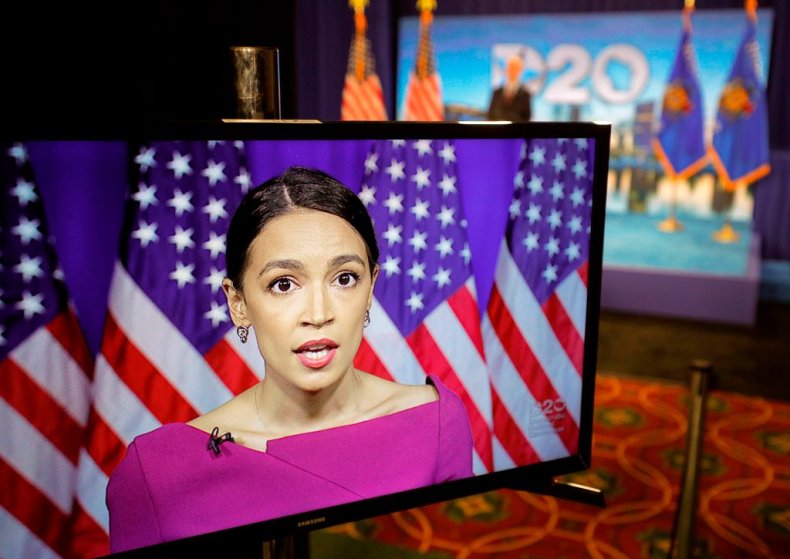 Democrats won the presidency and picked up at least one additional seat in the Senate, but Republicans managed to pick up several seats in the House of Representatives. Democrats maintained their majority in the House, however.
Ocasio-Cortez pointed to the grassroots campaigning by fellow progressive Representative Rashida Tlaib of Michigan in her key battleground state—as well as the efforts by activists in Arizona, Georgia, Nevada and Pennsylvania—saying these actions appeared to be key to Biden's victory in the Electoral College.
She voiced concern over comments from some of Biden's Republican and moderate backers about how the president-elect should act once he enters the White House.
"These transition appointments, they send a signal. They tell a story of who the administration credits with this victory. And so it's going to be really hard after immigrant youth activists helped potentially deliver Arizona and Nevada. It's going to be really hard after Detroit and Rashida Tlaib ran up the numbers in her district," Ocasio-Cortez pointed out.
"If the party believes after 94 percent of Detroit went to Biden, after Black organizers just doubled and tripled turnout down in Georgia, after so many people organized Philadelphia, the signal from the Democratic Party is the John Kasichs won us this election? I mean, I can't even describe how dangerous that is," she said.
Kasich, a Republican, served as Ohio's governor from 2011 to 2019. He endorsed Biden but his state went for Trump.
Newsweek reached out to press representatives for Biden to ask for comment on Ocasio-Cortez's remarks, but they did not immediately respond. In a victory speech on Saturday evening, after the Associated Press and networks officially called the race, Biden voiced his plan to be unifying president.
"To my campaign team, and all the volunteers, to all those who gave so much of themselves to make this moment possible, I owe you everything. And to all those who supported us: I am proud of the campaign we built and ran. I am proud of the coalition we put together, the broadest and most diverse in history," Biden said.
"Democrats, Republicans and independents. Progressives, moderates and conservatives. Young and old. Urban, suburban and rural. Gay, straight, transgender. White. Latino. Asian. Native American," the president-elect said.
Ocasio-Cortez has taken aim at criticism from moderates and Republican Biden-backers on Twitter over the last 24 hours. "John Kasich, who did not deliver Ohio to Dems, is saying folks like @IlhanMN, who did deliver Minnesota, are the problem," she tweeted on Saturday. "Please don't take these people seriously and go back to celebrating and building power."
"I've been thinking so much of @IlhanMN. Trump made Minnesota explicitly about HER. Said he'd win because of her. Many Dems in DC believed him, & marginalized her. That burden wasn't fair, but she took on the challenge anyway. She won," Ocasio-Cortez wrote in another post. "Credit and respect her. @RashidaTlaib too."
Representative Ilhan Omar, a progressive Democrat from Minnesota, shared Ocasio-Cortez's interview in a Sunday Twitter post. The congresswoman wrote: "Just a friendly reminder: @AOC isn't the enemy or a threat, she is an asset to our party. When you allow the GOP to dictate who should be included in our 'big tent' party, we all lose. For god's sake, the GOP has QAnon members in their ranks and won't throw them under the bus."
In her interview with the Times, Ocasio-Cortez also explained that she still isn't sure about her political future. Although many have speculated that she could launch a bid for the Senate, the representative said making such a move was just as likely as her leaving politics all together.
"I chose to run for re-election because I felt like I had to prove that this is real. That this movement was real. That I wasn't a fluke. That people really want guaranteed health care and that people really want the Democratic Party to fight for them," she said.
"But I'm serious when I tell people the odds of me running for higher office and the odds of me just going off trying to start a homestead somewhere—they're probably the same."