Alexandria Ocasio-Cortez Says She Is a Radical: 'It Only Has Ever Been Radicals That Have Changed This Country'
Representative Alexandria Ocasio-Cortez—the youngest woman ever elected to Congress—has not ducked her newfound fame as one of the most progressive and controversial lawmakers in the Democratic Party, despite facing relentless attacks from Republicans and even her fellow Democrats.
In a wide-ranging interview with CBS News's 60 Minutes that aired Sunday, the New York congresswoman said "yes" when Anderson Cooper asked her whether she would call herself a radical.
"It only has ever been radicals that have changed this country," she said. "Abraham Lincoln made the radical decision to sign the Emancipation Proclamation. Franklin Delano Roosevelt made the radical decision to embark on establishing programs like Social Security.
"You know, if that's what radical means, call me a radical," Ocasio-Cortez said.
Read more: Alexandria Ocasio-Cortez says there is "no question" that Donald Trump is racist during '60 Minutes' interview
Though a political newcomer who only took her seat on January 3, Ocasio-Cortez suggested she shouldn't be underestimated. Asked by Cooper to respond to criticisms that she did not understand how the political game was played, Ocasio-Cortez replied: "I think it's really great for people to keep thinking that."
Indeed, the 29-year-old suggested she won her primary in New York's 14th District largely thanks to her opponents underestimating her.
But now that she is in the U.S. House of Representatives, Ocasio-Cortez has wasted no time in pushing for a more progressive agenda from within the Democratic Party.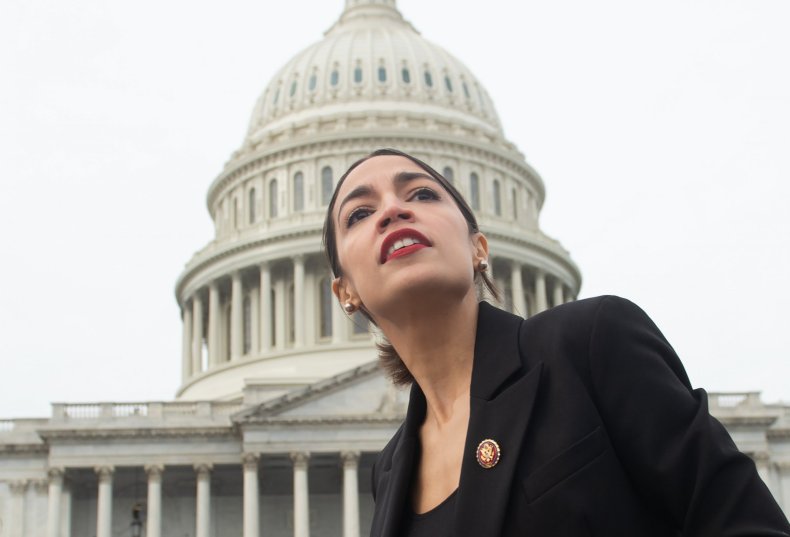 Medicare coverage for all Americans, ambitious reforms to address climate change, abolition of college tuition, higher taxes for the country's wealthiest and campaign finance reform are some of her stand-out policy ambitions, which have drawn vehement opposition from the Republicans and unsettled some Democrats.
Critics argue that Ocasio-Cortez's more ambitious policy suggestions are simply too expensive. "How are you going to pay for all of this?" Cooper asked.
Ocasio-Cortez responded that such questions were only asked when it came to "housing, health care and education."
"No one asks how we're going to pay for this Space Force. No one asked how we paid for a $2 trillion tax cut," she said. "How do we pay for it? With the same exact mechanisms that we pay for military increases for this Space Force. For all of these ambitious policies.
"We pay more per capita in health care and education for lower outcomes than many other nations. And so for me, what's unrealistic is what we're living in right now," Ocasio-Cortez said.
The congresswoman said she would work with her opponents to bring about change. In an unaired clip from the interview, she suggested there were "a lot of folks that I think sometimes want to brand me as a flame thrower.
"I think the truth of what I am is a consensus-builder," Ocasio-Cortez told Cooper. She vowed to work on "building relationships and trying to persuade and talk to my colleagues on building a progressive agenda for the party."
But she stressed she would not allow the politics of Washington to dilute her goals. "When the sun sets on my life, I want to be able to tell my grandchildren that we established a single-payer system, tuition-free universities and that we saved the climate for their future, because we decided to be courageous in the moment and make it happen."