Alexandria Ocasio-Cortez Says There's 'No Room For Antisemitism' In Her Pro-Palestine Campaign
Representative Alexandria Ocasio-Cortez condemned the recent wave of antisemitic attacks on Friday, saying there's "no room for anti-semitism" in the pro-Palestine campaign she has led in recent weeks.
"There is no room for anti-semitism in the movement for Palestinian liberation. Our critique is of Israel and their human rights abuses. This is not an excuse for anti-semitic hate crimes," Ocasio-Cortez tweeted.
The congresswoman joined her fellow New York Democrats, many of whom took to social media to criticize the racist attacks, including one particular incident that took place in New York City's Times Square this week.
"We've seen an increase in antisemitic and Islamophobic hate, in NYC and nationwide — hateful words, hate crimes, and other forms of violence. We must stand together to condemn hate," Representative Jamaal Brown, another member of the so-called progressive Squad, wrote.
"Targeting our Jewish family in response to international conflict is absolutely not okay. Conflict abroad does not need to turn us against one another. This is a counterproductive, inexcusable, and ignorant act of antisemitic hate," Brown continued.
Others like, Governor Andrew Cuomo, New York City Mayor Bill De Blasio, Representatives Mondaire Jones, Kathleen Rice and Carolyn Maloney, also spoke out about the brutal attacks.
"I'm angry & concerned by reports of alleged anti-Semitic violence in Times Square last night," House Judiciary Committee Chairman Jerry Nadler tweeted. "Such despicable hatred isn't what our city stands for and we won't tolerate it. If you know anything about this abhorrent attack, I encourage you to contact @NYPDHateCrimes right away."
On Friday, one suspect was arrested by the New York Police Department in connection to an attack of a Jewish man in Times Square on May 20.
Police say that the young Jewish man was approached by a group of men who "knocked him to the ground and assaulted him while making anti-Semitic statements." NYPD previously told Newsweek that the victim was punched, kicked and pepper sprayed in the attack. Detectives are searching for six more suspects.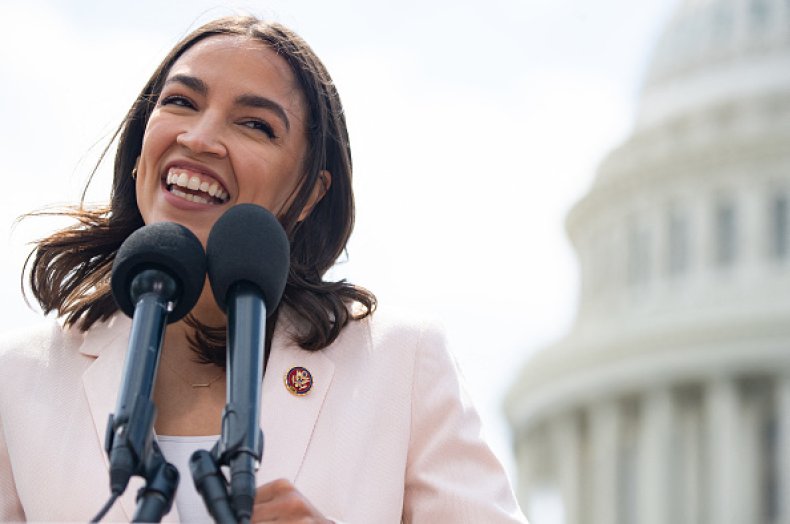 Representative Grace Meng, who introduced the COVID Hate Crimes Act that was signed into law yesterday, said, "An attack on one community is an attack on all of our communities."
"The wave of anti-Semitic attacks against the Jewish community is disgusting & must not be tolerated," Meng added. "We must all condemn these abhorrent & sickening acts of violence & continue to make clear that hate has no place anywhere in our society. These incidents must end immediately."
Ocasio-Cortez's remarks come after the congresswoman championed the pro-Palestine effort from progressive Democrats as violence continued between the Israel military and Hamas militants for nearly two weeks.
She has continued to pressure the Biden administration to stop selling weapons to the Israeli government, saying the U.S. has a "responsibility to protect human rights."
On Wednesday, she introduced a resolution alongside Representatives Rashida Tlaib and Mark Pocan that would block the weapons sale to Israel outright.
"For decades, the U.S. has sold billions of dollars in weaponry to Israel without ever requiring them to respect basic Palestinian rights. In so doing, we have directly contributed to the death, displacement and disenfranchisement of millions," Ocasio-Cortez said in a statement.
Senator Bernie Sanders introduced a similar resolution in the Senate the next day.
On Thursday, Hamas and the Israeli military came to a truce after the worst outbreak of violence between the two sides since 2014. Over 11 days, airstrikes left hundred of people dead, mostly Palestinians, and devastated the communities of the Gaza Strip.
Newsweek reached out to Ocasio-Cortez for further comment but did not hear back before publication.