Alexandria Ocasio-Cortez Suggests She Would Have Used 'Concentration Camp' to Describe Detention Under Obama
Freshman congresswoman Alexandria Ocasio-Cortez once again defended using the term "concentration camp" to describe migrant detention camps, maintaining in a Thursday interview on CNN that the term appropriately describes conditions at the U.S.-Mexico Border.
"If we don't talk about the many times that this has happened in the history of humanity, then we also erase the suffering of those people," she said, explaining why she felt the term was contextually fitting. "...And I know that my folks back home and in my district in Queens and the Bronx, our community has rallied around it."
The brief interview marked another instance in which the lawmaker doubled down on employing the description, despite blowback she's received from politicians and Holocaust remembrance groups. In online missives and open letters over the last week, critics have argued that the term is inextricably associated with Nazi death camps and the systematic killing of some six million Jews between 1941 and 1945.
"We absolutely have communicated with survivors to indicate that this is not the same thing, as you have mentioned, academically, as an extermination or death camp," Ocasio-Cortez said after host Jake Tapper confronted her with reactions from Jewish advocacy organizations.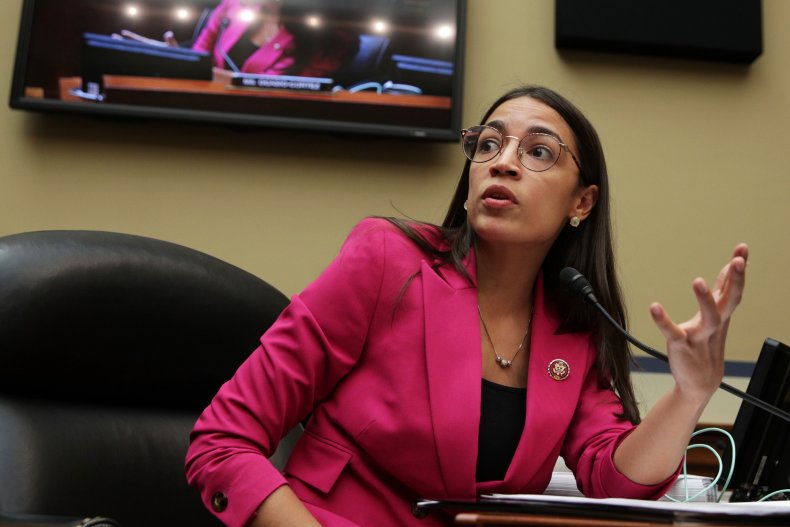 At another point in the interview, Tapper pressed Oscasio-Cortez on whether she would have used "concentration camp" to refer to detention facilities operated under the Obama administration. The congresswoman suggested she would have, although she noted that she was not an elected lawmaker at the time.
"I absolutely was outspoken against Obama's immigration policies and the detention of families then," she said. "I think it's a remarkably consistent position, and I'm not here to defend wrong actions just because they happened under a Democratic administration. I'm here to speak truth to power. And if it's wrong, it's wrong."
She continued: "I frankly don't care what president does it."
Ocasio-Cortez first described detention facilities as "concentration camps" during an Instagram live stream on June 17 and then reiterated her statement on Twitter on June 19, when she wrote that the centers "brutalized" migrants with "dehumanizing conditions."
The charged phrase caught the attention of conservative representatives Liz Cheney and Steve King, along with New York Gov. Andrew Cuomo, a Democrat.
"Six million Jews died during the Holocaust," Cuomo told reporters on Wednesday. "There is no comparison to the Holocaust, period, and to draw an equivalency suggests one does not understand what happened in the Holocaust."
The U.S. Holocaust Memorial Museum and the Israeli Holocaust museum, Yad Vashem, also took issue with the term's invocation.
However, in interviews with Newsweek, several academics and experts defended Ocasio-Cortez's decision to employ the charged description, noting that its usage predates the Holocaust by more than half a century. "Concentration camp" is also commonly associated with Japanese internment in the U.S., along with prisons set up by the British in South Africa during the Boer Wars.
"Concentration camps are any place where large numbers of people are held in poor conditions because of their nationality, ethnicity, religion or other characteristics rather than as individuals convicted of crimes," Sociology professor Richard Lachmann at the University at Albany, SUNY, said.
Amy Simon, who teaches Holocaust studies and European Jewish history at Michigan State University, told Newsweek Ocasio-Cortez was "completely historically accurate" in using the term — though she noted the lawmaker likely used the term to "call up those particular images of inhumanity."