Alexandria Ocasio-Cortez Says U.S. Is 'Running Concentration Camps on Our Southern Border'
New York Representative Alexandria Ocasio-Cortez has accused the Trump administration of "running concentration camps on our southern border," branding the government a "fascist" regime.
"The United States is running concentration camps on our southern border and that is exactly what they are," Ocasio-Cortez said in an Instagram live stream on Monday evening. "They are concentration camps."
Comparing the detention facilities that migrants, including families and children, are being held in near the border to the Nazi concentration camps where millions of people were killed during the Holocaust, Ocasio-Cortez said the phrase "Never Again" should mean something to Americans.
"I want to talk to the people that are concerned enough with humanity to say that we should not… that 'Never Again' means something," the 29-year-old New York representative said.
"The fact that concentration camps are now an institutionalized practice in the home of the free is extraordinarily disturbing and we need to do something about it," she said, in an apparent reference to the "land of the free and the home of the brave" line in "The Star-Spangled Banner."
"This week, children, immigrant children, were moved to the same internment camps where the Japanese were held in the earlier 20th century," Ocasio-Cortez said, referring to the Trump administration's decision to detain migrant children at Fort Sill, an Oklahoma Army base where Japanese Americans were once held during World War II.
While the Trump administration has received widespread condemnation over the move, the Obama administration also housed migrant children at the same facility just five years ago.
Still, Ocasio-Cortez's call to action came as President Donald Trump warned on Monday evening that the U.S. Immigration and Customs Enforcement agency would be making mass arrests starting next week, with the goal of deporting "millions" of migrants out of the country.
"Next week, ICE will begin the process of removing the millions of illegal aliens who have illicitly found their way into the United States," the president said in a Twitter statement. "They will be removed as fast as they come in."
If ICE does follow through, the widespread raids would be carried out as U.S. immigration officials struggle to find space to hold the surge in migrants, including many families, who have been arriving at the U.S.-Mexico border in search of asylum.
The graphic below, provided by Statista, illustrates the number of foreigners removed and returned from the U.S.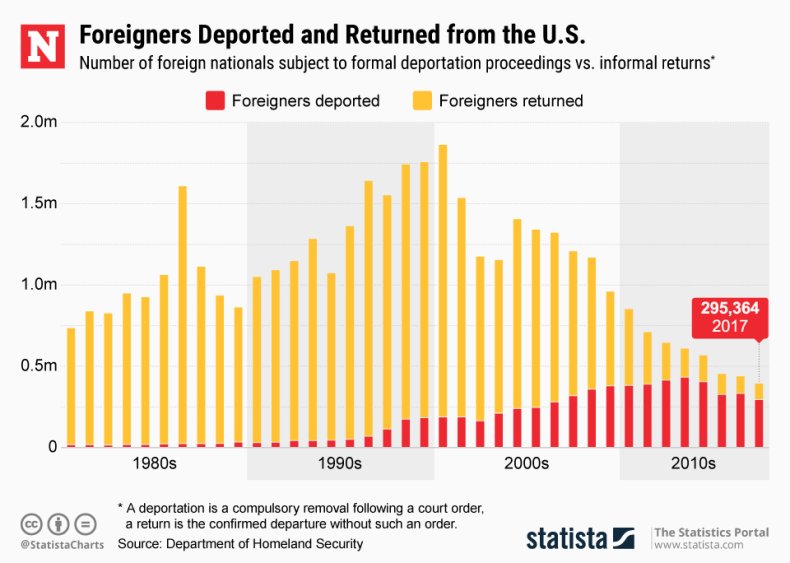 The Trump administration is facing growing complaints about severe overcrowding and poor conditions at detainment facilities, with the Border Network for Human Rights issuing a report on Friday detailing the deteriorating situation at the border based on the testimonials of dozens of migrants.
"The state of human rights in the U.S.-Mexico borderlands is grave and is only getting worse," the immigrant rights group warned in its report. "People are dying because of what is happening," it said, with at least six migrant children having died since late last year after being apprehended by Border Patrol agents.
In her livestream, Ocasio-Cortez said the current situation at the border is not just a crisis "for the immigrant communities being held in concentration camps… This is a crisis for ourselves. This is a crisis on if America will remain America."
It is also a question, the New York representative said, of whether America's "principles or values" will remain intact, or "if we are losing to an authoritarian and fascist presidency."
"I don't use those words lightly," Ocasio-Cortez said of labeling the Trump administration "authoritarian" and "fascist."
"I don't use those words to just throw bombs. I use that word because that is what an administration that creates concentration camps is," she said. "A presidency that creates concentration camps is fascist."
In the same live stream, Ocasio-Cortez condemned the U.S.'s "business-owned government" for bringing upon Americans multiple crises, among which she included Trump's election.
The New York Congresswoman, a self-described democratic socialist, suggested what she believes could be a better way forward, where the U.S. could have a free market economy "with democratic socialist businesses."
"What on earth is a democratic socialist business? A perfect example of that is worker cooperatives…which means that…workers own the shares of the company," she said.
Ocasio-Cortez said that her generation had never experienced a capitalist society that has benefited the majority of its people, whereas older generations had.
"So, we have never seen a world where government owned all businesses, but we have lived in a world where big business has owned and bought our government. It has resulted in catastrophic consequences," she said.
"We have never seen business-owned government work for the American people. We have seen greed and a desire for profit at any human cost and any environmental cost, kill our planet, endanger our children, and create miserable conditions."