President Donald Trump warned on Monday evening that the U.S. Immigration and Customs Enforcement agency would be making mass arrests starting next week, with the aim of deporting "millions" of migrants out of the country.
"Next week, ICE will begin the process of removing the millions of illegal aliens who have illicitly found their way into the United States," Trump wrote in a Twitter statement. "They will be removed as fast as they come in."
The president's warning comes just over a month after reports that his administration had hatched a "secret" plan to carry out mass arrests across 10 major U.S. cities, including New York, Los Angeles and Chicago, targeting families that had recently entered the country.
That plan had reportedly been shut down by then DHS Secretary Kirstjen Nielsen and former acting ICE Director Ronald Vitiello, who have both since departed from the White House, over concerns over a lack of preparation, as well as fears that the targeted raids would spark widespread backlash.
Now, it appears that strategy may have been revived under Vitiello's replacement, current ICE acting director Mark Morgan, who has vowed to crack down on immigrants living in the U.S. "illegally."
In his first two weeks at ICE, Morgan had hinted that such a plan could still be in the works, as he vowed to focus on interior enforcement with targeted arrests that would include families.
"Our next challenge is going to be interior enforcement," Morgan had told reporters in Washington earlier this month on June 4.
"We will be going after individuals who have gone through due process and who have received final orders of deportation," he said, adding: "That will include families."
In a statement to Newsweek, an ICE spokesperson said "the Border Crisis doesn't start and stop at the border, which is why ICE will continue to conduct interior enforcement without exemption for those who are in violation of federal immigration law."
The spokesperson did not address whether ICE operations would be targeting "millions," but said that the initiative would include "routine targeted enforcement operations, criminals, individuals subject to removal orders, and worksite enforcement."
"This is about addressing the border crisis by upholding the rule of law and maintaining the integrity of the immigration system, as created by Congress," they said.
While Morgan said that ICE agents would treat the parents and children they detain "with compassion and humanity," any enforcement campaign targeting families is likely to see widespread backlash across the country, particularly in the wake of the Trump administration's failed family separation policy.
It is unclear how ICE would set out to deport "millions" of people in the near future, as Trump has suggested, given the agency's own budgetary and staffing limitations.
If that is the plan, however, such a large-scale operation would require hundreds, if not thousands, of ICE agents, as well as other supporting law enforcement personnel to be dedicated to the initiative, as The Washington Post has pointed out.
In addition, the plan would have taken weeks of preparation, with the raids requiring agents to have identified the individuals and families to be detained, as well as their addresses.
ICE officials told the Post late on Monday night that they were not aware the president had planned to announce any enforcement plans on Twitter. Meanwhile, U.S. officials with knowledge of the enforcement initiative said that the operation was not expected to launch imminently.
Typically, ICE does not sound the alarm about its plans for targeted raids. And while Trump tweeted out about this one, the president had previously threatened Oakland Mayor Libby Schaaf with criminal prosecution for doing the same thing, when she alerted residents of plans for immigration raids in the area.
In addition to announcing ICE's apparent enforcement plans, Trump also praised Mexico for "using their strong immigration laws" to prevent migrants from making their way to the U.S. border.
Meanwhile, Guatemala, he said, is "getting ready to sign a Safe-Third Agreement, which would identify Guatemala as a "safe third country," meaning migrants who arrive there would be expected to claim asylum there, preventing them from journeying further northwest towards the U.S.
"The only ones who won't do anything are the Democrats in Congress," Trump said. "They must vote to get rid of the loopholes, and fix asylum! If so, Border Crisis will end quickly!"
Already, the president's tweet has received significant backlash, with 2020 Democratic candidate Beto O'Rourke responding directly to Trump's tweet that "militarizing and raiding our communities makes us less, not more, safe."
Mayor Schaaf also responded to the warning, writing in a tweet to Trump, "if you continue to threaten, target and terrorize families in my community... and if we receive credible information... you already know what our values are in Oakland—and we will unapologetically stand up for those values."
"Not sure what they are planning, but this seems really ominous for safety and security of all of U.S.," prominent economist David Rothschild said. "Mass roundups tend to end badly for rights and freedoms of large swaths of [the] population that are not the stated target at the start of the mass roundup."
The graphic below, provided by Statista, illustrates the number of foreigners removed and returned from the U.S.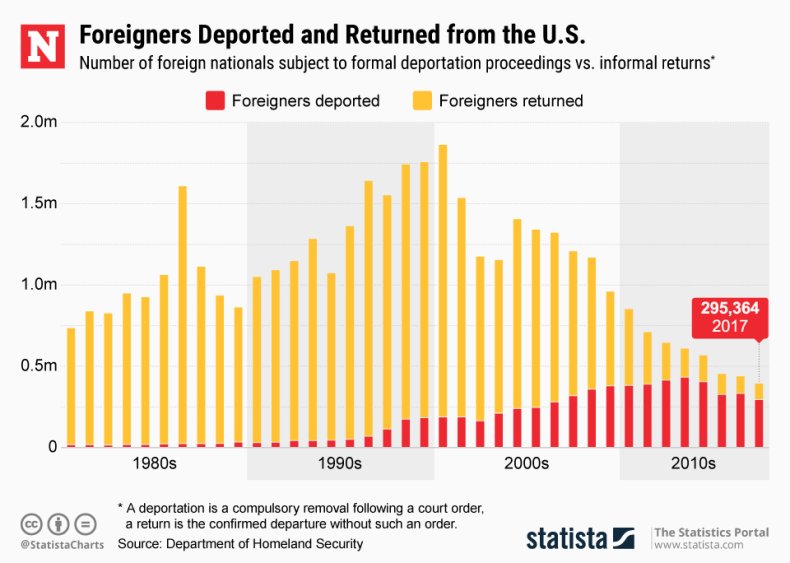 Others have sought to remind undocumented immigrants of their rights "if ICE is outside your door."
"Don't panic, and remember: YOU HAVE RIGHTS," Senior Staff Attorney and Director of Policy at Brooklyn Defender Services Scott Hechinger wrote in a response to Trump's warning.
The American Civil Liberties Union (ACLU) outlines several steps for undocumented immigrants to take if ICE agents show up at their doors.
First of all, the ACLU states, undocumented immigrants are not required to open their door or speak with agents "unless they show you a warrant signed by a judge." While ICE agents may have an "administrative warrant," it is not the same and does not hold the same power as a judicial warrant signed by a judge.
"Remain silent," the ACLU says, as "anything you say can be used against you." The civil rights group also states that if immigrants are arrested they should "not sign any paperwork" and "ask to speak to a lawyer immediately" instead.
"Do not bring your immigration documents with you," the ACLU states. "Make sure they are in a secure place and a trusted individual knows how to access them."
If immigration agents do "force their way in" to someone's home, however, the ACLU advises that residents "don't resist."
"Tell everyone in the residence to remain silent," the civil rights group says. And "have a family member contact your immigration attorney as soon as possible."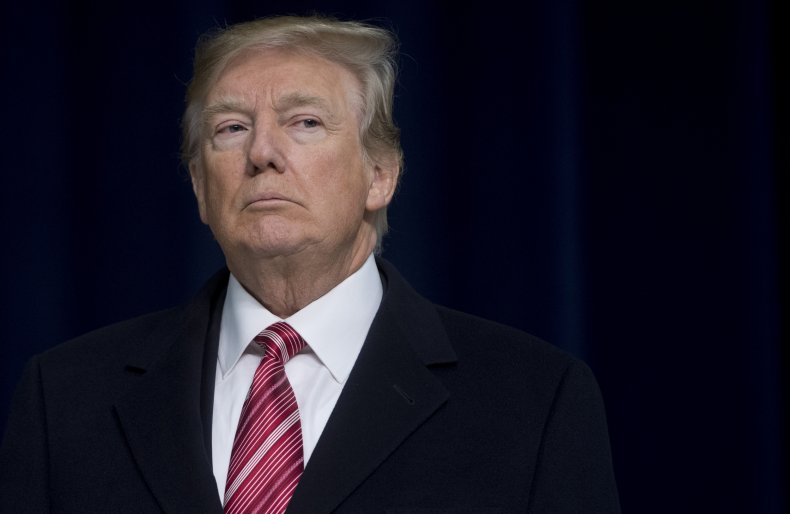 This article was updated to include an infographic and a statement from ICE.