Rep. Alexandria Ocasio-Cortez has hit back at Sean Spicer after he claimed she was "using capitalism to push socialism" by selling merchandise.
Spicer, a former While House press secretary, made the comment in a tweet on Monday that also included a link to a Reuters report about the New York congresswoman's investment in her online store.
Ocasio-Cortez's campaign paid Financial Innovations, a political merchandise firm which operates her online store and supplies merchandise, more than $1.4 million in the first half of 2021, according to campaign disclosures to the Federal Election Commission.
Her store sells T-shirts, hats and other items featuring "AOC," "The Green New Deal" and slogans such as "Tax the Rich" and "Fight for my Future" on them.
According to Reuters, Ocasio-Cortez's heavy investment is "aimed at both fundraising and building the second-term lawmaker's profile nationally."
Ocasio-Cortez's campaign told the agency that the its online store is focused on "uplifting independent artists of color whose work tells a story of community and imagines a more equitable world for all."
But Spicer took to Twitter to suggest the lawmaker—a self-described democratic socialist—selling merchandise was somehow hypocritical.
Ocasio-Cortez responded to Spicer's tweet, stating that "transactions aren't capitalism."
"Not sure if you know this Sean, but transactions aren't capitalism. Capitalism is a system that prioritizes profit at any & all human/enviro cost," she wrote in a tweet that amassed more than 40,000 likes in about nine hours.
"But [for what it's worth] our shop is unionized, doesn't operate for profit, & funds projects like free tutoring, food programs, & local organizing."
Webster's dictionary defines capitalism as: "An economic system characterized by private or corporate ownership of capital goods, by investments that are determined by private decision, and by prices, production, and the distribution of goods that are determined mainly by competition in a free market."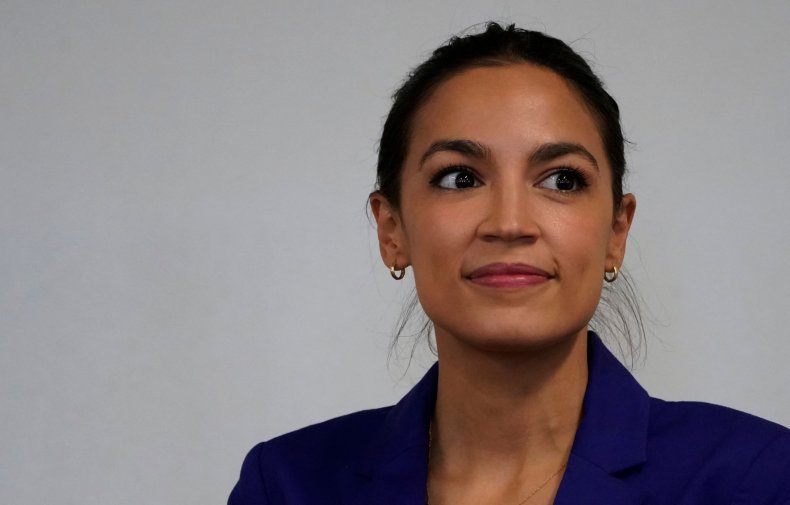 Other Twitter users responded to Spicer's tweet to tell him that he appeared to not understand what capitalism means. "The right continues to prove it doesn't even understand the one sacrosanct term in its lexicon," one person wrote.
Another person joked: "As much as you get publicly owned, I thought you'd be a big fan of socialism."
Others thanked Spicer for informing them about Ocasio-Cortez's store. "Wow thanks for alerting me to AOCs business! Can't wait to buy her merchandise!" one person wrote.
Another added: "Not sure what you're trying to say about socialism and capitalism but that looks like some sweet merch! Thanks for the link."
Spicer served as former President Donald Trump's press secretary from January to July 2017, a tenure that included regular clashes with the media.
He went on to appear on ABC's Dancing with the Stars, and now hosts an evening program on conservative network Newsmax.
Last year, he released his second book, titled Leading America: President Trump's Commitment to People, Patriotism, and Capitalism.
Representatives for Ocasio-Cortez and Spicer have been contacted for additional comment.