Sean Spicer's New Book About Trump Is the Top 'Dancer Biography' on Amazon
It's hard for folks to forget about Sean Spicer's brief dancing career, even at Amazon Prime.
His biography, Leading America: President Trump's Commitment to People, Patriotism, and Capitalism was released Tuesday. It's listed as a #1 New Release in Dancer Biographies on Amazon, and one user pointed out this delightful description. Spicer appeared on the 28th season dancing competition show in 2019, and despite being mocked mercilessly, remained on the show for several weeks.
"Always heartwarming to see people making it in the tough-as-nails dance industry," Andrew Egger quipped on Tuesday morning.
In the newly released book book, Spicer "analyzes our current political moment through the lens of politics and culture and argues that President Trump has put the country back on the right track and needs to be reelected in 2020," Amazon's description notes.
The longer summary starts with: "When it was announced that Sean Spicer would be the newest guest on ABC's Dancing with the Stars, he was promptly attacked by countless liberal media institutions," however. This could be why the book was categorized in Dancer Biographies.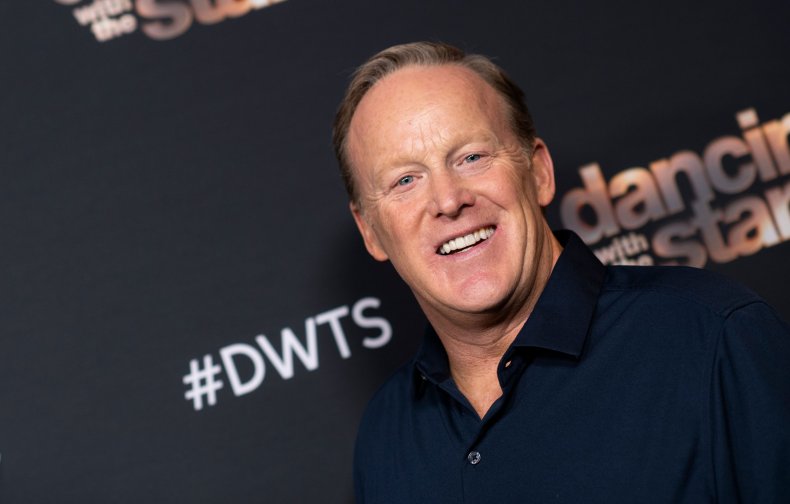 Spicer served as White House press secretary from January 2017 to July 2017, when he resigned, looking for a more "strategic communications role" at the White House.
The former WH press secretary claimed he lost 20 pounds during his stint on the dancing show. In his first appearance, he wore a bright green shirt with ruffles and performed a salsa dance with his dancing partner, Jenna Johnson.
Spicer also wore a sailor suit during another round of the competition, along with a Woody cowboy costume a la Toy Story for the show's Disney-themed night. He consistently received lower scores than his competitors, but remained on the show due to fans voting for him.
"It's about the journey," Sean told Entertainment Tonight during his tenure on the show in late October. "It's about having something that people can tune into every week where we care about each other, we support each other. No one is trying to be a pro and that's what makes it special. It really develops as a family. Everybody here, we care about each other. We support each other and it's so tough to watch somebody go home every week."
He was ultimately eliminated from Dancing With the Stars on November 11, 2019. Not even President Donald Trump's supportive tweets could keep him on the show.
"I've loved being on this show, thank you for making me part of it," Spicer said after being eliminated.
Newsweek did not receive comment from Sean Spicer at the time of publication.