Alexandria Ocasio-Cortez Blasts Trump As 'Incompetent' and 'Corrupt' for His Response to Puerto Rico
Democratic Representative Alexandria Ocasio-Cortez lit into President Donald Trump and his counselor Kellyanne Conway on Sunday over the president's reaction to the ongoing humanitarian crisis in Puerto Rico, which is still recovering from Hurricane Maria more than 18 months after the storm devastated the island.
In an initial tweet, the progressive congresswoman, who represents New York, responded to criticism levied against her by Conway. The close Trump aide had lambasted Ocasio-Cortez for not commenting publicly on the Easter Sunday attack on churches and hotels in Sri Lanka that left hundreds dead.
Responding, Ocasio-Cortez pointed out that she was visiting her grandmother in Puerto Rico during Easter and was disconnected from technology.
"On Easter I was away from tech visiting my grandmother in Puerto Rico, which continues to suffer from the White House's incompetent disaster response," the representative explained. "Are you trying to imply that I am less Christian? What was the point of you bringing this up on national TV?"
Ocasio-Cortez went on to further slam the Trump administration for its ongoing failure to adequately address the crisis that resulted from Hurricane Maria in 2017.
"I chose to use the word 'incompetent' when it comes to Trump's response to Hurricane María & the 3,000 Americans who died on his watch, but that's only because I had 280 characters," she wrote. "There are plenty of other words too," she added, going on to list: "negligent," "inept," "inhumane" and "predatory."
"'Corrupt' is a good one, too," she added in a follow-up tweet. "I'm curious, how do you spin ignoring and neglecting the largest mass death of people on American soil in decades," she asked, tagging Conway.
"The official count of 3,075 people is much bigger than the 64 number your admin clung to for so long," Ocasio-Cortez pointed out.
Beyond the thousands left dead as a result of the hurricane and an inadequate disaster response from Washington, a recent report revealed that thousands of Puerto Rican children now show signs of post-traumatic stress disorder (PTSD), PBS News Hour reported this weekend.
A study by the Puerto Rico Department of Education and the Medical University of South Carolina surveyed nearly 100,000 young public school students, shedding further light on the lasting impact of ongoing food shortages, damaged homes and loved ones leaving the island.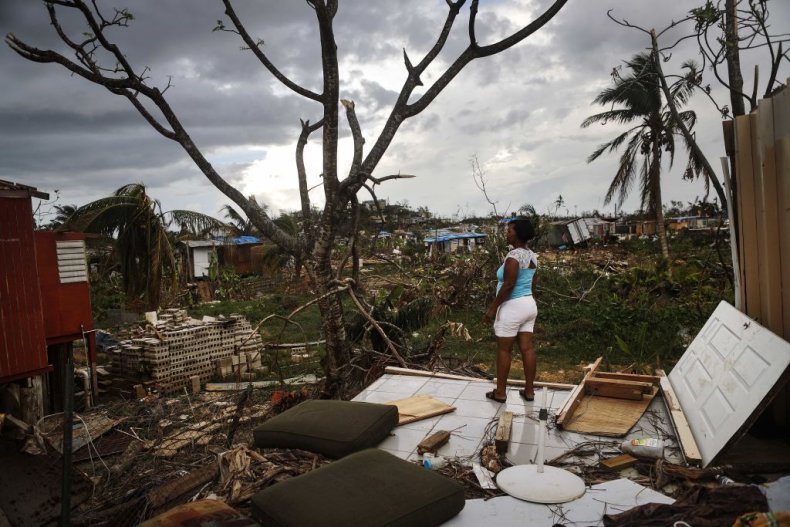 Trump's administration has repeatedly been accused of showing disregard for the plight of Puerto Rico, with the president reportedly opposing the allocation of disaster funding to the island, despite its residents being U.S. citizens. Politicians in the U.S. territory and in Congress have blasted the president's response to the disaster.
Representative Nydia Velázquez, a Democrat from New York who, like Ocasio-Cortez, is Puerto Rican, slammed the administration's "callous response" to the disaster in comments to NBC News last month.
"He does not value the lives of millions of American citizens who reside there," she said. "For the President to vocally oppose and target aid to the most vulnerable in Puerto Rico is shameful, heartless and inexcusable."