Alexandria Ocasio-Cortez 'Parody' Twitter Account 'AOCpress' Suspended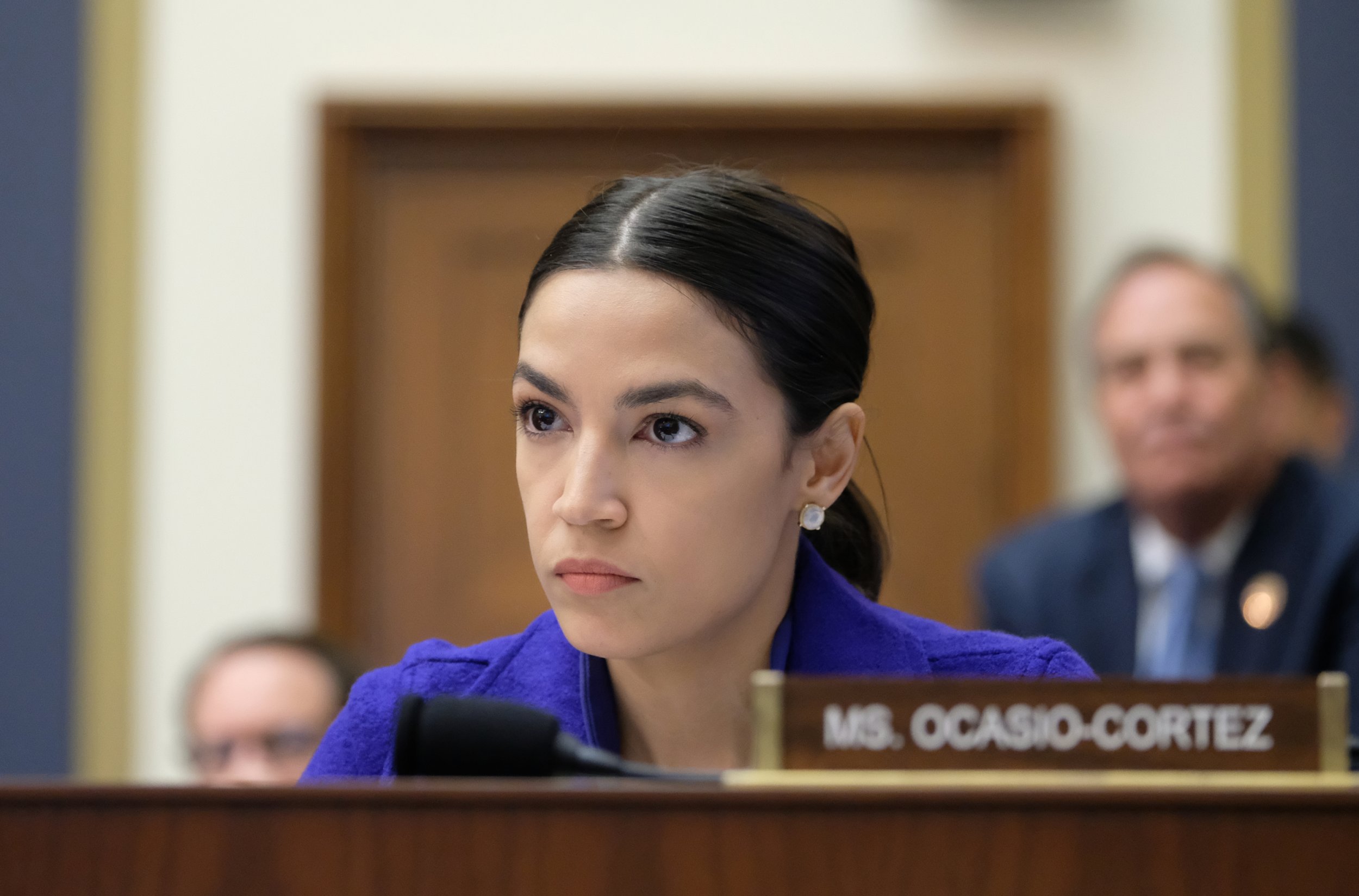 Days after Facebook banned several controversial commentators, including far-right conspiracy theorist Alex Jones, Twitter has barred a "parody" account that once pretended Rep. Alexandria Ocasio-Cortez supported a member of terrorist group, ISIS.
Twitter permanently suspended the "@AOCpress" account Monday for violating its "fake account" rules. But former owner, Mike Morrison—whose personal Twitter account "@OfficeOfMike" was also suspended—told conservative-leaning outlet Human Events he believed the bans were politically motivated.
Newsweek understands Twitter blocked Morrison's @AOCpress and personal accounts because the platform deemed they did not comply with this specific rule: "While you may use Twitter pseudonymously or as a parody, commentary, or fan account, you may not use misleading account information in order to engage in spamming, abusive, or disruptive behavior including attempts to manipulate the conversations on Twitter."
Corbin Trent, a spokesperson for Ocasio-Cortez, told Newsweek the representative's office was not involved in the suspension of the @AOCpress account.
Twitter reportedly sent Morrison an email explaining their fake accounts policy. As well as the rule described above, it said: "You also may not post duplicative or substantially similar content, replies, or mentions over multiple accounts or multiple duplicate updates on one account, or create duplicate or substantially similar accounts."
But Morrison argued the @AOCpress account's popularity was to blame for the suspensions. "I think Twitter banned AOCpress for the increasing amounts of attention it's been receiving lately," he told Human Events. "In the past month and a half alone the account grew by roughly 50,000 followers. We've had tweets with over 30,000 likes on them, so I think Twitter decided it was time for [the account] to go. They didn't like how popular an account created by their political opposition had become."
Human Events maintained Morrison had not broken the social media giant's rules, which do allow for "parody" or "fan" accounts. These profiles must be clearly marked as parodies "in a way that can be understood by the intended audience." They must also follow Twitter's standard rules for all accounts.
Although the @AOCpress account included the word "parody" in its name and bio, it also included the phrase "official press releases for AOC," according to a November 2018 screenshot published by fact-checking website Snopes. The account also used Ocasio-Cortez's real Twitter photo.
The @AOCpress account spawned a raft of fact-checking articles from media watchdogs Snopes, Politifact and FactCheck.org in February, after it seemingly convinced numerous Twitter users that Ocasio-Cortez had called an Alabama woman who joined ISIS a "hero."
Screengrabs of the tweet in question are still available on Facebook as of 10.30 a.m. ET Tuesday—two and a half months after they were first posted. The screengrabs do not indicate the tweets came from a parody account.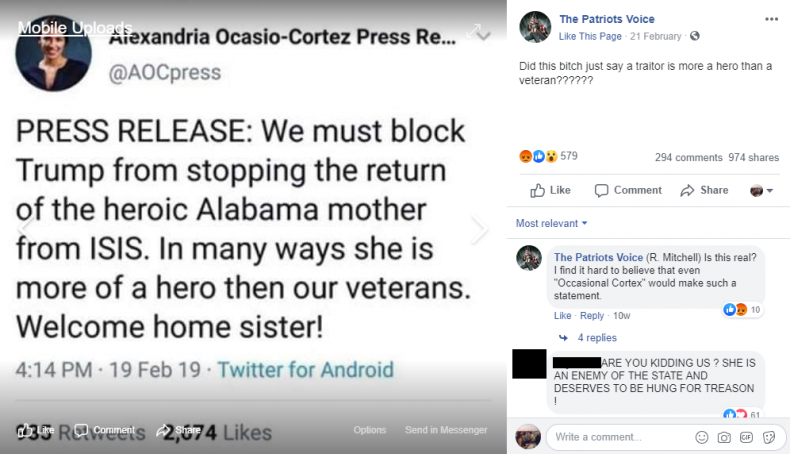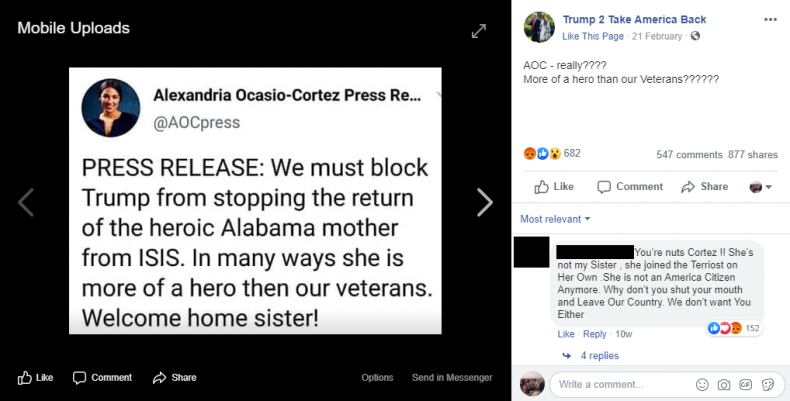 Although many users spotted the post was a parody, others on Facebook seemed convinced of its authenticity. One user wrote: "ARE YOU KIDDING US ? SHE IS AN ENEMY OF THE STATE AND DESERVES TO BE HUNG FOR TREASON !"
Another commented: "You're nuts Cortez !! She's not my Sister, she joined the Terriost on Her Own. She is not an America Citizen Anymore. Why don't you shut your mouth and Leave Our Country. We don't want You Either"
A spokesperson from Facebook told Newsweek the posts were spotted and fact-checked in February, after which they were "demoted." This penalizes the posts, reducing their prominence on newsfeeds. The demotion process should shrink a particular post's audience.
Facebook and Twitter have been criticized for allowing the spread of misleading and outright false information on their platforms. Although both social media giants have affirmed their commitment to tackling fake news, they continue to face scrutiny.
Earlier in April, the European Commission told Facebook, Twitter and search engine Google to improve transparency and share data on their efforts with independent fact-checkers, Reuters reported.
This article has been updated with more information from Facebook.