Alexandria Ocasio-Cortez's Mom—Nicknamed BOC—Tells How Husband's Death Inspired Daughter to Lead: 'It Was Scary'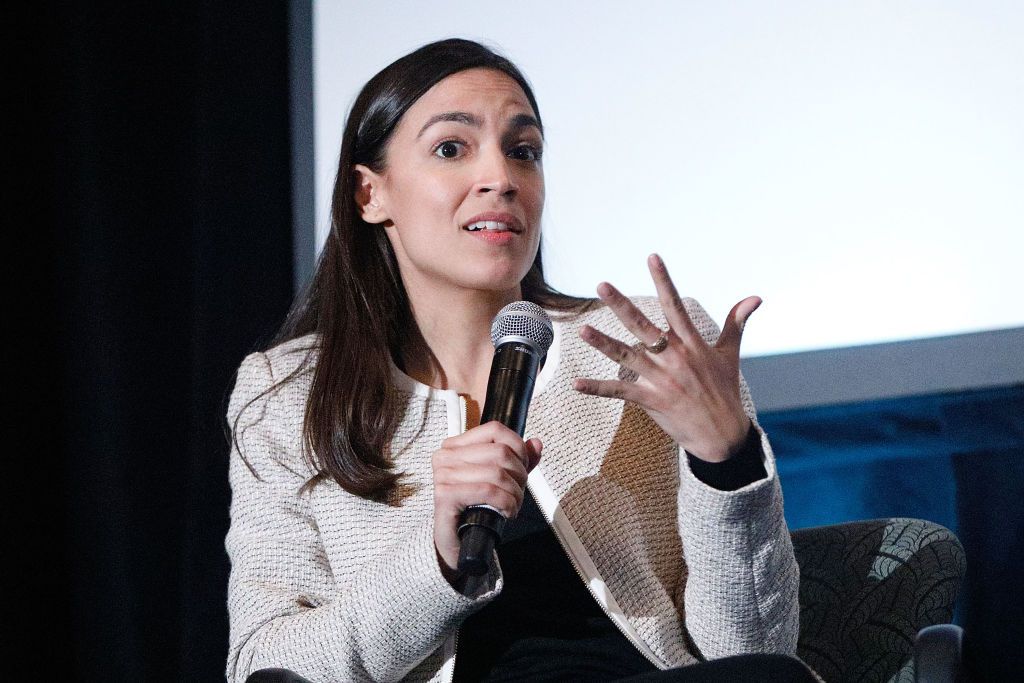 The mother of New York Democrat Representative Alexandria Ocasio-Cortez has told how her husband's death in 2008 shaped the freshman congresswoman's political values and pushed her to lead.
Blanca Ocasio-Cortez—dubbed BOC—told DailyMail.com that her personal struggle following the death of husband Sergio Ocasio from lung cancer and one of the father's last meetings with his daughter had played a pivotal role in the 29-year-old's development from student to leader.
Ocasio-Cortez explained that Sergio's death had plunged the family into uncertainty when Alexandria was still in college. The mother was forced to take two jobs to prevent eviction and put her son, Gabriel Ocasio-Cortez, through school.
"After my husband died, the family went through tough times. Alexandria was in college, but I still had her little brother who needed to be put through school," she said.
The family faced eviction from their home in Yorktown Heights twice following the death of Sergio. The small business-owner, who had provided a comfortable middle class existence for his family, had no health insurance. Over the course of two years of medical bills and with the money from his business dwindling, the family faced financial turmoil.
"It was scary," Ocasio-Cortez said. "I had to take medicine I was so scared. I had to stop paying for the mortgage for almost a year. I was expecting someone knocking on the door to kick me out at any time. There were even real estate people coming around to take photos of the house for when it was going to be auctioned. The worst is that I only had $50,000 left to pay on the loan."
"I was cleaning houses in the morning and working as a secretary at a hospital in the afternoon. I was working from 6 a.m. until 11 p.m. And I prayed and prayed, and things worked out," she added, explaining that she eventually reached a deal with the bank to fend off eviction.
Alexandria Ocasio-Cortez has infuriated the right with her platform of affordable housing, free college tuition and a single-payer health care system. Ocasio-Cortez has become a lightning rod for Republicans' criticism ever since she launched the Green New Deal, with Senator Edward Markey of Massachusetts last month. The bold initiative seeks to eliminate greenhouse gas pollution in the United States over the next decade.
"My daughter works from the heart," Blanca Ocasio-Cortez said. 'What you see is what you get. She saw how unfair the system is, and she wants to change that. She saw struggling parents putting their children through school, but also how difficult life was for people in the Bronx compared to Yorktown.
"She saw the difference in education and status between parts of the family, and she just wants everybody to have the same opportunities," she added.
Ocasio-Cortez also explained how, after her husband lost the power of speech, he had conveyed that he wanted his daughter to lead while watching an episode of Star Trek. "In one scene, Captain Janeway appears and my husband, who could no longer talk, pointed at the captain then at Alexandria, and back and forth, to say to her he thought she'd be like Captain Janeway one day, someone in charge," the mother said.
Kate Mulgrew, who played Captain Janeway in Star Trek Voyager, appeared at Alexandria Ocasio-Cortez's final campaign rally in the Bronx 10 years later.