AOC vs. GOP: The Long List of Smears and Insults Hurled at Alexandria Ocasio-Cortez
Making headlines almost daily, New York Representative Alexandria Ocasio-Cortez might be the most talked about politician in the U.S., second only to President Donald Trump.
Revered by many on the left and loathed by as many on the right, Ocasio-Cortez, 29, has faced unrelenting scrutiny since she first launched her grassroots 2018 electoral campaign against 10-term incumbent Joe Crowley. And in the weeks since Ocasio-Cortez took office, the spotlight has only shined brighter on the self-described democratic socialist, with the criticism of her growing more intense.
This week, Ocasio-Cortez's detractors went so far as to pay for a billboard in New York City's Times Square, accusing her of single-handedly bringing down a major deal between Amazon and New York that would have seen the tech giant build a $2.5 billion headquarters in Long Island City, Queens, which borders a slice of Ocasio-Cortez's district. Amazon had been set to create as many as 25,000 jobs, but it would also be potentially receive as much as $3 billion in tax breaks and subsidies.
"Thanks for nothing, AOC!" the giant billboard reads in one of New York City's busiest—and msot iconic—locations, despite the fact that Ocasio-Cortez was not the only politician to speak out in opposition to the deal.
Of course, as much as Ocasio-Cortez has become well-known for her bold policy proposals, such as the Green New Deal, she has also quickly made a name for herself as the "queen of savage comebacks," brushing off the billboard and the "billionaire-funded groups blowing tons of cash on wack billboards."
But the billboard battle is just one in a string of fights the New York politician has faced in an ever-growing war of words with her critics.
Here, we take a look at some of the key moments in which Ocasio-Cortez's opponents have tried to smear or insult her–and in which she rarely let them have the last word:
Attacks on intelligence
'It must be because I'm dumb'
A common thread in attacks against Ocasio-Cortez appears to center around the lawmaker's intelligence, with critics constantly questioning her intellect, including her role in Amazon's decision to call off its potential deal with New York to build a campus in Queens.
Among those critics was New York Mayor Bill de Blasio, who suggested that Ocasio-Cortez's opposition to the deal stemmed from a lack of understanding of how it would have worked. Meanwhile, conservative outlets also took hits at her, asserting that she "should retake basic math."
Ocasio-Cortez didn't retreat from the backlash, asserting in a tweet that "there was little in the fuzzy proposal that guaranteed jobs for actual NYers, yet lots of hard concessions from the public," as she accused politicians of dismissing valid concerns from the public.
"Queens saw how the FoxConn/Wisconsin disaster is working out–a$4.5 billion nightmare–&asked Qs. The response? 'This is above you. You won't get it.'"
"Folks handling the failed deal treated community w/condescension+disdain for their legitimate concerns," she said. "I warned early to any & all that surging NYC costs+failing subways are creating major political forces to be reckoned with. But I don't know what I'm talking about, right?"
In a separate tweet, Ocasio-Cortez questioned whether "pundits talking about Amazon" had "even read the deal or where it was going."
"$500+ million of the deal was *capital grants.* $2.5 billion in tax breaks. It's fair to ask why we don't invest the capital for public use, + why we don't give working people a tax break," she said.
"Frankly, the knee-jerk reaction assuming that I 'don't understand' how tax giveaways to corps work is disappointing," Ocasio-Cortez continued. "No, it's not possible that I could come to a different conclusion. The debate *must* be over my intelligence & understanding, instead of the merits of the deal."
Ocasio-Cortez also attacked the speculative deal's effect on the rental housing market, writing: "There's no CHANCE that the speculative insider real-estate buys that were creating immediate spikes in rent in one of the most rent-burdened communities in NYC could have possibly been unpopular?"
Or, she added, "that a technology giant of big-brother-esque potential was selling (notoriously flawed & racially biased) facial recognition technology to [the U.S. Immigration and Customs Enforcement agency] while trying to move into 1 of the most immigrant-dense areas of the world?" referring to a scandal that has plagued Amazon in recent months.
"No, it must be because I'm dumb," she said.
'Doesn't seem to know much'
Ocasio-Cortez's level of intelligence has come up more times than we can count, but one prominent critic to take aim at the politician was White House Counselor Kellyanne Conway, who, during an appearance on Fox News's America's Newsroom called Ocasio-Cortez a "29-year-old congresswoman who doesn't seem to know much about anything."
Conway's comments came after Ocasio-Cortez accused then-outgoing White House Chief of Staff John Kelly of "cowardice," calling on him to apologize to Representative Frederica Wilson, a Florida Democrat, for calling her an "empty barrel" and incorrectly accusing her of having tried to take credit for the dedication of an FBI building in a 2017 incident.
Ocasio-Cortez hit right back at Conway, sharing an article with the White House counselor's comments and tweeting in response: "Kellyanne Conway has been engaged in a War on Facts since Inauguration Day."
"Leveraging those who belittle my capacity is exactly how I defeated a multi-generation, multi-million $ political machine," she said. "GOP is even weaker bc their bias has no self-control."
'Fumbling basic civics'
In November, former vice presidential candidate and Alaska Governor Sarah Palin attempted to ridicule Ocasio-Cortez for "fumbling Basic Civics" after the New York politician talked about Democrats' chances of winning "all three chambers of government."
"YIKES," Palin wrote on Twitter. "Ocasio-Cortez Fumbles Basic Civics TWICE."
Palin wasn't the only one to note the slip-up, however, with a number of commentators jumping at the chance to point out that Congress has only two chambers, the House and the Senate, while the government has three branches: executive, legislative and judicial.
Ocasio-Cortez responded on Twitter, asserting that "now that's *TWO* fallen GOP Vice Pres candidates going after a freshman Congresswoman that's not even sworn in yet."
"Isn't it a little early to be bringing out the big guns? Especially when they look like the FWD:RE:FWD:WATCH THIS grandpa emails from the '08 election they lost." Yikes, indeed.
'Leftist fantasy programs'
Ocasio-Cortez also faced criticism from Republican Minority Whip Steve Scalise who tweeted last month that Democrats wanted to "take away 70 percent of your income and give it to leftist fantasy programs" in response to Ocasio-Cortez's Green New Deal.
Ocasio-Cortez responded by questioning Scalise's understanding of marginal tax rates. "You're the GOP Minority Whip," she said. "How do you not know how marginal tax rates work? Oh, that's right, almost forgot: GOP works for the corporate CEOs showering themselves in multi-million $ bonuses; not the actual working people whose wages + healthcare they're ripping off for profit."
'Full-blown dumb-dumb'
Compared with other lawmakers, the attention and attacks on Ocasio-Cortez's intelligence have been overwhelming, with commentator Dinesh D'Souza, who has been described as a far-right "provocateur" describing the politician as "the stupidest person elected to public office."
Conservative commentators Chicks on the Right also used ad hominem attacks on the freshman representative, asserting in an October post, before the November midterms, that Ocasio-Cortez wasn't "just 'young and naive.' She's stupid. We're talking full-blown dumb-dumb" over Ocasio-Cortez's plans for Congress.
Serious sexism?
'This is what being a woman in politics looks like'
The possibility that the seemingly disproportionate focus on Ocasio-Cortez's level of intelligence could, in some cases, be rooted in sexism, is not one that has been lost on her.
After one industry expert dismissed Ocasio-Cortez's Big Pharma knowledge "inadequate" in response to her line of questioning during a hearing on drug pricing in the U.S., which focused on whether Big Pharma was profiting from foundational research funded by public dollars, Ocasio-Cortez said the experience summed up "what being a woman in politics looks like."
"Disagreements aren't labeled as differing opinions. They're labeled as one's knowledge being 'inadequate,'" Ocasio-Cortez tweeted out over the incident.
Noting that an expert witness, Dr. Aaron Kesselheim, an associate professor of medicine at Harvard Medical School, had agreed with her during the hearing that members of the public could be considered as acting like early investors in drug research, which then becomes privatized without them receiving any "return on the investment that they have made," Ocasio-Cortez added: "As a reminder, I'm not the one who testified about Big Pharma under oath to Congress. It was an expert witness."
It is also worth noting that during the same hearing, Representative Ro Khanna, a California Democrat, raised a similar point to Ocasio-Cortez's, asking whether it would be "fair to say that most of the foundational research is being done with public dollars" without facing the same scrutiny as his New York colleague.
'The little girl'
Last month, Great America PAC Chairman Ed Rollins was accused of sexism after he referred to Ocasio-Cortez as a "little girl" while delivering criticism of her proposed top marginal rate of 70 percent in her Green New Deal on FOX Business Network.
"If you're going to put her up front with her mouth, which she now has attention she's never had before, and you're going to put the little girl who wants to do pre-Reagan economics and 70 percent taxes, the Democratic women are going to be significantly damaged," Rollins said.
"GOP loves to insult my intelligence," Ocasio-Cortez fired back in a tweet. "If anything, this dude is a walking argument to tax misogyny at 100 percent," she said of Rollins. "Republicans rob everyone the opportunity of real policy debate by resorting to this."
'Frothing at the mouth'
Detractors were accused of sinking particularly low this year when a fake picture of Ocasio-Cortez pretending to depict her as naked in a bathtub spread across conservative outlets.
Calling the attempted smear "disgusting," Ocasio-Cortez said her treatment from the media was indicative of how all women in power are treated.
The New York Democrat also specifically called out The Daily Caller after it ran a story titled: "Here's the photo some people described as a nude selfie of Alexandria Ocasio-Cortez." Retweeting a screenshot of the headline to her millions of followers, Ocasio-Cortez lamented that it was "only a matter of time" before such an image emerged, adding that the "GOP have been losing their minds + frothing at the mouth all week" over the fake photo.
Strange smears
'She got them realtor eyes'
In a YouTube video rant that could be considered both strange and sexist, comedian Roseanne Barr took aim at Ocasio-Cortez, calling the politician a "Farrakhan loving, bug-eyed b****.
While Barr did not name Ocasio-Cortez, she appeared to it make clear whom she was talking about, mentioning Ocasio-Cortez's signature Green New Deal.
"That Green New Deal, that, that Farrakhan loving, bug-eyed b****--h, I don't even remember her name. The bug-eyed b**** that looks like a realtor. She got them realtor eyes," Barr said. "Bug-eyed, lying b****. Farrakhan loving, Israel hater. Leftie."
Barr then spoke about "costing people decent paying jobs," in an apparent reference to the failed deal between New York and Amazon.
"She got paid to do that," Barr said. "Can you imagine? Paid to decimate communities. That's what the Dems have been doing. That's what socialism does."
Hot dog on a Stick?
One of the more out-of-the-box claims apparently intended to humiliate Ocasio-Cortez was a fake meme that spread on social media appearing to suggest that Ocasio-Cortez had previously been fired for incompetence from a "Hot Dog on a Stick" restaurant in 2008. "And then Democrats elected her to Congress," the baseless meme states.
The photo used in the meme does not appear to show Ocasio-Cortez and close-up shots of the image appear to show a name tag with the name "Stephanie."
It is unclear who initially started the false rumor, but the picture used in the meme appears to be one taken by Flickr user Michael Zampeli, according to Snopes, a fact-checking website.
'Sandy' Ocasio-Cortez
One apparent bid by detractors to humiliate Ocasio-Cortez backfired last month when a 30-second video was published on Twitter by a user called AnonymousQ showing the politician dancing on the roof of a building during her college days.
"Here is America's favorite commie know-it-all acting like the clueless nitwit she is," the poster wrote, calling the video a "high school video of 'Sandy' Ocasio-Cortez."
But the post did not have its desired effect, with supporters heaping praise on the politician for her dance moves, while Ocasio-Cortez herself took the opportunity to shoot a new video of herself dancing outside her new congressional office.
"I hear the GOP thinks women dancing are scandalous," she wrote with the post. "Wait till they find out Congresswomen dance too!"
Background checks
'A far cry from the Bronx hood'
Even in the earliest days of her political career, Ocasio-Cortez faced significant scrutiny from her detractors. In one such case, Newsmax's John Cardillo went so far as to post a photo of Ocasio-Cortez's childhood home on Twitter in a bid to question her experience of growing up in the Bronx in the lead-up to the November midterm elections that saw her elected.
"This is the Yorktown Heights (very nice area) home @Ocasio2018 grew up in before going off to Ivy League Brown University," Cardillo said in a July tweet. A far cry from the Bronx hood upbringing she's selling."
Ocasio-Cortez quickly corrected the reporter, saying that she "did not go to Brown or the Ivy League." "Try Google," she chided.
She also explained that while she did grow up in a "good town for working people...my mom scrubbed toilets so I could live here. And I grew up seeing how the ZIP code one is born in determines much of their opportunity.
"Your attempt to strip me of my family, my story, my home, and my identity is exemplary of how scared you are of the power of all four of those things," she said.
'A girl who struggles'
Ocasio-Cortez has also repeatedly been forced to defend herself over her clothing, with Fox News and The Washington Examiner appearing to shame the politician for wearing smart outfits after she said that she would struggle to pay the rent for two residences, one in New York and one in Washington.
"The reason journos from @FoxNews to @dcexaminer can't help but obsess about my clothes, rent, or mischaracterize respectful convos as 'fights' is bc as I've said, women like me aren't supposed to run for office–or win," Ocasio-Cortez tweeted in November, shortly after her midterm elections victory. "& that's exactly why the BX and Queens sent me here."
Ocasio-Cortez's comments came after The Washington Examiner writer Eddie Scarry tweeted a photo of Ocasio-Cortez taken from the back, writing: "Hill staffer sent me this pic of Ocasio-Cortez they took just now. I'll tell you something: that jacket and coat don't look like a girl who struggles" and after Fox & Friends mocked her for having "expensive tastes for a socialist" after she wore a more than $3,000 outfit and $600 shoes for an Interview magazine photoshoot in September, with both items being loaned to her by the magazine.
Despite the overwhelming amount of criticism, insults and attempted smears Ocasio-Cortez has faced, a poll last month suggested that if she were to run against President Donald Trump himself, she would likely have a fair shot.
The poll, undertaken by Rasmussen Reports, whose poll leans conservative, found that 43 percent of voters would vote for Trump in a hypothetical election battle, while 40 percent would cast their ballot for Ocasio-Cortez.
The poll's findings may add some fuel to Ocasio-Cortez's claim that the GOP targets her because of how "scared" they are of her, a claim she has made repeatedly.
Ocasio-Cortez's office did not immediately respond to Newsweek's request for comment for this story.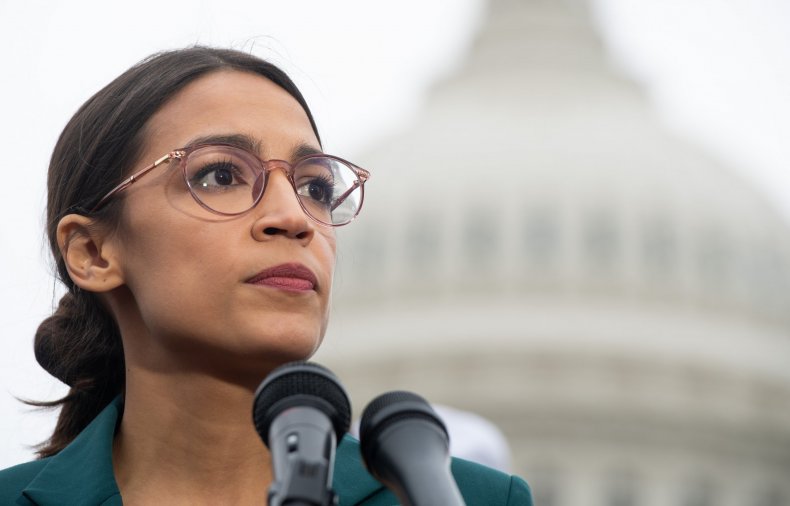 This article has been updated with more information on the Amazon-New York deal and to reflect that Great America PAC Chairman Ed Rollins made his comments on Fox Business Network.