Sarah Palin Piles Into Alexandria Ocasio-Cortez for Fumbling 'Basic Civics'
Former vice presidential candidate Sarah Palin has joined the right-wing mockery of Democratic House freshman Alexandria Ocasio-Cortez, after the 29-year-old made erroneous remarks about the U.S. political system in a Zoom video Monday.
Ocasio-Cortez—the youngest woman ever elected to Congress—told supporters on the video call that they should "work our butts off to make sure that we take back all three chambers of Congress—Uh, rather, all three chambers of government: the presidency, the Senate and the House."
Right-wing news commentators and politicians quickly picked up on Ocasio-Cortez's civics gaffe, using it to level accusations of inexperience and ignorance.
Palin—the former governor of Alaska—was one of them, using her website to say Ocasio-Cortez "fumbled basic civics twice in one sentence." The article also claimed the representative-elect for New York's 14th Congressional District "again proved that her transition into the political fray has been bumpy, to say the least."
Following the criticism, Ocasio-Cortez defended herself on Twitter. "Maybe instead of Republicans drooling over every minute of footage of me in slow-mo, waiting to chop up word slips that I correct in real-tomd [sic], they actually step up enough to make the argument they want to make: that they don't believe people deserve a right to healthcare," she wrote. Ocasio-Cortez quickly issued a correction noting she meant to write, "real-time."
The congresswoman's supporters rallied around her on social media, pointing out some of Palin's own embarrassing performances back when she was a prominent figure in U.S. politics, Yahoo noted.
In October 2008, for example, Palin was interviewed on television station KUSA. When asked to define the role of the vice president—the post for which she was running—she incorrectly answered, "They're in charge of the U.S. Senate so if they want to they can really get in there with the senators and make a lot of good policy changes that will make life better."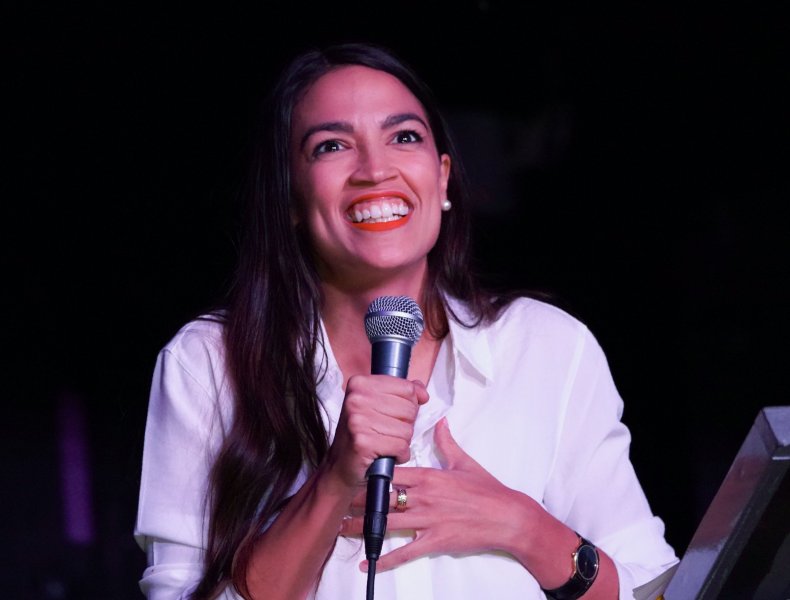 And in 2010 when speaking with political commentator Glen Beck, Palin seemed to display a grave misunderstanding of American foreign policy. When discussing North Korea, she told Beck, "Obviously, we've got to stand with our North Korean allies—we're bound to by treaty." When Beck suggested perhaps she meant South Korea, Palin replied, "Yes, and we're also bound by prudence to stand with our South Korean allies, yes."
Ocasio-Cortez is one of the most prominent members of the progressive wave sweeping the Democratic Party. She has called for Medicare for all, the abolition of Immigration and Customs Enforcement, tuition-free college education and more action to address climate change.
Her unabashedly liberal platform has drawn the ire of both establishment and fringe right-wingers, and she has been sparring with her critics before even having taken her seat in the House. Last week, she responded to comments from a Washington Examiner reporter who criticized her for wearing seemingly expensive clothes, yet saying she couldn't afford to take a D.C. apartment before her congressional salary kicked in.
"If I walked into Congress wearing a sack, they would laugh & take a picture of my backside," she wrote on Twitter. "If I walk in with my best sale-rack clothes, they laugh & take a picture of my backside. Dark hates light—that's why you tune it out. Shine bright & keep it pushing."