A lawyer for jailed Russian opposition leader Alexei Navalny said Wednesday that he was diagnosed with a double spinal hernia and is beginning to lose sensation in his hands.
Speaking on the independent TV channel Dozhd, Olga Mikhailova said that doctors have found Navalny to be suffering from both ailments amid an ongoing hunger strike that he staged to protest poor medical treatment in prison, the Associated Press reported.
The 44-year-old anti-corruption activist and Vladimir Putin critic was sentenced to jail for two and a half years in February for allegedly violating parole on a previous conviction.
Russian authorities said Navalny violated probation by failing to report to the authorities on an agreed date. However, he was unable to do so because he was recovering in Germany after surviving a near-fatal poisoning by Russian security service agents in Siberia in August.
On Tuesday, Russian police arrested Anastasia Vasilyeva, Navalny's personal doctor, along with several other people who were trying to demand that he receive adequate health treatment in prison, amid reports that he was experiencing back and leg pain.
For more reporting from Newsweek's David Brennan, see below:
Navalny has also said he has developed a heavy cough and a fever, plus that three others in his prison unit have been hospitalized for tuberculosis. Mikhailova has said Navalny has lost 28 pounds since being transferred to the penal colony.
Before her arrest, Vasilyeva told the Associated Press that Navalny needed treatment at a "specialized hospital." She added that her patient needed a lung scan and that it was "quite possible" he may have contracted coronavirus while in detention.
World leaders—including President Joe Biden—have demanded Navalny's release, with the White House even applying new sanctions on Russian officials for their roles in his poisoning and arrest.
The Kremlin has so far dismissed all concerns about Navalny's well-being. Presidential spokesperson Dmitry Peskov said Tuesday that the anti-corruption campaigner would be treated as a normal inmate. "Naturally, we cannot talk about any special conditions for one of the convicts," Peskov told reporters in Moscow.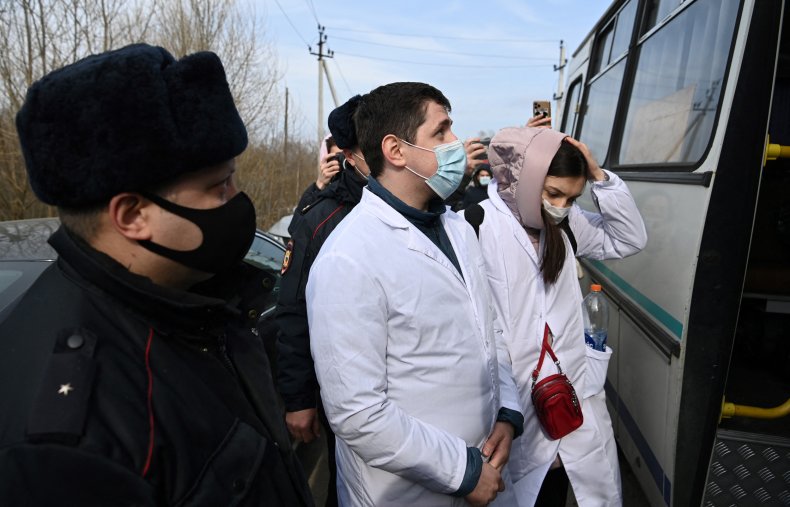 For more reporting from the Associated Press, see below:
Mikhailova did not specify where Navalny's hernias are located, but said one of them is difficult to treat and that a neurologist consulted by Navalny's organization said the treatment prescribed in the prison was ineffective.
On Monday, the state penitentiary service said Navalny had been the prison's sanitary unit after a checkup found him having "signs of a respiratory illness, including a high fever."
Mikhailova said Wednesday that Navalny's fever had lowered, but he is still coughing and is weak from the hunger strike. Russia's state penitentiary service has said that Navalny is receiving all the medical help he needs.