Alexei Navalny Overtakes Putin As Russia's Most Mentioned Politician on Social Media
Jailed Kremlin critic Alexei Navalny has overtaken President Vladimir Putin as Russia's most mentioned politician on social media according to latest analysis, highlighting the growing threat he poses to the country's authorities.
State-run media in Russia has taken pains to shield Navalny's name and face from the masses, often dismissively referring to him as "a blogger" in a bid to diminish his status as a political force.
But in the month since his return to Russia from Berlin, where he was treated for Novichok poisoning, Navalny's profile has exploded.
Analysis by the online Russian-language publication Open Media has found that between January 17, when he was detained at Moscow's Sheremetyevo Airport, and February 16, he was mentioned almost 10.8 million times on social media—or 1.3 million times more than Putin.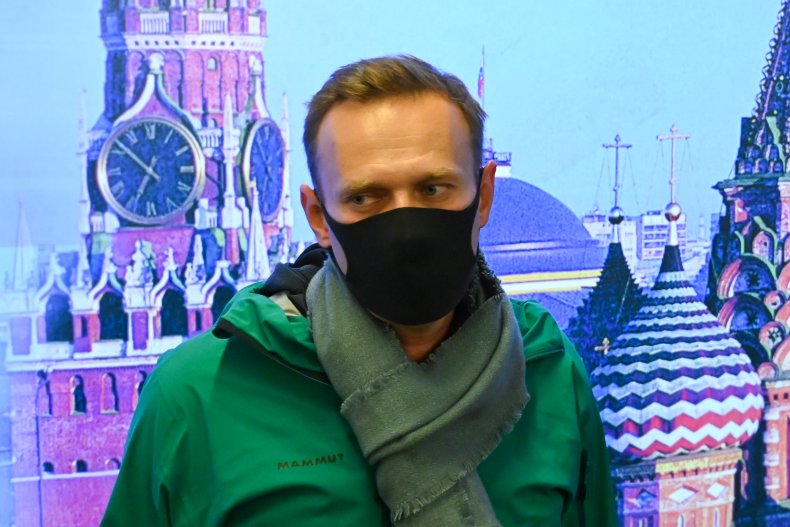 This is more than half of the 18 million mentions Navalny got for the whole of 2020, when he was the fourth most mentioned politician, well behind the 96 million mentions netted by Putin.
The data was collated from blogs and social networks such as Vkontakte, Odnoklassniki, Facebook, Instagram and Telegram, as well as TikTok, which the Kremlin had warned last month was trying to encourage underage protesters to take to the streets in protest.
Perhaps more significantly is the increased presence of Navalny on federal and regional media outlets, where he was mentioned over 226,000 times—in second place behind Putin's 291,000 times.
On federal television, Navalny was referred to 447 times, which while three times fewer than Putin (1397), still made him the second most mentioned politician overall, ahead of the prime minister, Mikhail Mishustin (281).
The spike in interest in Navalny came as people took to the streets across Russia in protests at his arrest and subsequent jailing for violating parole terms in a decision he says was politically motivated.
Also spurring the action was a video seen more than 110 million times produced by his Anti-Corruption Foundation (FBK), which alleged that Putin was the owner of a $1.3 billion Black Sea property.
How this might translate into political backing among the population is unclear.
Senior fellow at the Moscow Carnegie Centre Alexander Baumov wrote this week that Navalny and his team "are brilliant at generating media attention, viral content, and huge numbers of viewers of his anti-corruption videos.
"But this popularity may not necessarily translate into active support offline," he said.
The switch of Navalny's suspended sentence into a 32- month prison term has sparked global outrage. Despite Russia's membership of the Council of Europe, Moscow has said it will ignore an order by the European court of human rights to free Navalny.
Foreign affairs spokeswoman Maria Zakharova said, according to RIA Novosti, that the consequences of the ECHR decision for international law "will be catastrophic, because it is impossible to endlessly use legal instruments for political purposes."
On Thursday, the global civil society alliance CIVICUS placed Russia on a watchlist of countries it is concerned flouts human rights, due to the brutality of the crackdown on protests in which around 11,000 people, including journalists, were arrested.
With Navalny's FBK focused on making an impact in parliamentary elections in September, protests have reportedly been postponed. There has been a shift in tactics, with many encouraged on Sunday to show their support by flashing a light in their courtyards.
"It was something that people could do throughout the country to be able to see that they are not alone in confronting repression and injustice," FBK's executive director Vladimir Ashurkov told Newsweek.
"It is a low-risk activity compared to going out in the streets and confronting the security police head-on," he said. "It is another step, there will be others."
The graphic below provided by Statista shows Russian President Vladimir Putin's time in power.