As Russia's authorities face condemnation for a crackdown on anti-government protesters, a poll has suggested the heavy-handed approach might deter those considering taking to the streets in future political action.
In three actions between January 23 and February 2, more than 11,000 people were arrested at rallies opposing the detention and jailing of opposition figure and anti-corruption campaigner Alexei Navalny.
Also fueling the protests was a film by Navalny's Anti-Corruption Foundation (FBK) seen by one in four Russians, which accuses President Vladimir Putin of owning a $1.3 billion Black Sea property of head-spinning opulence.
Rights groups have called out the conditions the arrested protesters faced in packed detention centers, especially in Moscow and St. Petersburg, as cells and courts struggled to deal with an unprecedented influx.
With footage of police violence against protesters being widely viewed, a poll by the independent Levada Center carried out between January 29 and February 2, has suggested that the public appetite for anti-government action has diminished.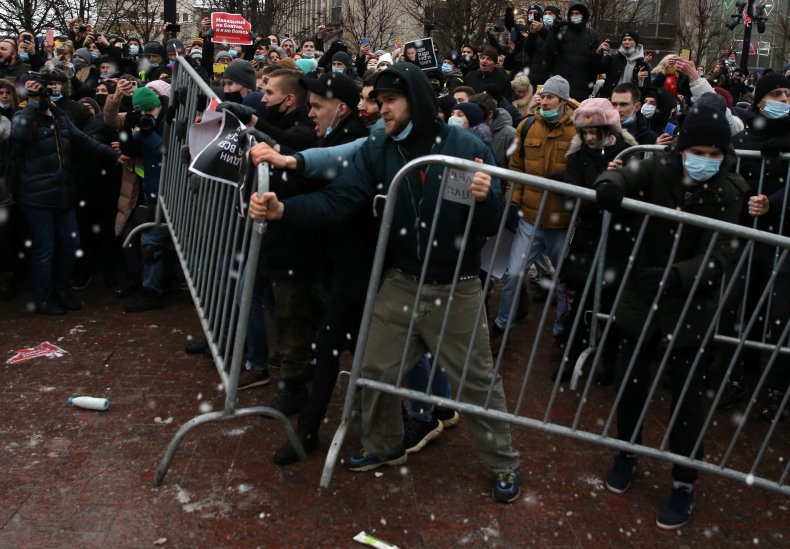 Only 15 percent of people said they would be prepared to attend future protests, which is four percent less than in November 2020. At the same time last year, the same figure as in November—19 percent—said they would participate in political protests.
The nationwide poll, which had a margin of error of 0.95 percent, also found that 17 percent of Russians would attend protests against economic conditions.
This is six percentage points lower than in November 2020 (23 percent) and seven percent lower than the same time last year (24 percent) and follows months of financial hardship due to coronavirus measures, for which Putin has been criticized for.
Meanwhile, just over one in five (22 percent) viewed political protests positively, which is a significant drop from the 47 percent of people who did so in August 2020, when demonstrators called for the release of the Khabarovsk governor Sergei Furgal, who was arrested on murder charges his supporters say were politically motivated.
The graphic below provided by Statista outlines Putin's time in power.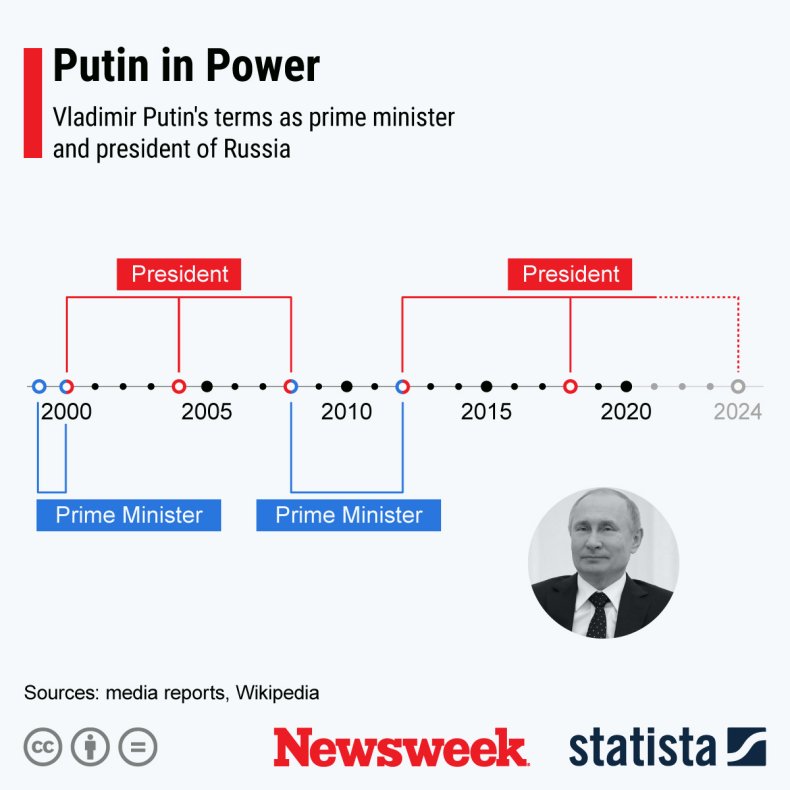 The sheer number of arrests in January has prompted a shift in tactics. Leonid Volkov, who heads Navalny's regional network of campaign-style offices, said further arrests would hinder its campaign to make an impact in September's parliamentary elections.
Instead, Navalny supporters would be encouraged to gather in residential courtyards across the country on February 14 and turn their phone lights at 8 p.m. for 15 minutes in a silent protest.
Borrowing from the tactics of smaller, targeted actions in neighboring Belarus, Volkov, who Russia put on an international wanted list on Wednesday, said on Facebook such an action would be less likely to be broken up by riot police.
Sergey Davidis, head of the political prisoners program at the the Memorial Human Rights Center in Moscow, said a shift in approach by Navalny's supporters was inevitable.
He said many who were arrested and charged during the latest protests were not part of the demonstrations but were simply caught up nearby. Many detainees faced tough conditions, lack of access to food, water and legal help while those who were charged with a second offence faced fines of up to 300,000 roubles ($4,000).
"It is a huge amount for an ordinary person," he told Newsweek. "Anyway, now Alexei Navalny is in prison and it is impossible to protest in the same way every week.
"If they are students, they could be expelled, some workers were fired from their companies—it is difficult to call for people to go out in the streets now.
"I think there would be some situations again in spring or in March and April when people will go to the streets again.
"We are seeing the highest level of disagreement with the authorities and protest activity because people knew that they would be beaten and arrested, but they turned out anyway. This movement will go on."
Navalny was sentenced to two years and eight months in a prison colony for breaking probation in a 2014 fraud conviction he says was trumped up. His wife, Yulia Navalnaya, has reportedly left Russia for Germany, according to Interfax, citing an unnamed source.