Putin-Appointed Governor Says Mass Anti-Kremlin Protests 'Have Been Heard'
The interim governor appointed by Russia's President Vladimir Putin has appealed for calm in Khabarovsk following days of protests in the city sparked by the arrest of his predecessor.
Demonstrations started on July 10, a day after the arrest of their popular regional governor Sergei Furgal, 50, on murder charges believed to be trumped up. Discontent rose even further after Putin replaced him with someone who has no ties to the region.
Mikhail Degtyarev, 39, took up his post on July 20 and was accused of running scared by not meeting people at Lenin Square, the center of the city's protests. Now, in a newspaper interview, Degtyarev has tried to placate the unrest, saying that those who have taken to the streets, needed to "be patient."
"I managed to talk a little with people on Lenin Square and saw understanding in the eyes of many," Degtyarev told Kommersant, referring to his eventual meeting with protesters six days after his appointment.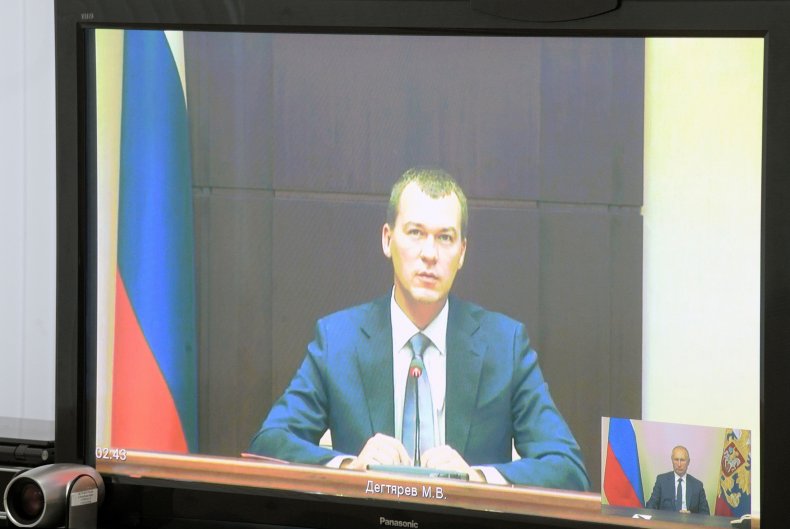 "Even those who were most aggressive towards me calmed down somewhat after we spoke and they believed me. This instills cautious optimism," he added.
He believed at first that the protests were "spontaneous" and were the actions of "a popular movement." However he thinks that the protests have ended up being "infiltrated by outside provocateurs from other parts of Russia."
"And in the city, there are foreign citizens from different countries. I will not suspect them of being organizers but they have turned up," he said.
However, in the interview, he appeared to offer some compromise to protesters, saying that he would set up a peoples' council and that he would endeavor to "build relationships" with the people of the region and that "I do not doubt my strengths and abilities."
"I am telling people, you have been heard. Be patient until September 2021," he added, referring to the region's next gubernatorial elections.
Both Degtyarev and Furgal are from the opposition Liberal Democrat Party of Russia party, (LDPR) a group headed by the firebrand leader Vladimir Zhirinovsky, renowned for his anti-western rhetoric and brash style. The party enjoys considerable support in the Khabarovsk region, which is geographically bigger than France and whose capital, 3,800 miles from Moscow, is only short drive from the Chinese border.
Furgal, who was previously a State Duma deputy, was only ever intended by the Kremlin to be a candidate who could lend legitimacy to the 2018 gubernatorial elections. He ignored advice not to stand in the second round and he won.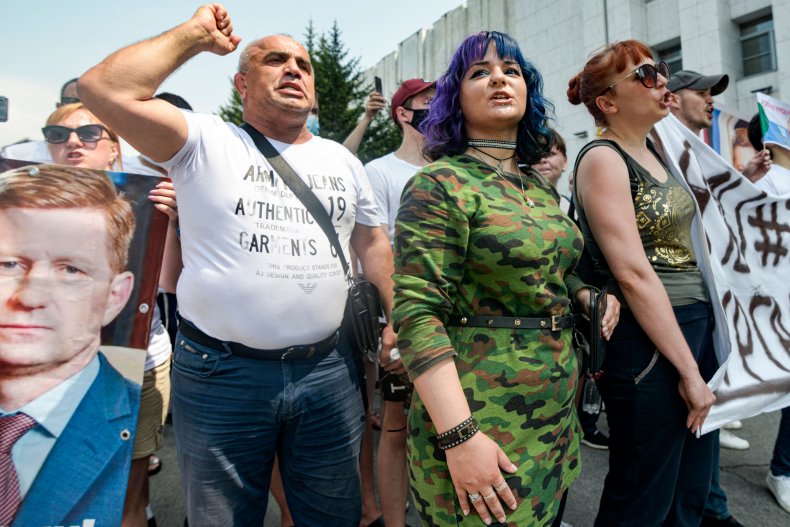 Since then he has proved immensely popular, more so than Putin. After he was pulled out of his SUV on July 10 and taken to Moscow to face historical murder charges, his popularity only increased. The arrest of Furgal and Putin's appointment of Degtyarev come ahead of regional elections starting on September 11.
"The initial idea behind Furgal's arrest was to send the right signal to the regional political elites that they should play by the rules of the Kremlin. Furgal is considered to be a violator of these rules," said Nikolay Petrov, senior Research Fellow on the Russia program at the Chatham House think tank.
"Furgal is considered to be a people's governor, he is their choice and that's why they think that neither Putin nor Zhirinovsky is in a position to appoint anybody else," he told Newsweek.
The actions in Khabarovsk have garnered sympathy in the rest of the country. A poll published on Tuesday by the independent Levada Center, showed that 45 percent of people approve of the protests, which have taken on the dimension of an expression of discontent with the Kremlin.
Putin's handling of the coronavirus pandemic in which he devolved responsibility to governors has coincided with a shift towards regionalism where people are starting to believe in the possibilities of local government, said Anna Arutunyan, Russia analyst and author of The Putin Mystique.
"It used to be that Putin operated in a system in which he had the popularity and the personal legitimacy where he could take down governors at will," she told Newsweek.
"We haven't really seen this kind of protest where people are rallying around their local governor. In my memory this is unprecedented, this signals a shift where the popularity of local governments is rising while Putin's is falling.
"I think that the fact these protests are going on suggests people are no longer willing to accept the premise of, 'you put all the responsibility on us, on our governments, and then decide to take down a local official when he no longer suits you.'"