Alexei Navalny Allies Overflow Russia's Jails As Joe Biden Puts Vladimir Putin on Notice
Russia's jails are overflowing with supporters of Alexei Navalny. Recent demonstrations demanding the Kremlin critic's release saw a large number of people detained, as President Joe Biden has issued a warning to Vladimir Putin along with a call for Navalny's release.
More than 11,000 people were arrested in demonstrations on January 23 and January 31. Cells in Moscow and St. Petersburg in particular have been unable to handle the sudden influx.
The protests across Russia backed Navalny, whose suspended sentence—on a 2014 embezzlement charge he says was trumped up—was converted into a jail sentence of two years and eight months on Tuesday.
Video has been shared of up to 28 people crammed together in a cell in Moscow that was intended for no more than eight, with many being forced to stand for hours with no access to food, water or bathrooms.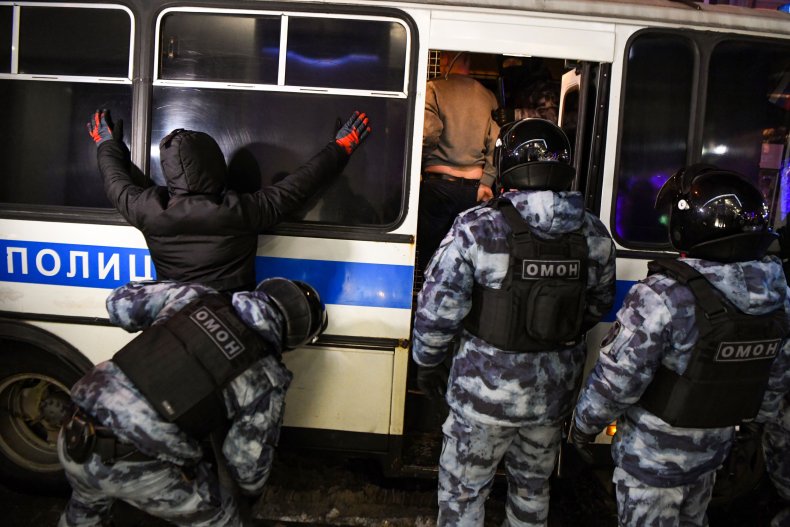 Misdemeanor charges were given to many of those detained, resulting in jail terms of five to 15 days. The OVD-Info rights group that monitors political arrests told The Associated Press that many had their rights violated and similar stories of crammed cells have been shared on social media.
The international community is weighing up its response and on Thursday, Biden said in an address at the U.S. State Department that Navalny's sentence was "politically motivated" and that he should be released "immediately and without condition."
Biden also signaled how his administration would approach the Kremlin, saying "the days of the United States rolling over in the face of Russia's aggressive actions, interfering with our elections, cyber-attacks, poisoning its citizens, are over."
"We will not hesitate to raise the cost on Russia and defend our vital interests and our people," he added.
While calls are growing for tough action on Moscow by the European Union, whose foreign policy chief Josep Borrell is on a three-day diplomatic visit to Russia, what pressure the U.S. will bring to bear on Putin is key.
"The U.S. should not help the opposition—Navalny has said this many times, but the U.S. should not help the regime," said Michael McFaul, a former U.S. ambassador to Russia who was in the room the last time Putin met Biden back in 2011.
Navalny's poisoning from the nerve agent Novichok was arguably more serious than his imprisonment. The Kremlin, which denies responsibility, has been implicated. However, the sanctions against Russian officials it provoked have had little effect on Russia's elite.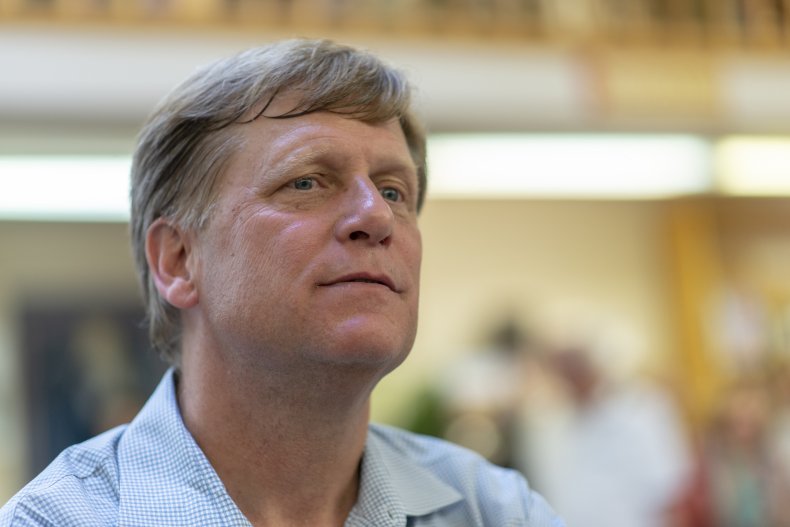 This is why Navalny's Anti-Corruption Foundation gave the Biden administration a list of 35 Russian business and political figures it wants to face asset freezes and travel bans in tough measures that could really hurt Russia's elite. The list includes oligarchs Roman Abramovich, Alisher Usmanov and Oleg Deripaska.
"Navalny has upped the ante by calling on the West to sanction those economic actors that support and benefit from the Putin regime, and not just low-level FSB officials," McFaul told Newsweek.
"Putin of course will never change—he needs the West as the enemy. But many economic elites in Russia have tired of Putin's policies, which hurt their bottom lines.
"They also have wives, girlfriends, and children that like to sail in the Caribbean, vacation in the south of France, shop for the weekend in London and study in the U.S. This group fears the sanctions that Navalny is calling for," McFaul added.
Complicating a U.S. approach to Russia is that while the protests were anti-regime, anti-elite and anti-corruption, they were not necessarily liberal, pro-Western and pro-democracy.
"The question is whether U.S. support helps or harms Navalny," said Anatol Lieven, a professor at the School of Foreign Service at Georgetown University, Qatar.
"What we have seen in Russia, Iran and China, is that one of the most powerful weapons in the hands of the governments against the opposition, is to accuse the opposition of being in the hands of foreign agents, or representing America and not their own country.
"The more America supports these opposition figures, the more it weakens them at home," he told Newsweek.
He said that while Navalny deserved admiration and sympathy for his treatment at the hands of the Putin regime, it was important that the U.S. did not build him into an "idealized" figure.
"Even if Navalny came to power, you wouldn't suddenly find that Russia had turned into a pro-American direction, or was going to give up what the Washington establishment thinks of as vital Russian national interests."
Meanwhile, Navalny's associates have said that they would not stage any more protests until spring and the summer.
His chief of staff, Leonid Volkov, told the independent TV channel that further arrests in the coming weeks would undermine its goal to make an impact in September's parliamentary elections.
"The campaign offices' work will be paralyzed and it will be impossible to continue our election work," Volkov said, "we'll get him out of prison using foreign policy methods."
The graphic below provided by Statista shows how long Vladimir Putin has been in power.