Kremlin Steps up Propaganda Effort as Russia Braces for More Wild Navalny Protests
Russian retail store workers were reportedly duped into taking part in a promotion video praising Vladimir Putin, as the Kremlin steps up pro-government propaganda ahead of protests backing the president's biggest critic, Alexei Navalny.
A clip widely broadcast on state television shows hundreds of workers at a Yekaterinburg branch of Sima-Land marching and then thrusting their fists into the air, shouting "Vladimir Vladimirovich, we are with you."
But one staff member told local outlet E1 News that they were unaware of how the video would be used, thinking that they were simply taking part in a flash mob, which is a frequent occurrence in their stores.
"Nobody told us about the chant about the president, everyone was just told that they needed to shout," said the worker.
The video is another Kremlin propaganda salvo ahead of further protests across Russia planned for Sunday. More than 3,000 people were arrested in demonstrations across the country last Saturday.
Navalny's team announced on its Telegram channel that rallies were planned for 53 cities this weekend. While fewer than the estimated 120 towns and cities which hosted demonstrations last weekend, the level of anti-Navalny and pro-Putin messaging pumped out on state media signal the Russian authorities are worried.
The government's social media team pushed out pro-Putin videos to stifle turnout for Sunday. These include young people declaring their loyalty to the president, while others show protesters who apparently express regret for their actions last weekend.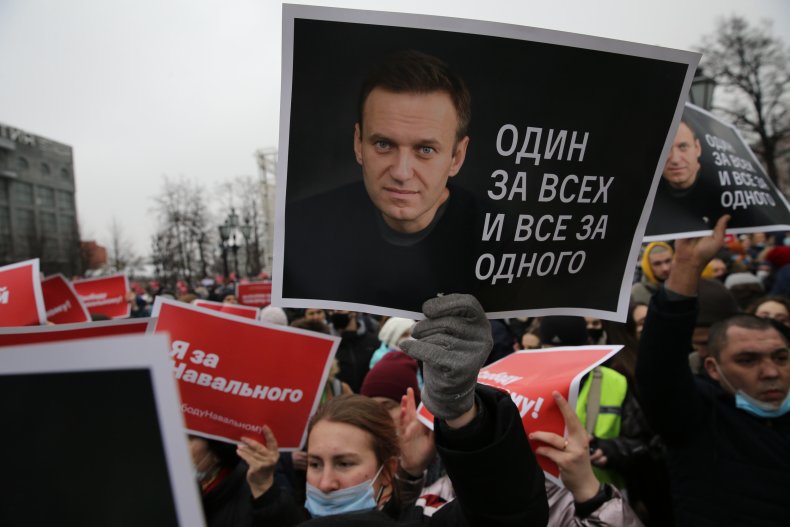 It was another video—that of Navalny's Anti Corruption Foundation (FBK) which detailed an alleged $1.3 billion property it said Putin owns, that helped inspire people to turn out. Video clips have also galvanized anti-Putin sentiment through TikTok, with young people using the app to express their support for Navalny.
There has been an international outcry following Navalny's arrested upon arrival at Moscow from Berlin where he was being treated for poisoning from the nerve agent Novichok in an attack he says was carried out on the orders of Putin.
Yuri Felshtinsky, a Russian security services expert and author of Blowing Up Russia, which he co-wrote with Alexander Litvinenko, the former FSB officer who was killed in Polonium poisoning attack blamed on Moscow in 2006, agreed that the Kremlin had tried to murder Navalny.
He said further pro-Navalny demonstrations posed a significant problem for the authorities. "I think what they never expected was the size of these mass demonstrations," he told Newsweek.
"The events of the last few days have demonstrated to Putin that Navalny indeed is ready to compete for the presidency in Russia.
"This is clear not only to Putin but also to the people around Putin who are responsible for his continuation of power if something happened to him."
A Russian court has rejected Navalny's appeal against his arrest and his associates have also been detained and police say they will crack down on those who take to the streets this weekend.
"The authorities are in a very complicated situation, they could sentence Navalny to several years in prison, and either keep him in prison or kill him in prison," Felshtinsky said.
"Navalny is a major problem for them and they have to deal with this. The more demonstrations we see, the more they are an indication for them that their decision to kill him was the correct decision. That he is a danger and probably their main one now."
The graphic below provided by Statista shows how long Vladimir Putin has been in power in Russia.