Hundreds Arrested in Russian Protests Demanding Release of Putin Critic Alexei Navalny
There were clashes and arrests across Russia during protests on Saturday calling for the release of Alexei Navalny, the opposition politician who is Russian president, Vladimir Putin's most prominent critic.
Footage shared on social media showed the dramatic moment when Lyubov Sobol, a lawyer for Navalny's Anti-Corruption Foundation (FBK), was seized by officers as she addressed the media next to Pushkin Square in the centre of Moscow. She had also been arrested on Thursday.
Navalny's wife Yulia Navalnaya, who had joined protesters in Pushkin Square, posted on Instagram that she had been detained. There were chants of "Russia without Putin" and footage shared on Twitter by news outlet RBC showed clashes between police and protesters.
The demonstration then headed towards Manezh Square next to the Kremlin, a key location for past anti-government demonstrations.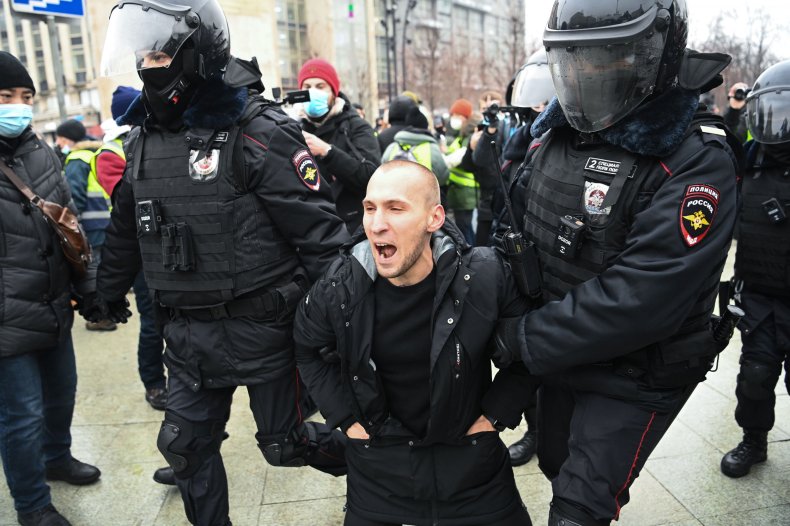 Other Navalny aides have been targeted. Coordinator of Navalny's headquarters in Nizhny Novgorod, Ruslan Tregubov, was detained by police on Saturday, local media reported, while coordinator in the city of Tver, was also arrested, FBK tweeted.
Navalny's spokesperson Kira Yarmysh, who was detained on Thursday has been jailed for nine days.
Independent monitoring project OVD-Info reported that by Saturday afternoon, 863 people had been arrested across the country.
The rallies started in the Far East and Siberia where thousands braved the freezing temperatures in cities including Omsk, Khabarovsk and Novosibirsk.
Clashes were reported between security forces and demonstrators in the far-eastern city of Vladivostok which is seven time zones ahead of the Russian capital.
The actions show the support for Navalny, who was arrested last Sunday at a Moscow airport after he had touched down from Berlin where he had been recovering from a Novichok nerve agent attack he said Putin had ordered.
His group's release this week of a video titled "Putin's Palace" that allegedly cost $1.35 billion has been watched over 60 million times on YouTube and has galvanized sentiment against corruption.
In an Instagram message to his supporters, Navalny praised how exercised young people were, with many using the video-sharing app TikTok to encourage others to take to the streets. "Big respect to the schoolchildren, who, according to my lawyer, arranged for 'lawlessness via Tik Tok,' adding, "I don't know what that means, but it sounds cool."
Jailed for 30 days, Navalny also made reference to the prospect of any harm coming his way in detention being explained away by the authorities.
"I don't plan to hang myself on a window bar, or to cut my veins or throat with a sharpened spoon. My blood pressure is measured every day - ...and a sudden heart attack is excluded," he wrote.
The graphic below provided by Statista shows the time Vladimir Putin has spent in power.