Alexei Navalny Calls Vladimir Putin 'Underwear Poisoner' in Defiant Moscow Court Address
Russian anti-corruption campaigner Alexei Navalny gave a defiant address to a Moscow courtroom where he took aim at both President Vladimir Putin and the clampdown on protests across the country over the last two weekends.
Navalny's appearance at Moscow City Court on Tuesday came two days after protests in cities across Russia saw the detention of thousands of people who had taken to the streets calling for his release. The previous Saturday, demonstrations across 120 cities took place.
The opposition leader had been arrested at a Moscow airport last month after arriving back from Berlin, where he had been treated for poisoning by the Novichok nerve agent in an attack he says was ordered by Putin.
Prosecutors claim that Navalny broke the terms of a suspended sentence from 2014 in an embezzlement case he says was politically motivated. His arrest on January 17 was for alleged parole violations while he was in Germany.
During his court appearance on Tuesday, Navalny mocked Putin, saying that however the president tries to present himself as a politician, he is simply a "poisoner."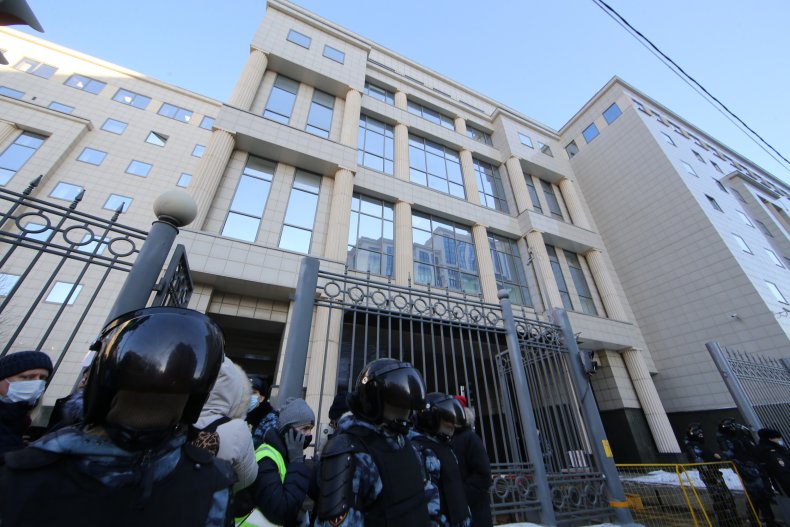 "There was Alexander the Liberator and Yaroslav the Wise. Now we'll have Vladimir the Underwear Poisoner," Navalny said, referring to his claim that Federal Security Service (FSB) agents placed Novichok in the lining of his blue underwear.
"The police are guarding me and half of Moscow is cordoned off because we have shown that he is demanding to steal underwear from opponents and smear them with chemical weapons," according to a transcript of proceedings by the MediaZona news site.
Describing the case against him as "fabricated, he said that the state "with the stubbornness of a maniac, is trying to condemn me."
"It's easy to lock me up. The main thing in this process is to intimidate a huge number of people, this is how it works. They are putting one person behind bars to scare millions," he added.
In his statement to the court, Navalny's lawyer, Vadim Kobzev, described how the poisoning of his client had been described as a "political Chernobyl."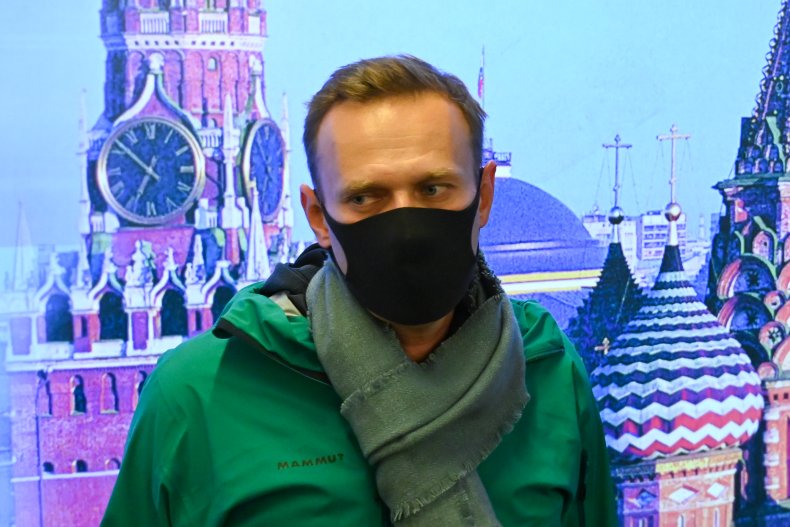 Kobzev ended his address quoting from the HBO series about the 1986 nuclear power plant catastrophe. Referring to a comment made by the actor playing one of the scientists, Valery Legasov, there was a warning of what impact jailing Navalny might have across Russia.
"Legasov said, 'Dyatlov broke all the rules and brought the reactor to self-destruction,'" Kobzev said. "Nobody in that control room knew that the shutdown button would act as a detonator.' Dear judge, don't be like Dyatlov—don't push the button."
Prosecutors want to turn Navalny's suspended sentence into a jail sentence of three and a half years, and the judge adjourned the case at 5.30 p.m. local time for deliberation.
Supporters of Navalny gathered near the court and as of 5 p.m. local time, 287 people had been arrested, according to OVD Info.
The Kremlin has fended off international criticism of both Navalny's arrest and the crackdown on protests, even accusing the U.S. of being behind the demonstrations.
Russian foreign ministry spokeswoman Maria Zakharova said on Tuesday that the presence of foreign diplomats at Navalny's trial demonstrated western interference in the internal affairs of Russia.
The Kremlin continues to deny responsibility for Navalny's poisoning and foreign minister Sergei Lavrov said that the lack of evidence showed it could have been staged, according to local news reports.
Yuri Felshtinsky is a Russian security services expert and author of Blowing Up Russia, which he co-wrote with Alexander Litvinenko, the former FSB officer who was killed by Polonium poisoning in London in 2006, a killing blamed on the Kremlin.
He said the authorities did not want to release Navalny, especially given that the FSB's poisoning attempt on him had been botched, which presented the Kremlin with a big problem.
"With Navalny they missed the moment," he told Newsweek last week. "They tried to poison him, it was a good time to poison him, they failed, now they have to deal with the result of that particular failure."
He added: "Since then, he has become extremely popular, now everybody listens to him."
Felshtinsky believed that Navalny was a bigger threat to Putin than Boris Nemtsov, the opposition figure who was gunned down outside the walls of the Kremlin in 2015.
"Navalny appeals to different forces...he is fighting against corruption and this is very popular. For Putin, the fact that he is popular is an indication that he is a major danger.
"The Kremlin is not thinking 'we have to deal with corruption, or we really have to allow Navalny to form his party and make it part of the Russian parliament and openly discuss the situation and give him time on Russian state television.'
"This is not the direction they are going to take, repression is the only thing they can use."
The graphic below provided by Statista outlines Putin's time in power.