Alexei Navalny, Poisoned Putin Critic, Detained on Return to Russia
Russian opposition politician Alexei Navalny has been detained at Moscow's Sheremetyevo airport upon returning to Russia after spending several months in Europe following an attempted poisoning last August.
Navalny, 44, was arrested after arriving at the Moscow airport's passport control, English-language Russian newspaper The Moscow Times reported on Sunday evening. The publication reported that prison authorities had confirmed that the staunch critic of Russian President Vladimir Putin had been detained for violating the terms of his probation and will remain in custody until a court hearing.
Hundreds of Navalny's supporters had converged at a separate Moscow airport in support of his return and to protest any potential detention. But Navalny's plane was diverted for him to arrive at Sheremetyevo. The Moscow Times reported that more than 50 of Navalny's supporters had been arrested as well.
The Organization for the Prohibition of Chemical Weapons, as well as laboratories in Germany, France and Sweden, assessed in October that Navalny had been poisoned in August by a type of Novichok nerve agent known to be used by Russian agents. Navalny, backed by European and U.S. officials, has alleged that he was poisoned due to his opposition to Putin's government. Navalny had spent the past several months recovering and receiving treatment in Germany.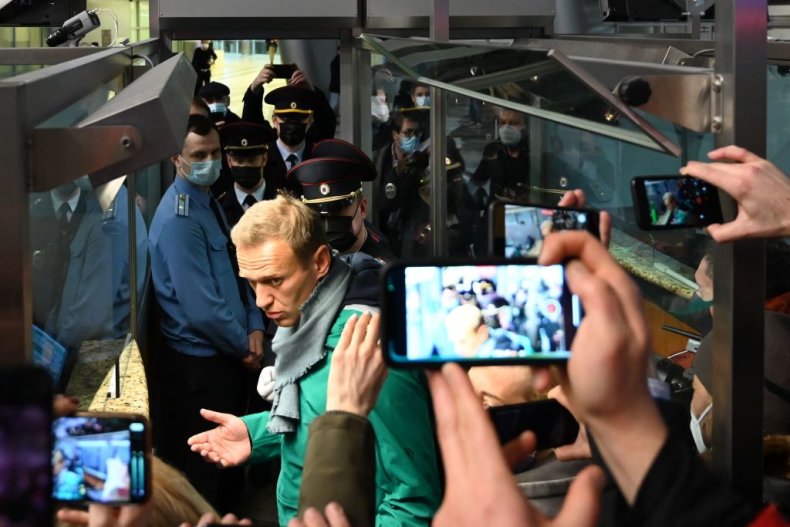 "I know that I'm right. I fear nothing," Navalny said Sunday to supporters at the airport just before being detained. He said any criminal cases brought against him had been "fabricated."
President-elect Joe Biden's National Security Adviser-designate Jake Sullivan condemned Navalny's arrest in a Sunday Twitter post.
"Mr. Navalny should be immediately released, and the perpetrators of the outrageous attack on his life must be held accountable. The Kremlin's attacks on Mr. Navalny are not just a violation of human rights, but an affront to the Russian people who want their voices heard," Sullivan wrote.
U.S. Secretary of State Mike Pompeo said in September that there was a "substantial chance" that Navalny's poisoning came at the direction of top Russian officials.
"People all around the world see this kind of activity for what it is," Pompeo said at the time. "And when they see the effort to poison a dissident, and they recognize that there is a substantial chance that this actually came from senior Russian officials, I think this is not good for the Russian people. I think it's not good for Russia."
Later in October, the European Union sanctioned six prominent Russian officials due to Navalny's poisoning. "The use of chemical weapons constitutes a serious breach of international law," the European Council said in a statement announcing the decision.
Navalny was warned prior to returning to Moscow that he could be detained upon arrival. The political opposition leader previously received a suspended prison sentence for alleged embezzlement, which Navalny and his supporters claim was a politically motivated conviction. In December he failed to appear for a prison service deadline at a Moscow office while he was in Germany. Authorities said this was a violation of his probation.
Newsweek reached out the Russian Embassy in Washington, D.C., for comment but did not immediately receive a response.
In December, Putin dismissed the allegations—suggesting that Navalny would have died if the Kremlin had wanted him dead. The Russian president said his country's agent "would have taken it to the end" if they were behind the poisoning.
Navalny blamed Putin directly for his poisoning in a December interview with Spanish newspaper El Pais.
Putin "believes that killing me will destroy our organization. It is difficult for me to understand exactly what is going on in his mind. I am not the first one who was poisoned, and I will definitely not be the last one. Putin has been in power for 20 years. It is too long, 20 years of power would spoil anyone and make them crazy. He thinks he can do whatever he wants," the Russian opposition leader said.
Updated January 17 at 2:20 p.m. ET: This article has been updated with further background information.
Updated January 17 at 3:15 p.m. ET: A tweet from President-elect Joe Biden's national security advisor-designate was added