Alexei Navalny Says Guard Threatened Straitjacket in Order to Force-Feed Him
As Russian opposition leader Alexei Navalny, 44, sits in prison amid an ongoing hunger strike, he used his Instagram account on Friday to say that he has been threatened with a straitjacket to be force-fed.
In a lengthy caption, he detailed how a female colonel said that his blood test indicates serious risks and his deteriorating health, and that he would be force-fed if he does not give up his strike.
"Then she described the delights of force-feeding to me. Straitjacket and other joys," Navalny wrote.
In his post, he continued to declare that he points his finger at the law to say: "sorry. Don't force-feed me."
Navalny was arrested on January 17, 2021, and ordered to serve a 2 1/2-year sentence after he allegedly violated the terms of his probation to recover from a nerve-agent poisoning that he alleged was an attack by the Kremlin. Russian authorities have refuted his claim, Newsweek previously reported. He announced he was going on a hunger strike on March 31.
He also wrote on Instagram that it is his absolute guaranteed right to be examined by an independent civilian doctor.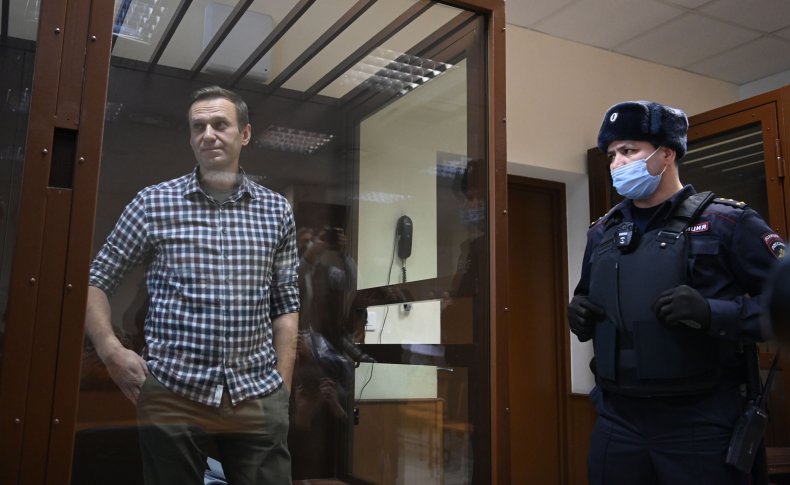 For more reporting from the Associated Press, see below.
Navalny, President Vladimir Putin's most vociferous critic, is demanding a visit from his physician after developing severe back pain and numbness in his legs in prison.
Navalny's arrest triggered a massive wave of protests all across Russia, the biggest show of defiance in recent years.
Soon after the arrest, a court ordered Navalny to serve 2 1/2 years in prison on a 2014 embezzlement conviction he said was fabricated and the European Court of Human Rights deemed to be "arbitrary and manifestly unreasonable." Last month, the politician was transferred to a penal colony east of Moscow, notorious for its harsh conditions.
Navalny has complained about back pain and said he was losing sensation in his legs. His demands for a doctor's visit were rebuffed by prison officials, with Russia's state prison service saying he was getting all the medical help he needed. In response, Navalny went on a hunger strike.
The opposition leader charged Friday that prison officials refused to let his physician in because "they fear it'll transpire that the loss of sensation in the limbs may be connected to the poisoning," and reiterated he had "an absolutely guaranteed right: to be examined by an independent civilian doctor."
Describing his state after more than two weeks of a hunger strike, Navalny said his head was "spinning a lot," but that he was "still walking."
Navalny's wife, Yulia, who visited him in prison earlier this week, said the politician was "cheerful" but had trouble talking and lost a lot of weight.