Alexei Navalny's Hunger Strike Reaches 12th Day as Putin Officials Put Candy in His Pockets
Russian opposition leader Alexei Navalny has reached the 12th day of his hunger strike, as President Vladimir Putin's prison officials have placed candy in his pockets in an effort to break the strike.
Navalny first announced he was going on a hunger strike on Wednesday, March 31, in protest of the treatment he has received in prison, claiming that he has not received proper medical treatment for pain in his back and leg.
"What else could I do?" Navalny wrote in a letter posted by his team to Instagram. "I have declared a hunger strike demanding that they allow a visit by an invited doctor in compliance with the law. So I'm lying here, hungry, but still with two legs."
As his hunger strike has continued, Navalny has continued to write letters, which are posted on his website and Instagram. One recent letter claimed that Kremlin officials have been placing candy in his pockets.
"Do you know what turned out to be the most important at the first stage of the prison hunger strike? Check pockets," Navalny wrote in the letter posted on his website, translated by Google. "Candy is placed in them. The first one was found during a search and immediately ironic smiles."
In his letter published to his website on April 7, Navalny also claimed that prison officials have allowed chicken to be cooked in his unit's kitchen, which is normally prohibited.
Navalny was first jailed in January after returning to Russia from Germany for violating terms of his probation from his 2014 arrest on embezzlement charges. Navalny went to Germany to recover from a nerve-agent poisoning that he claims was carried out by the Kremlin, which has denied the claims.
In announcing his hunger strike, Navalny claimed that he was only given ibuprofen pain pills for his leg and back and demanded that he see a doctor, stating in his letter, "I demand to let a doctor see me and declare a hunger strike until it happens."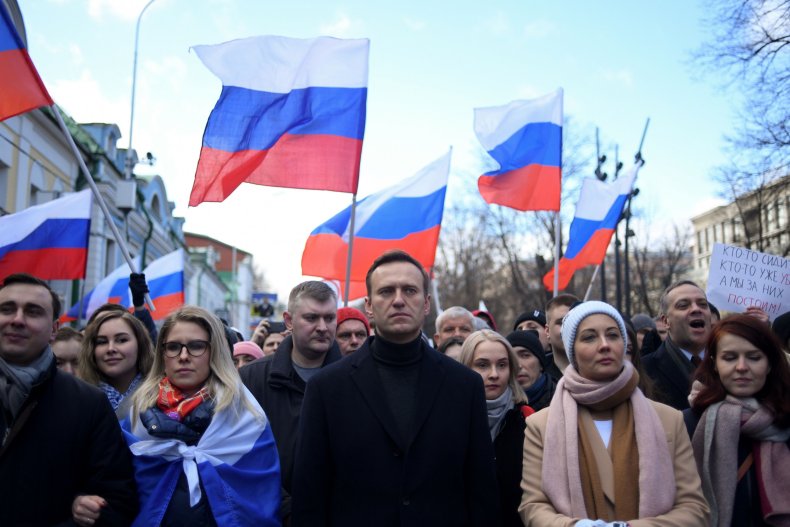 His claims were disputed by the Russian prison service, which said in a statement that "We also inform that convict A. Navalny is being provided with all the necessary medical assistance in accordance with his current medical indications."
In a more recent post to his Twitter account, Navalny's team claimed that in addition to placing candy in his pockets, prison officials have threatened to force-feed him.
"Seeing the severity of the hunger strike, the administration threatens to force-feed them every day. At the same time, Alexei was transferred back from the medical unit to the detachment. The doctor is not allowed to see him," the tweet said, translated by Google.
The tweet also noted that since announcing his hunger strike, Navalny has lost 8 KG or about 17 pounds.
Last week, Navalny announced that he was experiencing a fever and a cough but the most recent tweet from his team said that he was moved out of the prison's medical unit and his doctor is not allowed to see him.
Newsweek reached out to the Russian prison service for comment but did not receive a response in time for publication.