Every Celebrity Mocked in the 'Borat' Sequel—Rudy Giuliani Was Far From Alone
Borat Sagdiyev has returned to America for a Subsequent Moviefilm, a follow-up to his 2006 feature. As in the first mockumentary, Borat (played by Sacha Baron Cohen) mocks a bunch of everyday people in the new sequel, which debuts on Amazon Prime Video on October 23. But once again, Borat targets a few high-profile guests, who are duped by the fictional Kazakhstani reporter.
Where the original film featured Baywatch star Pamela Anderson (who, unlike some of the other celebrities that show up, was in on the joke the whole time), and politicians Alan Keyes and Bob Barr, the Borat sequel aims for even more prominent marks.
Borat Subsequent Moviefilm makes direct mockeries of some of the people associated with President Donald Trump. The two standouts are his attorney Rudy Giuliani and Vice President Mike Pence.
Rudy Giuliani
Rudy Giuliani, the former New York City Mayor and Trump's personal attorney, has easily received the most media attention for his appearance in the film. Early reviews of the film mention a scene in which Borat's daughter (played by actress Maria Bakalova) poses as a journalist for a faux-conservative outlet. According to early write-ups of the film, she invites Giuliani back to her hotel room, where he lays down on a hotel bed, and appears to tuck his shirt in and put his hand in his pants. Mother Jones editorial director Ben Dreyfuss said on Twitter that while the scene was creepy, it was not sexual.
Giuliani first drew attention to his presence in the film back in July, when he spoke about getting pranked by Cohen. At the time, it was unclear what project Cohen was working on.
Mike Pence
In the original film, Borat is trying to find himself a suitable mate by tracking down Anderson, but in the sequel, he says he's trying to arrange a marriage for his daughter. "I am here to give my daughter as a gift to someone close to the throne," he says in the trailer, as a shot of the White House appears. The end of the trailer implies that Borat intends for his 15-year-old daughter to marry Pence.
At one point, the new film's trailer shows Borat, wearing prosthetics to resemble Trump, carrying his daughter over his shoulder, at a conference where the vice president is speaking. "Michael Pence, I brought the girl for you," he shouts.
Judith Dim Evans
Evans was a Holocaust Survivor that Cohen interviews in character during the film. She died before the film was completed, and her estate is currently suing the producers and Amazon Studios, according to Deadline. Her estate said that the film was misrepresented to Evans and she didn't realize it would "mock the Holocaust and Jewish culture." Cohen and the filmmakers reportedly told her the purpose of the movie after her segment was shot, and explained that the inappropriate jokes they were making are a means of educating people about the atrocities of the Holocaust.
Macy Chanel
Instagram Influencer Macy Chanel also makes an appearance early in the film, to teach Tutar about dating etiquette and suggests that she get a total makeover. In an Instagram post on Thursday, Chanel shared that she recently learned that she was in the movie and thought it was hilarious, despite being shocked to learn she was in it. "I stayed in character throughout the entire time as any actor would," she wrote. "Yes, Cohen got me ...but, kinda sad how he elicits 'reality'."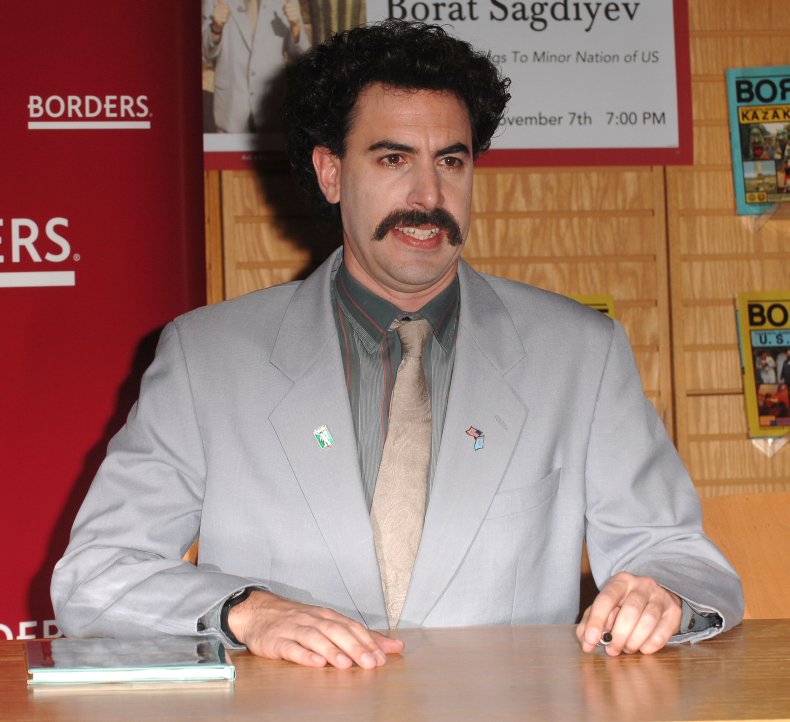 Update 10/23/20 8:16 a.m. EST: This story has been updated to include Macy Chanel.