Why Viewers Are Comparing Netflix's 'All of Us Are Dead' to the Sewol Ferry Tragedy
Netflix's latest Korean thriller All of Us Are Dead has drawn comparisons to the real-life Sewol Ferry tragedy.
In 2014, the Sewol Ferry sank during its journey from Incheon to Jeju leading to the deaths of 304 people, 250 of whom were students from Danwon High School.
The tragedy shocked South Korea and led to widespread criticism of how it was handled by the government. To this day, the public grieve the loss of the victims by wearing yellow ribbons in remembrance of them.
While the Netflix show is not a retelling of what happened on that tragic day, it has led to comparisons for its focus on high school students who do all they can to survive without the help of adults after a zombie virus takes over their school..
What Happened During the Sewol Ferry Disaster?
On April 16, 2014, the MV Sewol ferry was traveling from Incheon to Jeju when it sent out a distress signal, the 6,825-ton vessel had capsized and was sinking.
The overloaded ferry sank after a sudden turn caused it to list to the right and capsize.
At first, parents were told that the students were safe and had been rescued and it was only until hours later that it was made clear that passengers were trapped inside, the Wall Street Journal reported at the time.
As the ship was sinking passengers were told to remain in their cabins to wait for rescue even as water began to rush in. The captain, Lee Joon-seok, and several of his crew abandoned ship, escaping without helping anyone else.
Many of the passengers, following the instructions they were given, did not leave their cabins and tragically lost their lives because of this incorrect information.
People in private fishing boats and other commercial vessels went to help passengers, saving 172 people after arriving approximately 40 minutes before the Korea Coast Guard did, the Chosun Ilbo reported at the time.
As the boat continued to capsize those stuck inside made phone calls, texted their loved ones and sent farewell messages via South Korean messenger app KakaoTalk.
The sunken ferry was not recovered until March 23, 2017.
In 2014, Park Gi-ho, the chief engineer, was sentenced to 30 years in prison, and first mate Kang Won-sik and second mate Kim Young-ho were given 20 and 15-year prison sentences, respectively.
On April 15, 2015 Captain Lee was found guilty of homicide by an appeals court and was given a life sentence, after initially receiving a 36-year prison term.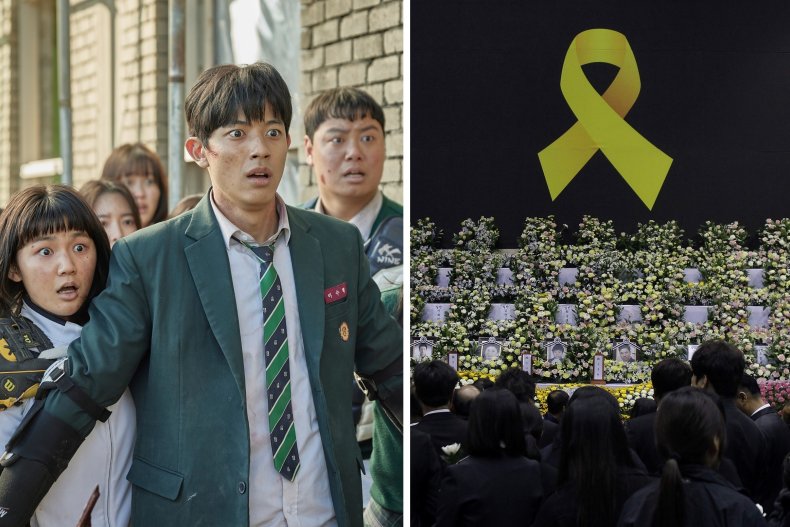 How Viewers Are Comparing 'All of Us Are Dead' to the Sewol Ferry Tragedy
For some viewers, the events that take place in All of Us Are Dead brought to mind the Sewol Ferry tragedy because of the way in which its main characters are abandoned by adults.
Taking to Twitter to compare the drama with the real-life tragedy, one viewer wrote: "Watching All of Us Are Dead is somewhat reminding me of the events during the Sewol Ferry tragedy. Adults failing the youth."
Another added: "Watched 3 episodes of All of Us Are Dead and all I could think of was the Sewol tragedy How children were neglected by adults whom they put their hopes on…"
Yellow ribbons are also seen in the show when characters tie them to trees and buildings to remember those lost, and this is something that appears to be a direct reference to the real-life tragedy.
Of this, another viewer added: "All of Us Are Dead is really another version of the sewol ferry tragedy…the details they put in like the yellow ribbon, video message, the adults abandoned the students etc are so similar on what happened from the sewol one...im sad now."