All the Ways the Tornadoes That Struck Six States Were Unusual
An outbreak of deadly tornadoes ripped through at least six U.S. states overnight on Friday and into Saturday morning, leading to devastating damage and fears that upwards of 100 people have died.
The storms were part of an intense and rare weather system that struck states including Arkansas, Illinois, Kentucky, Missouri, Mississippi and Tennessee. The catastrophic outbreak included more than 30 tornado reports across the country and is considered an extremely rare event this late into the season.
"This has been the most devastating tornado event in our state's history. What it has done here is indescribable. The level of devastation is unlike anything I've ever seen," Kentucky Governor Andy Beshear said early Saturday morning.
Experts have noted that such a powerful and far-reaching storm system in December is unusual, and something that would typically take place in April or May.
"To have an outbreak of this magnitude, with this many tornado reports—it's a little unusual for this time of year," Dan Pydynowski, a senior meteorologist with AccuWeather, said on Friday, according to the New York Times.
"It was unusually warm, and there was moisture in place," he added, "and you had a strong cold front end. These are the ingredients for big storms in the spring, but not in mid-December."
Preliminary reports on Saturday suggested that one tornado touched down for more than 230 miles, wreaking havoc across Arkansas, Missouri, Tennessee and Kentucky for hours. The National Weather Service (NWS) is conducting an official report to confirm if the event was one continuous system, and if so, it will set the record for the longest tornado in U.S. history, and the first tornado to cross through four states.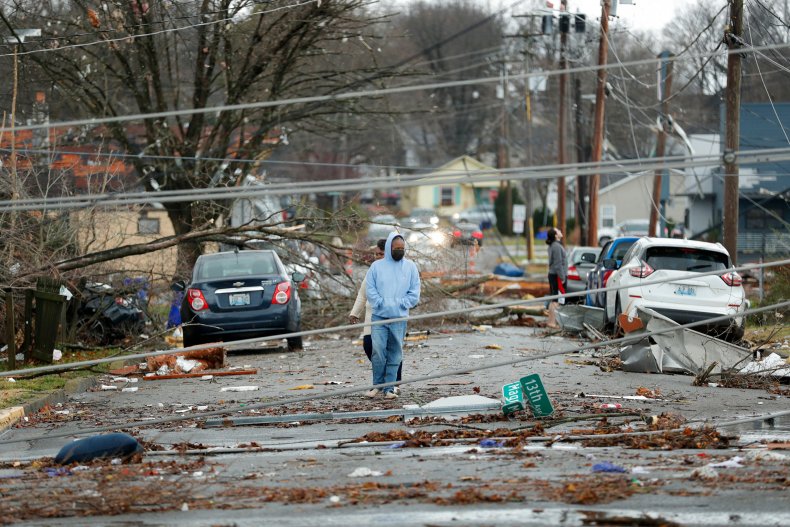 Tornadoes are measured using the Enhanced Fujita Scale (EF) from zero, being the weakest, to five, being the most violent type of tornado. So far, reports have found that several of the tornadoes were likely in the strongest or most violent categories. Since 1950, there have been only 21 tornadoes in the U.S. that were considered "violent" during the month of December, according to NBC.
Furthermore, radar reports have suggested that the immense storm system was so powerful it lofted debris more than 30,000 feet into the air—an altitude that commercial airplanes fly, according to the news outlet.
So far, at least 70 people in Kentucky have died from the storms, and officials believe the toll could climb past 100 in the next several hours. Meanwhile, at least five people were killed in Tennessee, and one person died and several others were seriously injured when a tornado struck a nursing home in Monette, Arkansas.
At least two people are also dead in Edwardsville, Illinois, where the roof of an Amazon warehouse collapsed during a storm.
As of Saturday morning, power had been lost to about 140,000 homes in Tennessee, 92,000 in Kentucky, 23,000 in Arkansas, and nearly 16,000 in Illinois and 10,000 in Missouri, according to reports from PowerOutage.us.
"This will be, I believe, the deadliest tornado system to ever run through Kentucky," Beshear added on Saturday morning. "The damage is even worse, now that we have first light."