Surgeon Had to Untwist Man's Hand Muscle Six Times After Alligator Attack
A man in Florida was attacked by an alligator at a wildlife park, and ended up having to have most of his forearm amputated due to severe crushing injuries.
Greg Graziani, the director of wildlife at Florida Gator Gardens, around 100 miles from Tampa, was attacked on August 17 "during a routine interaction with [the park's] large alligators."
According to a post on social media by the park, the incident left Graziani with a seriously injured hand and arm. He was then taken to Tampa General Hospital.
"The accident was an extreme injury that left Greg's hand connected by one tendon," said another post by the park.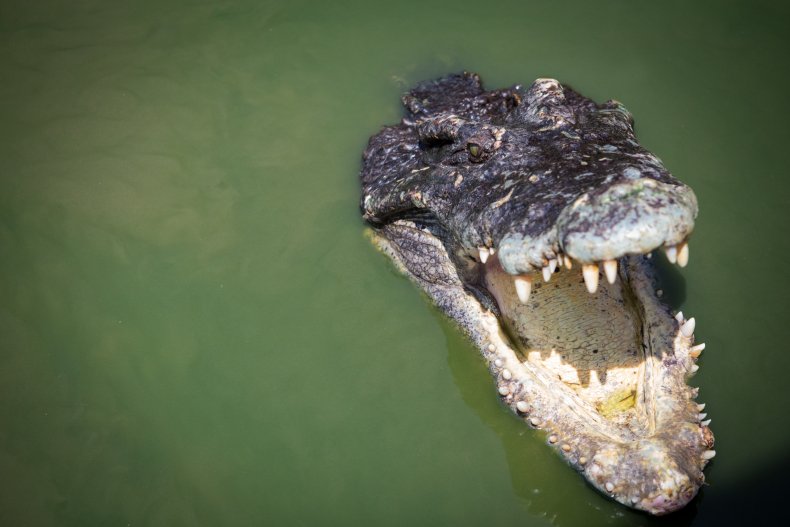 "A tendon and some muscle that the surgeon had to untwist six times during the initial surgery. Needless to say, we were fully expecting an amputation from the moment after impact."
Alligators are found throughout Florida and other nearby states, and can grow to up to 14 feet long.
They usually feed on fish, snakes, turtles, small mammals, and birds, although they are opportunistic, so may attack other animals if especially hungry, including humans.
In the past month alone, there have been several alligator attacks in the South: on August 4 at Lake Thonotosassa, near Tampa, a man was bitten on the face by an alligator while swimming, and on August 15, an 88-year-old woman in South Carolina was attacked and killed after she slipped while gardening.
"[Alligators] don't perceive humans as either a threat or as food," Frank Mazzotti, professor of wildlife ecology at the University of Florida, told USA TODAY. "With how many people there are and how many alligators there are, it's really surprising [that attacks don't] happen more often."
Graziani's hand could not be saved, and was amputated, leaving him with half of his left forearm.
"They performed a procedure to reroute the nerves from the amputated limb in such a way that helps eliminates phantom pain and offers the option for prosthetics at very top of technological advancements and innovations," the park said.
This wasn't the first time Graziani himself had been at the wrong end of an alligator: in 2013, he almost lost his right arm capturing an alligator on someone's property, breaking multiple bones.
Despite his several altercations with the huge reptiles, Graziani is still dedicated to protecting the creatures and educating people about them.
"Even through the pain and heavy medication, he is still preaching his reptile education to nurses, doctors, and visitors alike," wrote the park.
According to the Florida Fish and Wildlife Conservation Commission, American alligators face a number of threats, including the destruction and degradation of their wetlands by human action. Alligators are federally classified as a threatened species and are protected by the Endangered Species Act.
The alligator involved in the injury was uninjured, and won't face any form of punishment from the park.
"Every time we work with any of our animals, we never fail to acknowledge the gravity of the situation," the park said.
"We are working with an animal where collaboration and training between species is something that is taught, and it usually goes against quite a few natural instincts. Every animal is given a level of respect and acknowledgement for their power, behavior, natural instincts, and training."
The Florida Fish and Wildlife Conservation Commission is "actively investigating" the incident, according to the Tampa Bay Times.