Baby Sea Turtles Overrun Hotel After Getting 'Very Lost': Video
While sea turtles are currently hatching and making their voyage to the ocean, one group got lost and inadvertently overran a Florida hotel as seen in body camera footage shared by the Pinellas County Sheriff's Office.
"While the majority of us were sleeping, Sergeant Mackesy, Deputy Lopez and Deputy Wheeler responded to a call early this morning from a security guard at a hotel on St. Pete Beach concerning sea turtle hatchlings that had gotten very lost while making their maiden voyage out to the ocean," read the caption of the video, which was posted on August 2 on the department's Facebook page.
With the help of officials from the Florida Fish and Wildlife Conservation Commission (FWC), officers rounded up the turtles and released them on a beach.
Deputy Felisha Barnes of the Pinellas County Sheriff's Office told Newsweek in an email that it took about an hour for officers to collect and release the turtles.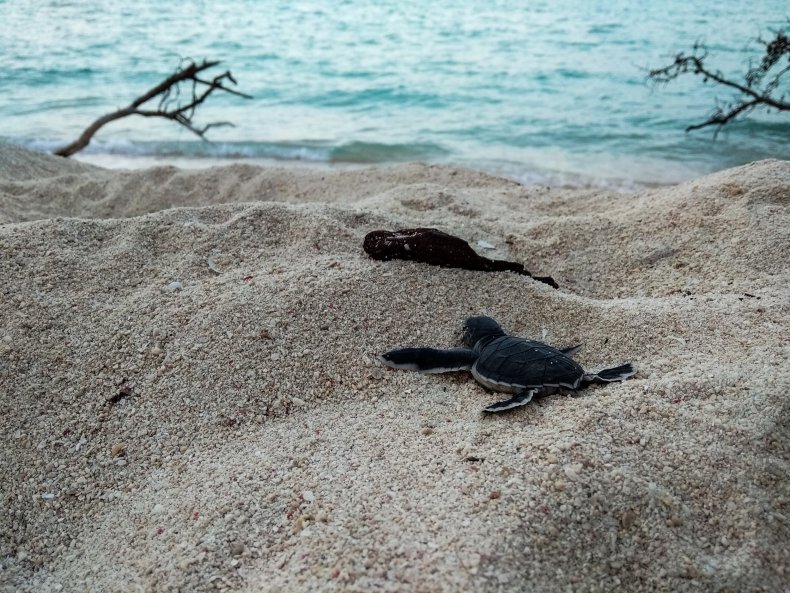 According to the FWC, sea turtles lay eggs on Florida beaches starting in early spring and throughout the summer.
What To Do If You Sea Baby Sea Turtles
This period lasts from March 1 until October 31, and beachgoers are reminded that they cannot interfere with sea turtles that are making their way toward the ocean.
"Sea turtles are protected, so you should allow hatchlings to crawl toward the ocean on their own," officials with the agency said. "Any interference or disturbance, including getting too close, can cause hatchlings to become confused and lose their way."
The hatchlings become familiar with their surroundings because of their journey to the ocean.
Officer Forest Rothchild told Newsweek in an email that members of the public should contact the FWC if they find hatchling sea turtles in distress, injured or harassed.
Bright lights are a factor in confusing sea turtles as they crawl toward the water, and the agency advised keeping beaches dark and to avoid taking flash photos.
Rothchild said he believes the hatchlings were likely headed toward lights that were on at the hotel.
He said lights can misdirect or disturb sea turtles and hatchlings, which is why it is important to turn off flashlights and cellphones.
"In addition, if living or visiting beach-front property, you can help nesting sea turtles and hatchlings by closing curtains to block light facing the water," Rothchild said.
The police department said the hotel security guard collected 15 sea turtles before calling for help. When officials arrived, they found baby sea turtles "all over," including in the hotel pool, the bushes and in a storm drain.
A police officer contacted an on-duty FWC official who told them they should release the turtles at the water's edge, allowing them to move toward the water on their own.
The video posted by the department shows an officer carrying a bucket walking toward the waterline.
She crouched down and positioned the bucket to face the water. A group of sea turtles poured out and they slowly crawled toward the ocean.
One clip in the video showed a baby turtle that successfully made it to the water before it was swept away.
"With some words of encouragement and guidance all the hatchlings made their way to the water successfully," the caption concluded. "We think Finding Nemo's pal Crush would be proud of this crew and the deputies too!"
Turtle Tales
A wildlife rescue center saved a snapping turtle that was found stuck in a gutter, though how the turtle ended up there was not known.
The world's rarest sea turtle recently laid eggs on a Texas beach inside a bay, which officials said never happened in modern times.
After receiving rehabilitation from an Australian zoo, two turtles and a penguin were released back into the wild.