A huge snapping turtle found stuck in a gutter in Maryland has baffled wildlife experts in the state.
A local wildlife rescue center took the turtle in on the January 24 after it was found stuck near Cherry Hill Park in Baltimore. The snapping turtle would usually be hibernating this time of year, making its presence in the city even more confusing.
The Baltimore Animal Rescue and Care Shelter said in a Facebook post that just how the turtle came to be there is a mystery.
A spokesperson from the shelter told Newsweek that Cherry Hill Park is near a body of water.
They said: "If I had to guess, perhaps he emerged and wandered off. It's hard to say for sure of course!"
The post, which can found here, said: "Some mysteries in life may never be solved. Like, are we alone in the universe? Which came first: the chicken or the egg? And, most importantly, how did this snapping turtle friend end up roaming around Baltimore City?!"
The center is an open-admission animal shelter that takes in animals of any kind. It said that now that the turtle is "safe from the elements" it will get the care it needs.
The center also lists animals it finds for adoption, however it made it clear that this turtle would not be available.
"No, this big guy isn't available for adoption-he'll be transferred to a partner rescue organization that specializes in wildlife care," the Facebook post said.
The common snapping turtle is native to Maryland and one of the largest species of freshwater turtle. Common snapping turtles can be found in freshwater streams, lakes and rivers around the state.
Alligator snapping turtles are much larger than the common snapping turtle, however they are usually only found from Florida to Texas.
An adult common snapping turtle measures normally measure between eight and 12 inches and they weigh between 10 and 35 pounds.
The turtles are well known for their strong bite, however they usually only attack when threatened.
In a reply to a Facebook comment, the shelter said the rescued turtle's preferred way to show affection was by "chomping on fingers."
During the winter, snapping turtles would usually be hibernating in icy lakes or ponds.
Unlike other hibernating animals however, snapping turtles can sometimes be seen moving around in the winter as they remain alert to changes in light and temperature that signal the coming spring.
The turtles have distinctive hooked beaks, and usually have dark brown or green shells.
Common Snappers are omnivores, mainly eating fish and other aquatic prey. They also consume underwater vegetation, and in some instances, small water birds.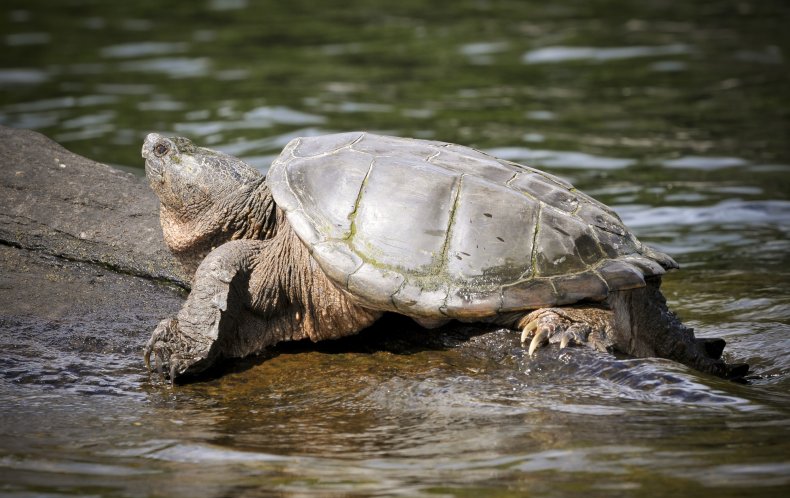 Update 01/28/22, 2:09 a.m ET: This article was updated to include quotes from the Baltimore Animal Rescue and Care Shelter.