Dozens of Dogs Kept Chained in Cages With Water Bowls Frozen Over Rescued From Texas Home
Almost 40 dogs that had been kept inside cages with limited access to water have been rescued from a home in Texas.
The neglected dogs were found at a house in Smith County on 21 January in chain-link kennels with their water bowls frozen over.
The dogs were fearful and in need of attention, the Humane Society of the United States said in a statement.
Local authorities, working with the Humane Society, obtained a warrant to search the property following concerns that the dogs at the property were neglected.
On arrival, officers found the dogs living in hazardous conditions, with corrugated metal collapsing into some of the cages.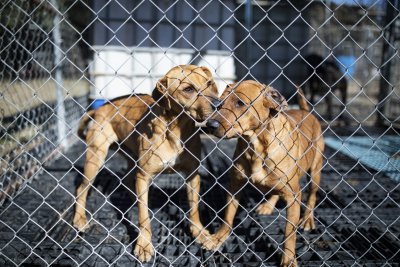 The Humane Society said that the suspect surrendered dogs.
Photos of the rescued dogs show them trapped in outdoor cages and kept in close proximity with each other, without space to roam. There does not appear to be any shelter and little to no bedding inside the cages.
"It's difficult to imagine the way these dogs have been living," Audra Houghton, director of animal rescue team operations for the Humane Society of the United States," said in a statement.
The Humane Society is working with authorities to provide shelter for the neglected dogs. Eventually, the dogs will be available for adoption.
The dogs are currently at a temporary shelter in an undisclosed location where they will be examined by veterinarians to receive much-needed care and treatment.
The dogs will be joined at the temporary shelter by 10 additional dogs who were removed from the same property earlier this month by the SCPA of East Texas for urgent care.
"We are grateful to Smith County for intervening to get these animals help, and to SPCA of East Texas, Animal Investigations and Response and RedRover for helping give these dogs a new beginning," Houghton said.
Josh Joplin, a Smith County constable, said in a statement: "It is unfortunate in the world today that the voices of so many barking for help go unheard. Here in Smith County, we hear those voices. As a law enforcement agency, we won't tolerate animal cruelty in our community."
The incident comes as a new Texas law, forbidding owners from tethering dogs to chains, came into effect on January 18.
The Safe Outdoor Dogs Act also requires owners to provide the basic necessities of shelter, shade, and clean water for their pets. Under the law, owners must tie-up their dogs with a device that can be attached to a collar or a harness, meaning weighted chains are prohibited.