Alligator Attacks Homeless Woman in Florida's Citrus County Lake
A Florida homeless women has escaped the clutches of an alligator who latched on to her arm while she was swimming.
Felicitie Marie Gillette, of Citrus County, was swimming in Lake Hernando when the alligator bit in to her left arm and dragged her underwater. The Florida Fish and Wildlife Conservation Commission (FWC) told Newsweek that Gillette was able to fight the alligator off and swim to the shore. She immediately called 911 for help. The 24-year-old was swimming in the lake at around 1 a.m.
Gillette was taken to a local hospital for treatment but did not sustain any serious injuries. The alligator was reportedly between five and six-feet-long. Lake Hernando has been closed off from the public beach. Footage has even emerged on social media of the alligator swimming near the netting.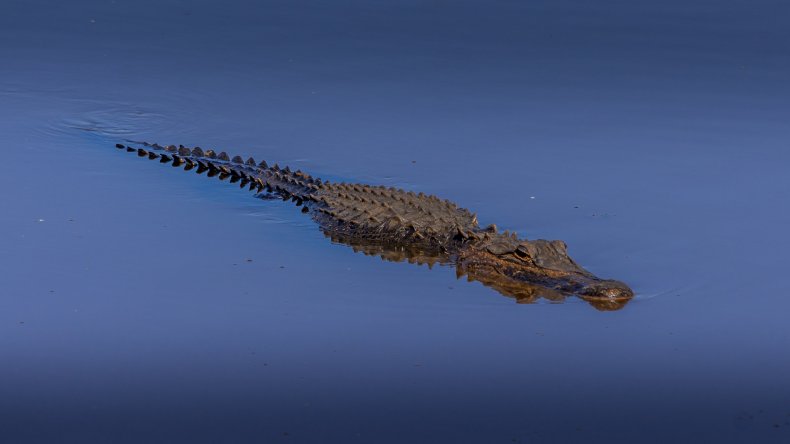 Citrus County Sheriff's Office said it was working to catch the crocodile. A trapper has been requested for the search. Anyone who sees an alligator they believe poses a threat should call the FWC.
FWC spokeswoman Karen Parker said she was glad the woman was okay. "FWC's advice is be aware of the possibility of alligators when you are in or near fresh or brackish water," Parker said. There have not been any other alligator attacks in Lake Hernando in the past 12 months.
Earlier this week, a photo circulated on Instagram showing a crocodile crossing a Florida canal using a pool noodle. The post, which was uploaded by vfpkeys, is accompanied by the caption "Crock (sic) on a float."
It was put up two weeks ago and shows the crocodile riding a yellow pool noodle. Photographer Victor Perez has now been inundated by requests by media to use the photo.
Perez said he regularly sees crocodiles crossing canals but never out in the bay. A second photo was uploaded on his account showing a different angle of the crocodile riding the noodle. The crocodile was swimming just behind Perez's house, he confirmed on Instagram.
The FWC say crocodiles have now become accustomed to people and may approach for food scraps, if they have received food in the past. Feeding crocodiles in Florida is illegal. Crocodiles are more likely to attack small mammals, such as pets. Pet owners who live near water are advised to fence off their property from the water.
"Often, the best course of action is to simply give the crocodile time to move on," the FWC say. "Depending on the crocodile's size, behavior, and situation the animal might be captured and moved."