A huge alligator blocked off a highway in Florida known as 'Alligator Alley" on Monday. State troopers were called to the scene, with am image showing the 12 foot gator at the side of Interstate 75.
Florida Highway Patrol arrived at the scene at around 4 p.m. local time and attempted to keep the alligator off the highway.
The patrol issued a FHP travel advisory warning, cautioning northbound interstate drivers to be careful around mile 78, where the alligator was found.
A picture posted by the patrol on Monday shows the huge alligator sitting on the grass at the edge of the road. A long line of cars can be seen to the left of the busy highway, showing how close the animal is to people.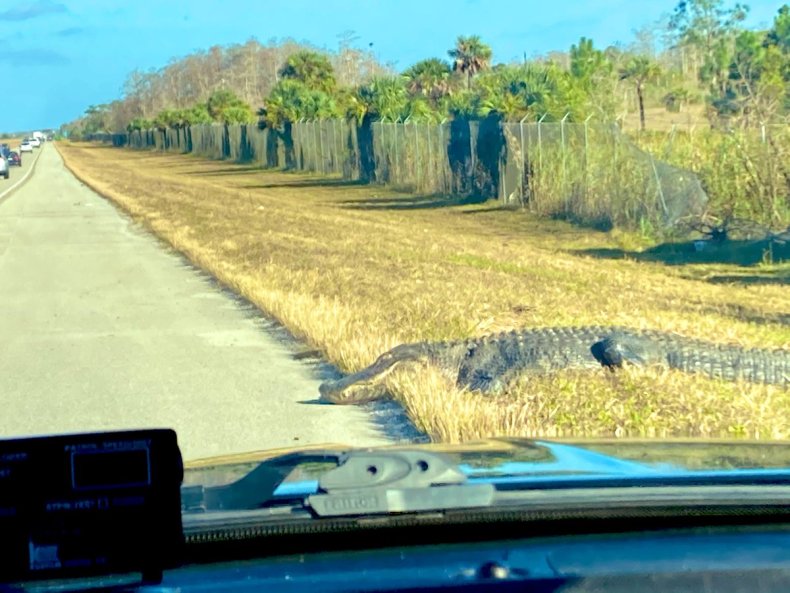 The 80 mile stretch of I-75 in Collier County crosses the state from Naples going into Fort. Lauderdale.
The long stretch of road is known as Alligator Alley because of the surrounding swamps, which are home to many of Florida's 1.3 million alligators.
Alligator Ally is lined with fences to keep the predator's away, however the picture shows clear damage to it at this particular stretch of road.
According to vacation website Florida Trippers, alligators have been known to break the fence and escape on several occasions. While it is fairly uncommon to spot an alligator on the road, the website also said tourists should keep their distance if they see one, and not to get out of their car. If an alligator senses that a car is too close. they have the tendency to attack. If people encounter an alligator on the road, they should stop but avoid swerving.
In a separate alligator-related incident in Florida on Monday, wildlife crews were working to remove an alligator that had found its way into the waters of the former Piney Point phosphate mining facility near Tampa, WTSP reports.
Florida Fish and Wildlife Conservation Commission (FWC) said the Statewide Nuisance Alligator Program was called in to help remove the alligator, the broadcaster said. A spokesperson for the commission said an alligator trapper coordinated with the facility's staff members to remove the animal.
The Statewide Nuisance Alligator Program uses alligator trappers to remove alligators that are believed to be a threat to people, pets or property.
Florida alligators can usually be found in coastal marshes, swamps, ponds, lakes, rivers and man-made canals. According to the FWC, seven people are bitten in unprovoked alligator attacks every year on average.