Alligator Crawling out of Apartment Storm Drain Shocks Local Residents
A couple in Mobile, Alabama, expressed shock on Monday afternoon when they noticed an unusual sight: an alligator crawling out of a storm drain in a nearby apartment complex.
Kenisha Miller and her boyfriend, Anthony Patterson, told local news station WKRG-TV that they were driving on Washington Avenue in downtown Mobile when they slammed on their brakes and stopped to do a double-take.
"We saw a gator coming out of the drainage hole, and we were like, 'Is that a real gator?'" Miller told the outlet. When they realized it was, the couple said they rushed to get police and Game and Wildlife officials to the scene as the reptile began slowly inching toward the apartment building.
At the same time, the couple said a school bus was dropping children off in the neighborhood 50 feet down the road. Soon enough, a crowd began gathering to get a view the odd scene.
"A lot of people in the neighborhood started coming out with their phones and stuff and were trying to record it 'cause they were just as shocked as we were," Patterson said, according to the Associated Press, adding that they've "never [seen] nothing like this, in the hood anyway."
Game and Wildlife officials arrived on the scene shortly after and were able to safely capture the gator and transport it out of the area.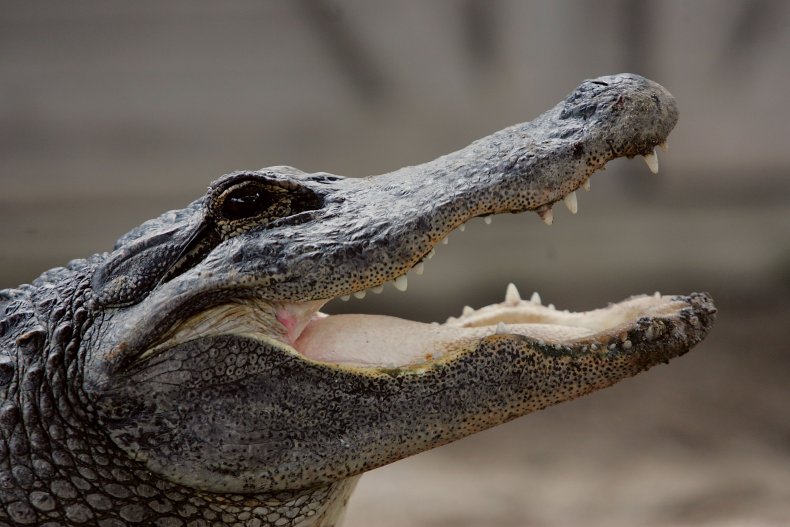 Earlier this month, a similar situation occurred outside of a Florida restaurant when a 2-year-old child spotted a massive gator on a sewage grate. Joseph Brenner posted a photo of the scene on Reddit on October 19, writing that his son spotted the creature and accidentally mistook it for a "turtle."
While alligators can cause significant harm to humans if provoked, Frank Mazzotti, an alligator expert and professor at the University of Florida, previously told Newsweek, that they usually do not present an imminent threat.
"There are millions of people living really in the same places where there are millions of alligators. Alligators are not dangerous," he said. "They certainly have capability of inflicting harm on people, but under most circumstances that is simply something that's not going to happen."
According to the National Wildlife Federation, American alligators are currently listed as threatened species. The animals can grow more than 12 feet in length and weigh as much as 1,000 pounds.
They can be found in large swaths of the U.S., ranging from the coastal wetlands of the Southeast, to as far north as North Carolina and as far west as Texas.