Massive 12-Foot Alligator Captured by Police Outside Texas Home
A photo of a 12-foot alligator rounded up by police in Texas has caused a stir after snaps of the reptile were posted on social media.
Constable Mark Herman of Harris County Constable Precinct 4 shared photos to his Facebook page, with the post aptly captioned: "SEE YOU LATER, ALLIGATOR!"
According to Texas Parks and Wildlife (TPWD), alligators are usually between 6 to 14 feet long, putting this carnivore at the top end.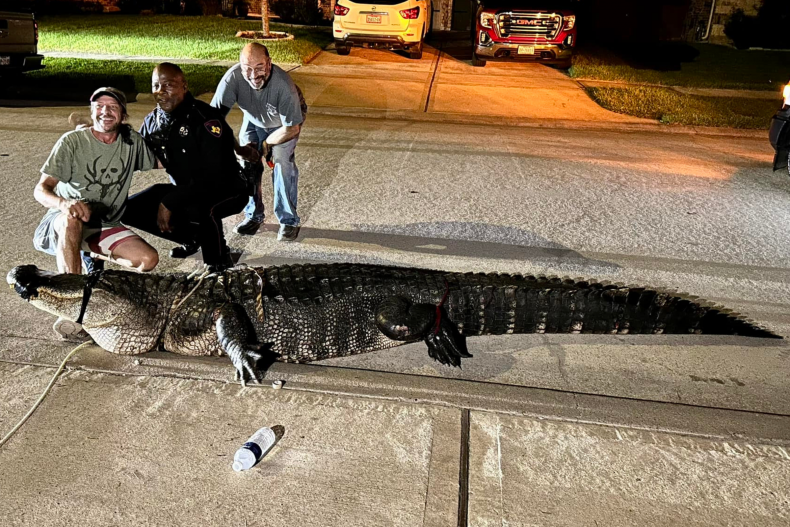 The American alligator is usually found near water, such as swamps, rivers, bayous and marshes generally located in the South, "including the eastern third of Texas."
The species is a protected game animal in the Lone Star State, as the TPWD website said: "American alligators normally avoid humans, but American alligators can become perceived as a nuisance when they establish territories around people.
"As human populations in Texas continue to expand, there have been an increased number of encounters between people and alligators.
"Alligators have been known to prey on pets and must be treated with caution. Alligators can be surprisingly quick on land and are capable of running quickly over short distances."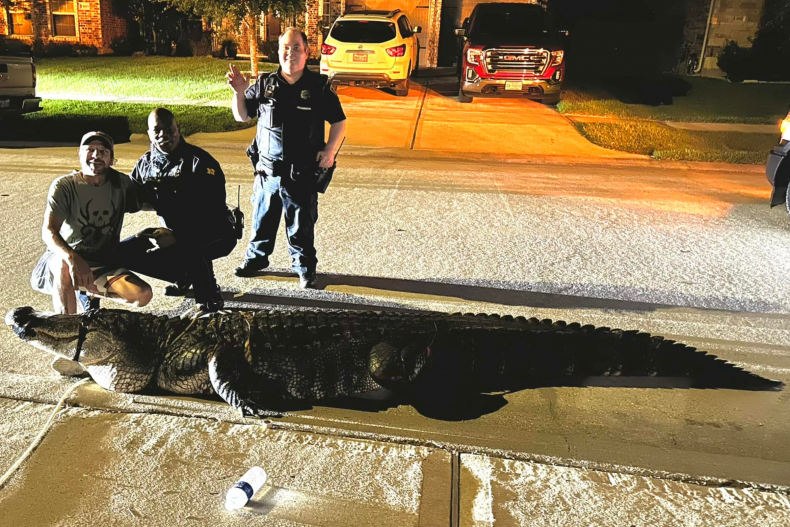 Harris County Constable Precinct 4's Facebook post contained three photos. One image showed the huge alligator partially underneath a car, while the other two photos depicted the reptile on the ground with what appears to be duct tape around its powerful jaws as cops posed around it.
The post read: "This morning, deputies with Constable Mark Herman's Office responded to the 13800 block of N Lake Branch Lane in the Waters Edge subdivision in Atascocita in reference to an 12 foot alligator in the middle of the road.
"The alligator has been safely captured and in Animal Control's possession."
The TPWD shared advice for anyone coming face to face with a gator, saying: "Most Texans in "gator country" will live in close proximity to these native reptiles with no confrontations.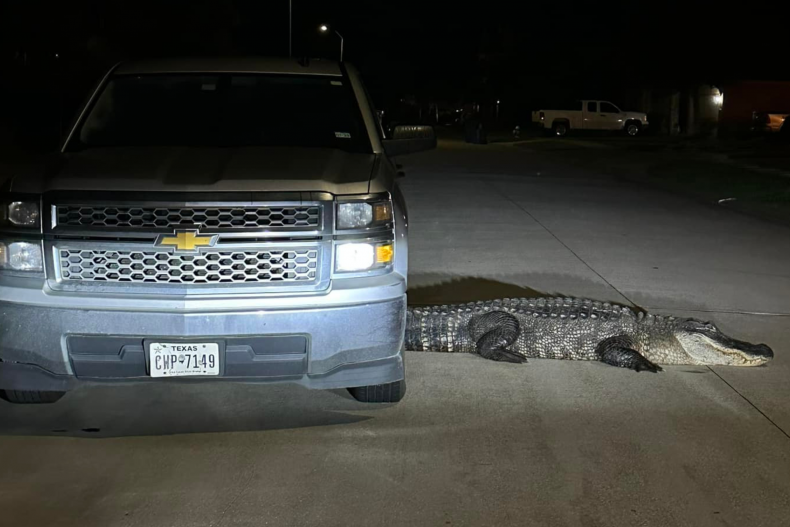 "However, there are occasions when certain alligators become "a nuisance" and must be handled by the proper authorities."
If you can hear a gator, you're too close, the TPWD website said, advising pets should be walked on leashes if walking near their territory.
"If you have a close encounter with an alligator a few yards away, back away slowly. It is extremely rare for wild alligators to chase people, but they can run up to 35 miles per hour for short distances on land," the site added.
Shared last Monday, the post has since amassed 1,300 likes, as numerous people commented on the spectacle.
Joseph Torres joked: "So, we just have dinosaurs roaming neighborhoods now?"
David Hosler quipped: "The gator's bond was set at $100 out of the local county court."
Rose Halligan wrote: "OMG. I don't know what I would do if I came upon a gator in the road."
Nicole Logan thought: "That's a whole dinosaur!"
While Tammie Royer admitted: "I would [be] standing on top of the car."
Alligators in Texas have made the headlines recently, with a group living in a lake in Sugar Land, near Houston, attacking boats. It was reported earlier this month there were two attacks in as many weeks.
Newsweek reached out to Herman for comment.
Do you have funny and adorable videos or pictures of your pet you want to share? Send them to life@newsweek.comwith some details about your best friend and they could appear in our Pet of the Week lineup.