Alligators Kill Woman After She Falls Into Florida Pond: Deputies
A woman in Florida died Friday night after she fell into a pond at a country club and was attacked by two alligators.
According to the Sarasota County Sheriff's Office, an elderly woman fell into a pond at the Boca Royale Golf and Country Club near her home in Englewood, Florida, local news station WTVT reported.
Two alligators—one that was 8 feet 10 inches long, and another that was 7 feet 7 inches long—then attacked her as she tried to stay afloat, according to WTVT, which cited officials with the Florida Fish and Wildlife Conservation Commission (FWC). The FWC responded to the scene to remove the alligators as part of its investigation.
Newsweek has reached out to the Sarasota County Sheriff's Office for additional details.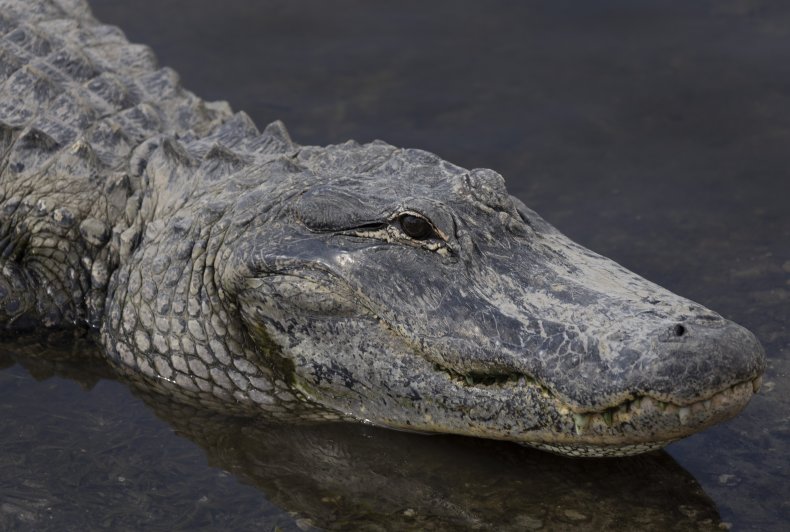 According to the FWC, alligators inhabit all of the state's 67 counties.
"In recent years, Florida has experienced tremendous human population growth. Many residents seek waterfront homes, and increasingly participate in water-related activities. This can result in more frequent alligator-human interactions, and a greater potential for conflict," the commission states on its website. "Although many Floridians have learned to coexist with alligators, the potential for conflict always exists."
The commission notes that serious injuries caused by alligators are rare, however.
When Alligators Attack
In June, an alligator in South Carolina killed a man after dragging him into a pond. When officials responded to the scene, they found the animal had taken "a hold of a neighbor who was near the edge of a retention pond and retreated" into the water.
Also in June, an alligator in Florida killed a dog while it was playing a game of fetch. The dog's owner, Josh Wells, told the Tallahassee Democrat that the alligator jumped out of the water and grabbed the dog head-first.
"Boom, the water just sort of exploded," Wells said. "He never barked. He never saw it."
The alligator was later euthanized by Florida officials.
Earlier this month, an alligator bit a 6-year-old boy while he was swimming in a lake in Louisiana. The boy's mother heard him screaming and told a local news station that she saw a 4 foot long alligator behind him. After the attack, the boy had bite marks on his foot.
Also this month, a video captured footage of an alligator eating a bird on a boardwalk in Florida's Palm Island Park, which forced the park to close. In the video, the alligator is seen laying on the boardwalk with a bird in its mouth. The clip received more than 100,000 views after it was posted to Facebook.