French President Emmanuel Macron has suggested that his counterpart in Washington, President Donald Trump, is unreliable in Sunday comments about the White House's decision to withdraw U.S. troops from Syria.
"I very deeply regret the decision made on Syria," Macron said Sunday during a news conference in Chad, Reuters reported. "To be allies is to fight shoulder to shoulder. It's the most important thing for a head of state and head of the military," he added. "An ally should be dependable."
Trump's unexpected decision last week to withdraw the 2,000 American forces fighting in Syria has drawn substantial criticism from European allies as well as Republican and Democratic politicians in Washington. Defense Secretary General Jim Mattis also resigned over Trump's announcement, while Middle Eastern allies fighting the Islamic States (or ISIS) with U.S. and European support have objected to the president's sudden move, raising concerns that it will embolden the extremist organization.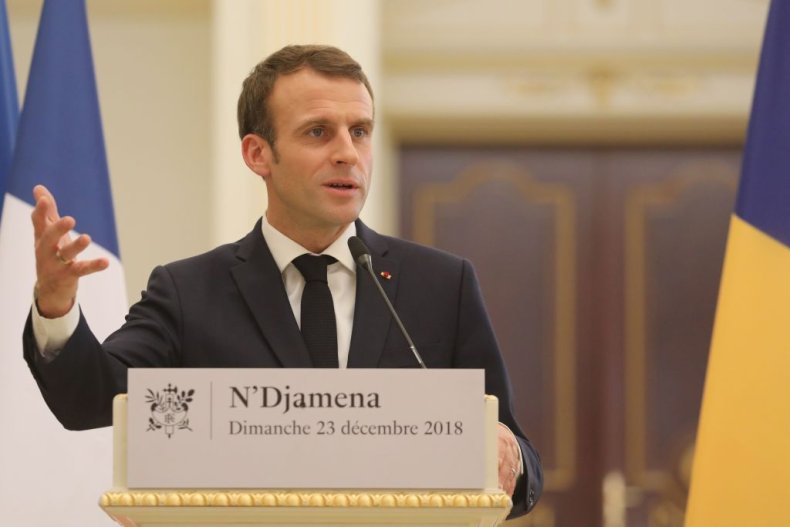 The president has pushed back against his critics, saying he's "done more damage to ISIS than all recent presidents."
"Does the USA want to be the Policeman of the Middle East, getting NOTHING but spending precious lives and trillions of dollars protecting others who, in almost all cases, do not appreciate what we are doing? Do we want to be there forever?," he wrote in a Thursday tweet.
Trump has also claimed that the group has been defeated, a statement that France, the United Kingdom and American politicians have pointed out is untrue.
"[The] Islamic State has not been wiped from the map nor have its roots. The last pockets of this terrorist organization must be defeated militarily once and for all," French Defense Minister Florence Parly wrote on Twitter.
British Defense minister Tobias Ellwood said: "I strongly disagree [with Trump]. It [ISIS] has morphed into other forms of extremism and the threat is very much alive."
Macron formerly convinced Trump to keep troops in Syria after he announced his intention to withdraw them in April. At that time, the French president cited the importance of curbing Iran's influence and protecting against chemical weapons attacks to convince his American counterpart to stay in the fight. Last Wednesday, after news of the White House's decision broke, Macron reportedly spoke to to Trump directly, but was apparently unable to sway his decision.
During his Sunday comments, the French leader also reiterated his nation's commitment to continue working with the Kurdish-led Syrian Democratic Forces, according to Reuters. "I call on everyone ... not to forget what we owe them," Macron said.