Lawmakers in Washington and U.S. allies have been scrambling to understand President Donald Trump's sudden announcement that he would withdraw 2,000 troops from Syria and end military efforts targeting the Islamic State (or ISIS). One French diplomat shrugged off the news, chalking it up to just another day in the unorthodox Trump White House.
"We're used to it now with the Trump administration," an unidentified French diplomat told Reuters. "The devil is in the detail," the person added.
On Wednesday morning, the White House announced that ISIS had been defeated and that U.S. efforts in Syria were no longer required. The move drew significant criticism from across the political spectrum, as well as from European and regional allies.
GOP Senator Lindsey Graham from South Carolina slammed the decision as "a huge Obama-like mistake," arguing that ISIS had not been defeated. The Syrian Democratic Forces (SDF), which the U.S. has backed in the fight against the extremist group, said the president's decision would leave Syrians stuck between "the claws of hostile parties." Trump also reportedly moved ahead with the decision against the council of his top national security advisers and commanders on the ground.
Although France, along with other allies and even many within the Trump Administration, are still trying to determine what the president's exit strategy will be, Paris has stated that it plans to leave its forces in Syria for the time being.
"[The] Islamic State has not been wiped from the map nor have its roots. The last pockets of this terrorist organization must be defeated militarily once and for all," French Defense Minister Florence Parly wrote on Twitter.
The European nation's President Emmanuel Macron also spoke directly with Trump on Wednesday. The French leader previously convinced his American counterpart to remain in the conflict after he announced his intention to withdraw in April. Macron had cited the importance of curbing Iran's influence and protecting against chemical weapons attacks to convince the president to keep the U.S. in the war.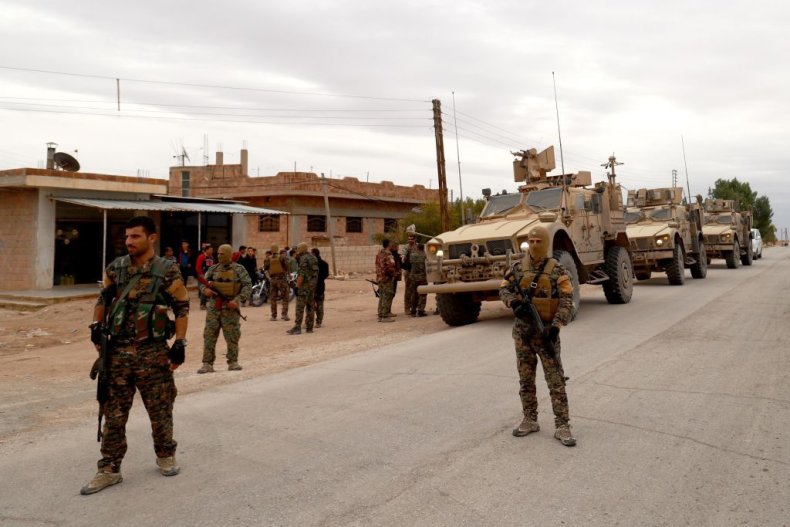 Similar to France, the United Kingdom has publicly disagreed with Trump's position, vowing to keep its forces in Syria. British Defense minister Tobias Ellwood said: "I strongly disagree [with Trump]. It [ISIS] has morphed into other forms of extremism and the threat is very much alive," The Guardian reported.
Despite the pushback and criticism from within his own government and close allies, Trump doubled down on his commitment to withdraw American troops from the Mediterranean nation in a Thursday morning Twitter thread.
"Getting out of Syria was no surprise. I've been campaigning on it for years, and six months ago, when I very publicly wanted to do it, I agreed to stay longer. Russia, Iran, Syria & others are the local enemy of ISIS. We were doing there [sic] work," he wrote. "Time to come home & rebuild," he added, arguing that the U.S. should not be "the Policeman of the Middle East."