Lindsey Graham Slams Donald Trump's Syria Troop Withdrawal as 'Huge Obama-Like Mistake'
Republican Senator Lindsey Graham of South Carolina slammed President Donald Trump's reported plan to withdraw some 2,000 American troops from Syria, calling the move a "huge Obama-like mistake."
Defense officials reportedly said on Wednesday that the White House planned to withdraw its forces from Syria. Trump also posted to Twitter, declaring victory over the Islamic State militant group in the Middle East nation. "We have defeated ISIS in Syria, my only reason for being there during the Trump Presidency," the president said in an early Tuesday morning tweet.
White House press secretary Sarah Huckabee Sanders confirmed the news in a statement, saying that "we have started returning United States troops home as we transition to the next phase of this campaign."
Commenting on the president's decision, Graham shared a link to a Washington Post article that reported the story. In his tweet, Graham said: "Withdrawal of this small American force in Syria would be a huge Obama-like mistake."
Trump, like his predecessor Obama, has tried to avoid getting heavily embroiled in the seven-year Syrian war. The conflict began after President Bashar al-Assad's government cracked down violently on protesters, calling for major reforms during the "Arab Spring" demonstrations that swept across the Middle East and North Africa. As the conflict escalated, Western nations joined Gulf states in backing rebel forces, but extremist groups, such as ISIS and Al-Qaeda, also began to fight against the Assad regime.
While ISIS has been largely curbed and pushed to a few small pockets throughout Syria, many in Washington want U.S. forces to remain in Syria in opposition to the Assad government and its ally Iran. Unlike Obama, Trump has carried out several strikes on Syrian forces in the wake of alleged chemical weapons attacks. But the president has generally maintained the position that he was only interested in defeating extremist groups, suggesting he was willing to allow Assad to remain in power.
Graham also disagreed with Trump's assessment that ISIS had been defeated in Syria.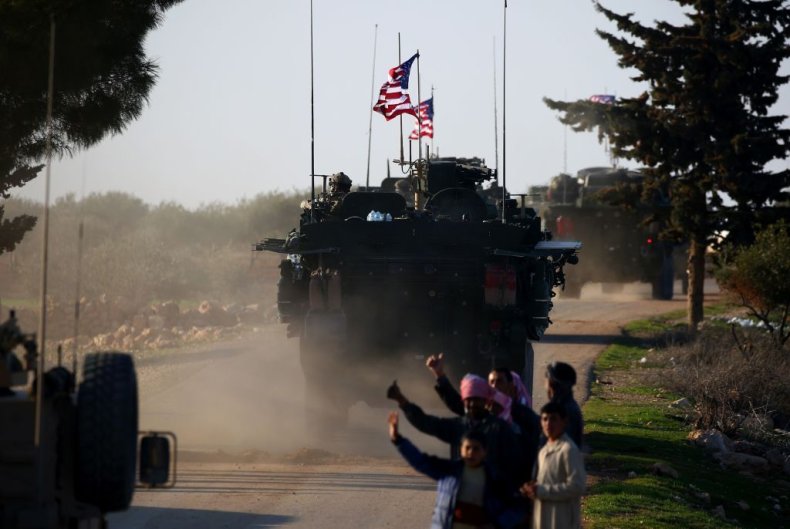 "With all due respect, ISIS is not defeated in Syria, Iraq, and after just returning from visiting there—certainly not Afghanistan," the senator said in a follow-up tweet. He also suggested that removing U.S. troops would allow Iran, which has supported the Assad government militarily, to expand its presence. The senator also argued that ISIS could actually see the U.S. withdrawal as a chance to make a comeback.
Although Graham has been viewed as a close Trump ally in the Senate, he has recently parted ways with the president on a series of foreign policy issues. After journalist Jamal Khashoggi, who was a U.S. resident and a contributor to The Washington Post, was murdered inside the Saudi Consulate in Istanbul in October, Trump has continued his support for Riyadh's leaders. Graham, conversely, has led Senate efforts to cut support for the Saudi-led war in Yemen.